The two officers were found guilty of the extrajudicial killing of two suspects in SARS custody.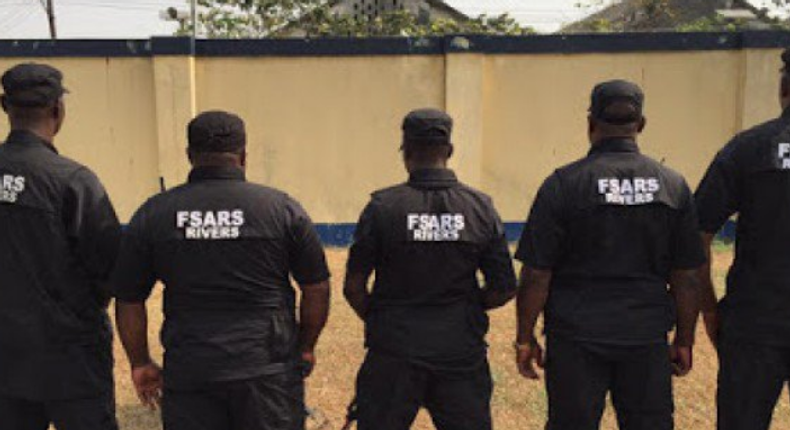 Two officers who served in the now defunct police unit, Special Anti-Robbery Squad (SARS), have been convicted and sentenced to death by hanging by a High Court sitting in Port Harcourt.

The officers had been standing trial for the extrajudicial killing of Michael Akor and Michael Igwe, who died in their custody after being arrested for allegedly stealing recharge cards in Oyigbo, Oyigbo Local Government Area in Rivers State in 2015.
Recall that the convicts, Shedrack Ibibo and Magus Awuri, were tried alongside three other members of the SARS team which included ASP Samuel Chigbu, Ogoligo, and Olisa Emeka.
But, the duo of ASP Samuel Chigbu and Ogoligo died in custody at the correctional centre in Port Harcourt, while the trial continued with Ibibo, Awuri, and Emeka.
In her judgement, the trial Judge, Justice M.O Opara, found Ibibo and Awuri guilty of conspiracy to murder, while Emeka was acquitted.
Reacting to the judgement, the state prosecution council expressed delight over the outcome of the trial, saying justice has been served.
She said: "The court found out that they actually were guilty of murdering the two deceased persons.
"The court discharged and acquitted Olisa Emeka based on the findings of the court, because the prosecution did not prove his case concerning the last person.
"From the judgement, justice has been served to the family of the deceased and that makes me happy.
"It will serve as a deterrent hopefully to other police officers and also give some sort of closure to the families of the deceased persons."
Kathrine Akoro, one of the victims' mother while speaking to newsmen also expressed happiness over the judgement, saying the convicted officers would now experience a taste of their own medicine.
She said: "They killed my son, carried our property in 2011. My son said I should forgive them, let them go and bring those things they took.
"I said if you are carrying all those property, bring my son, I will be okay. I thank God He has fought for me. I am happy.
"They said that place is good for anybody that killed innocent souls, sending them by force to the grave. They have already tested it. The remaining one here today, they have tested it."
JOIN OUR PULSE COMMUNITY!
Our newsletter gives you access to a curated selection of the most important stories daily.
Welcome to the Pulse Community! We will now be sending you a daily newsletter on news, entertainment and more. Also join us across all of our other channels – we love to be connected!
Unblock notifications in browser settings.
Learn More: latest news on stimulus,u visa latest news,o panneerselvam latest news,g dragon latest news,latest news about stimulus check,j cole latest news,p chidambaram latest news,hepatitis b latest news,sarah g latest news,l&t latest news,p square latest news,