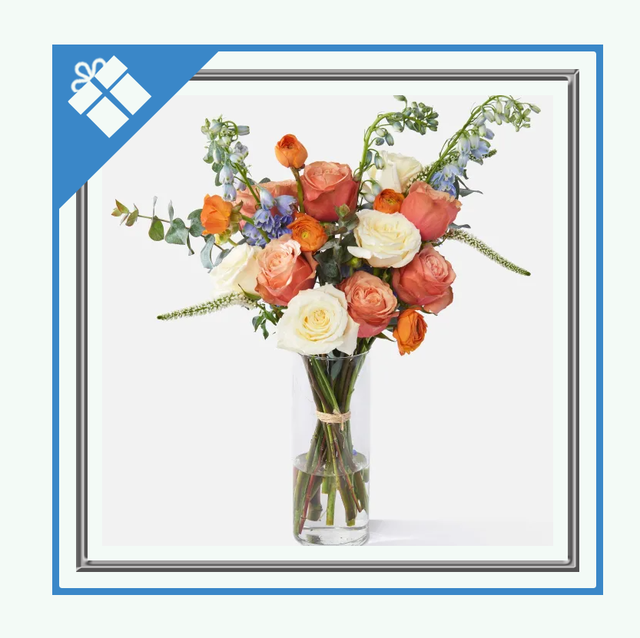 Courtesy of Retailer
Spring is a seriously busy and expensive time of the year for anyone. From planning out future getaways, to refreshing your suiting for the influx of rescheduled weddings, your bank account balance can decrease as fast as the days of the week soar by. Then that moment hits, when you realize Mother's Day is just around the corner—yikes! It's not that you don't love your mom, but sometimes her special day just creeps up out of nowhere.
So, what do you do when you need a good last-minute gift for mom? Beyond the obvious challenge of finding the perfect Mother's Day gift, you're most likely dealing with limited budget (or almost no money at all), so crazy-expensive overnight delivery fees are definitely not an option. Sure, you can hit your local drug store to find the most generic gift option, but you want your Mother's Day gift to be something a bit more unique and special to show your mom you really care.
Read more: Best Mother's Day Gifts
Don't panic, there's no way she'll know you scrambled to find the best last-minute Mother's day gift for her, because with our top gift ideas, she'll think you've been planning this for months. Take advantage of Amazon Prime's two-day shipping to score the best mother's day gifts in a flash, including attractive essential oil diffusers, stylish and cozy slippers, and even a useful eye pillow for the best beauty sleep.
Not sure what specific gifts your mom will love, but know her general interests? You can't lose with the top subscription box services that you can order online fast from the comfort of your home. There's an easy-to-order subscription service for wine lovers, movie buffs, active moms, and so much more.
There's no time to waste, so go on and check out the 51 best last-minute Mother's Day gifts you can buy online and have delivered in no time. Don't worry, these will help you retain your "son of the year" status.
Read more: Best Gifts for Mom
Best Travel Gift
Amazon Explore
Amazon
The new Amazon Explore page offers virtual trips to shop, discover and explore famous landmarks and local treasures of amazing cities across the globe in the comfort of your own home. From Central America to Europe and Asia, each session offers one-on-one sessions, so you and mom can spend an afternoon in Mexico City. It's a unique and thoughtful bonding experience that may someday inspire the real plane ticket.
Read more: Best Gifts for Mom from Son
Best Thoughtful Gift
Bamboo Bathtub Tray
Give her the gift of relaxation with this bathtub caddy. It has everything your mom needs for the perfect bath with spots to hold her wine, phone, candles, electronic devices, and more.
Most Romantic Gift
The Capri Bouquet
Urban Stems' thoughtfully curated bouquets also feature incredibly fast shipping times. This Italian-inspired set will have your mom dreaming of her next Mediterranean vacation.
Best Tech Gift
Charging Stone
Who says phone chargers can't be stylish? This 100% natural stone charger from Einova can discreetly juice your iPhone without taking up too much space on her kitchen counter.
Read more: Best Tech Gifts
Best Fitness Gift
ScanWatch Hybrid Smartwatch
Here's a chic smartwatch that'll keep her motivated to reach her fitness goals. Withings' smart watch looks like a sleek analogue ticker, but has plenty of high-tech features like heart rate monitor and automated sleep tracking.
Mom Life: A Snarky Adult Coloring Book
Motherhood is full of peaks and valleys, and this snarky adult coloring book full of memes brings humor to it all. Mindful coloring is a simple and fun meditation practice that will encourage her to get 10 minutes of rest and relaxation a day, while getting in a good laugh. Just add colored pencils…and maybe wine.
Read more: Best Affordable Gifts for Mom
Best Beauty Gift
Wonderwild Miracle Butter
Here's a practical gift that shows her you have great taste. Drunk Elephant's latest beauty launch functions like a luxury Vaseline: apply this balm on chapped lips or cracked skin and watch its healing, restorative effects work in minutes.
If she's always losing her keys, the Tile Mate is a must. It sticks to just about anything, so she'll never go hunting on a wild goose chase for a misplaced item again. 
I Love You Mom: And Here's Why Book
Sometimes it can be hard to express how much your mother means to you, but when you do find the words, there's nothing better than sharing them with your mom. This is one personal, affordable last-minute Mother's Day gift she'll cherish forever. 
Add a tropical vibe to her home with this vibrant fern. This comes in five stylish pots so she won't have to worry about replanting. Plus this ships incredibly quickly.
Stone & Beam Medium Windowpane Footed Stoneware Planter 7.9″H, Chambray Blue
If she's a plant mom, too, she'll love this stoneware planter. It feels handmade and comes in three different colors to match any living room or kitchen aesthetic. 
Black Harvest Indoor Hydroponic Garden
Fancy her green thumb with a new type of plant. Hydroponic gardens are on the rise. With this gadget, she can grow her own lettuce and herbs in the comfort of her kitchen, all-year round.
Read more: Best Indoor Plants
Women's Superlite Adjustable Visor
A new visor for her morning walks, tennis sessions or beach days will keep her hair looking great, sweat from dripping and sun out of her face this summer. Any active mom will love this under-$25 gift.
This Mother's Day, take the chaos out of her life with a stress-relieving pillow that can be used for travel or at home for that much-deserved nap time.
3-Month Subscription Card
She'll have a blast experimenting with new makeup and skincare products with this three-month subscription trial.
Read more: Best Subscription Boxes
VFAN Jr. Vintage Air Circulator Fan, Green
Summer is comin' folks! This vintage air circulator is more than just a cute vintage decoration. She can kick up the breeze on a patio, porch, garage or anywhere there isn't air conditioning. Her hot flashing self will thank you.
14Okay Gold Plated 925 Sterling Silver Necklace Set
Real diamonds not in your budget? This affordable simulated diamond jewelry set will be sure to please any mom this Mother's Day.
Lily and Val Keepsake Kitchen Diary
Does Mom love to cook? This keepsake cookbook makes a thoughtful and effortless gift.
AddieRawr Supermom Mother's Day Card
Need a card to pair with your gift? Show her you think she's Supermom this Mother's Days with this creative card from AddieRawr on Etsy.
Watercolor Decorative Pillow Covers
A textured, soft, ombre throw pillow makes a lovely spring addition to any living room. Next day shipping on decor this chic? This might be Amazon's best kept secret.
Read more: Best Outdoor Decor on Amazon
Ultimate Aromatherapy Diffuser & Essential Oil Set
Don't let the small size of this one fool you. This powerful, top-rated essential oil diffuser will have any room smelling heavenly in no time for up to 8 hours of with one filling of water. Plus, it doubles as a humidifier for dry skin.
This is the ultimate disguise of a gift, because it looks you spent days shopping for something this ornate and special. Lucky for you procrastinators, it can arrive tomorrow. Hurry and add this to your cart for the ultimate Mother's Day gift save.
Give mom a new type of self-care de-stressor. This trip from Scentered supports relaxation, stress relief, and a restful sleep. It brings the benefits of aromatherapy to a wearable balm.
Gisele Two-Piece Pajama Set
Upgrade her pajama game with a luxe set made of a super-cozy jersey material, which feels superbly cool and soft. It's an easy last-minute mother's day gift for any mom.
Self-Care Subscription Box
Self-care always seems to be a mother's last priority, but you can help with this amazing Therabox. Each monthly box includes 1 research therapeutic activity, as well as 6-8 self-care treats to help your mother de-stress and live her best life.
A coffee subscription is great and all, but what about a coffee subscription that sources beans from all over the world is as good as it gets. Atlas Coffee Club inspires a pristine palette by sending a new roast from a different place each month. The best part about this gift is that you can present it all in an email. Plus, it'll keep on giving.
KLF03PGUS 50's Retro Style Aesthetic Electric Kettle
Betcha didn't know you could score two-day shipping on an item this major! The Smeg Variable Electric Kettle belongs in every kitchen. It doesn't just heat it up, it lets you choose the exact number you'll be needing hot water for. Tea aficionados know the importance of this.
When in doubt, a luxurious duo wine offering is always a smart last-minute Mother's Day gift for the wino that loves to unwind.
from $49.99
For just $49.99, your mom can get the latest fashion, fitness, and beauty items delivered right to her door to test out and enhance her life.
What mom wouldn't want to Indulge in a luxuriously soft piece from Everlane's range of modern basics? Enough said.
Portable & Reusable Travel Cutlery
Give the gift of top-notch reusable cutlery she can bring on all her outdoor adventures this summer. Whether she's a picnic in the park type of mom or a camping enthusiast, this set will cut back on plastic and level up her outdoor meals.
Contemporary Stripes and Lines Throw Blanket
It's always nice to trade in the winter fuzzy blankets for lighter spring time throws. Refresh her home with a luxurious, contemporary, cotton blanket that will charm any couch sesh.
Percale Collection Sheet Set
Spring means switching out her bedding for lightweight sheets, and this set from Scout Home has her covered (literally). Made with 100 percent cotton, this set comes in plenty of fun, feminine patterns to spruce up any bedroom.
FLIP 5 Waterproof Portable Bluetooth Speaker
Pool parties and beach days are going to hit different this summer. She'll need a durable speaker to bring the vibe. The JBL Flip 5 is completely waterproof and can last for a full day on a single charge. Plus, you can order it today and see it IRL, tomorrow.
Citrus Cardamom Vegan Hand Serum
Mom's hands have probably suffered from over washing them through the pandemic. This vegan hand serum feels fancy and works to repair cracked skin in the most elegant way.
Did you know acupuncture can help relieve muscle pain and improve sleep quality? Well, now you do, but you need to let mom in on this tip by getting her this cool acupuncture mat. Mom can easily kick back and relax anywhere with this travel-friendly mat with over 6,000 points.
Help mom learn from the best of the best in the world of entertainment, culinary arts, and business with an annual Master Class membership. Plus, for every purchase of a membership you get one free, so you can learn from the greatest, too.
Women's Gen 4 Sloane HR Stainless-Steel Smartwatch
Fossil
This is ideal for the mom that wants to dabble in the smartwatch trend to track her fitness, but doesn't want to sacrifice style.
Read more: Best Fitness Gifts for Moms
Traveling can be draining, especially when your only chance for shut eye is in cramped, uncomfortable positions surrounded by strangers. Slip's silk pillow and mask set can help with the soft touch that feels like a dream. Plus, silk is known for its anti-aging effects and it helps to regulate your body temperature.
Set her up with regular shipments of delicious, healthy snacks she can munch on between meals. Start by choosing between a few box options including Gluten-Free, Diet, and Vegan, and then enjoy up to 30 full-sized tasty snacks.
Women's Faux-Fur Lined Suede Slippers
After a long day on her feet, she'll have you to thank as she enjoys these fuzzy faux-fur slippers. With EVA cushioning and non-slip outsoles, these are more than just standard house slippers.
Nothing feels quite as luxe as a plush white robe. From enjoying her morning coffee on the couch, to treating herself to an at-home spa day, a cozy robe is a must-have for any mom.
Scentbird
She may have a standard fragrance she's worn since you remember, but she may have fun trying out a new designer scent with a Scentbird subscription service—which delivers generous testers (120 sprays) every month.
New York Patterson Drive Small Dome Satchel Purse (Black)
Want to get your mom a stylish bag for Mother's day, but clueless about fashion trends? This timeless Kate Spade New York stunner will become her go-to for years to come and she'll always think of you when she carries it.
If your mom was ever curious about the family history, you can gift her this easy-to-use at-home DNA kit that'll provide an in-depth ancestry history, covering over 1,000 geographic regions worldwide.
Hygge Collection Scented Soy Wax Candle
A candle is always a good idea. The scent of rosewood and patchouli is a beautiful combination of earthy spring florals. Plus, the container is a cute vessel for her to use long after the soy wax burns out.
Hello Fresh
If your mom loves trying out new dishes and recipes, this is one useful last-minute Mother's Day gift she won't forget. With this gift card to Hello Fresh, you can gift her everything she needs for a mini-dinner party where she can easily wow her friends with pre-measured ingredients and chef-created recipes.
Blooms: Contemporary Floral Design
Buying your mother flowers for Mother's Day is completely expected (and a bit boring), but what's unexpected is a visually stunning coffee table book of intricate floral designs from 70 contemporary floral designers. And it will last more than a week—just saying.
Help mom stay fit with this easy-to-use fitness tracker that'll track all-day activity from her steps, to calories burned, and even her heart rate. Plus, the battery lasts for up to 5 days.
Solo3 Wireless Rose Gold On-Ear Headphones
If your mom still uses the same wire headphones she's had since the early aughts, it's time for an upgrade. She'll love sporting them in stylish rose gold while she jams out to her favorite music with 40 hours of battery life and no dangled cords to tie her down.
Read more: Best Gifts for Women
Dinner and a Movie E-Gift Card
Fandango
That movie buff will praise a gift card to catch the latest box office hits, finally. While you can load the card with any amount you wish, we're into the "dinner and a movie" option which sends over $25 to use at the movies and $25 to use at a restaurant.
36 Hours, USA & Canada West Book
Any jet setter will dive right into this expert travel book, which offers creative and adventurous weekend trip ideas. Perhaps you can take one with her to win child of the year.
From $50.00
The perfect last-minute gift for fitness lovers, your mom will get the opportunity to test out different fitness classes with this e-card. Bonus points if you head to a class with her.
The Strand
If she needs something to hold her over in-between book club, give the gift of a book subscription box, which sends over a curated mix of reads from New York's largest independent bookstore.
This content is created and maintained by a third party, and imported onto this page to help users provide their email addresses. You may be able to find more information about this and similar content at piano.io
Learn More: healthy food near me,health care privacy part 2,health store near me,health triangle,health plan of san joaquin,health o meter scale,health hut,health partners plans,heath zenith,health related fitness,health o meter,health unlimited,health food near me,health gear inversion table,health warrior,no healthy upstream,health journeys,health right 360,healthx,health union,health unit coordinator salary,health gauge des moines,health village imaging,health gorilla,health zone,health nut cafe,health 3.0,how much health does the ender dragon have,health kick,health verity,health velocity capital,health quarters,how much health does the wither have,health 101,c health lebanon va,e health messaging,m health maple grove,healthxl,health 5e,i health inc