NEWS
After strong camp, Kraken prospects Shane Wright, Ryker Evans sent down to fine-tune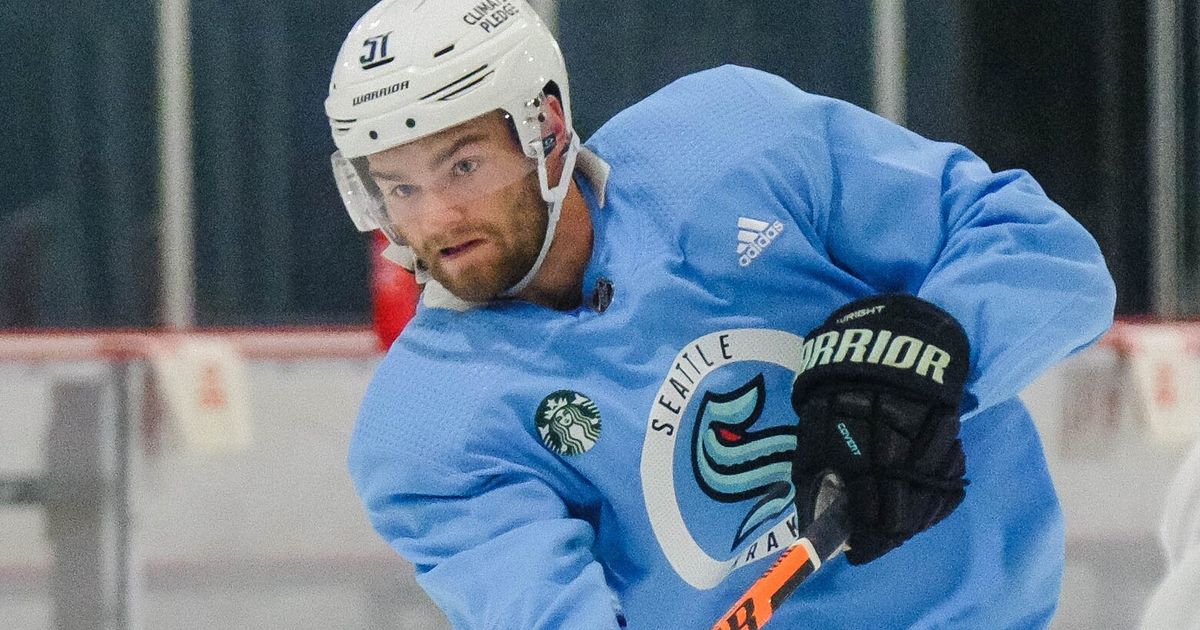 The final reviews are in for the Kraken's top prospects. Shane Wright is headed back to the minors with notes and words of encouragement. Ryker Evans is on the cusp of an NHL gig.
Defenseman Evans, 21, and forward Wright, 19, were among the five final cuts from Kraken training camp, which unofficially concluded Saturday. Monday is for final preparations, and the season opener is Tuesday at the Vegas Golden Knights.
The pair was reassigned to the Coachella Valley Firebirds, the Kraken's top affiliate, on Saturday.
On Wright: "We had a real clear, plain discussion in terms of the areas that we want to see him focus on and that the coaches and development staff will be focusing on with him in the American Hockey League," coach Dave Hakstol said.
That said, Wright made strides during and after a 2022-23 season that was all over the place. The team's fourth overall pick in 2022 made the Kraken's opening night roster right off the bat but was scratched more than he played. He won World Juniors gold, returned to his junior team, joined an AHL playoff run in progress and skated in Game 7 of the Calder Cup Finals.
He then rolled up to training camp with a different attitude.
"He looked like a guy that was free to go and play the game," Hakstol said. "Little bit less stress on him. He was more comfortable in everything he was doing."
Wright, the projected top overall draft pick since he was in about the ninth grade, ultimately wasn't taken by the Montreal Canadians at No. 1. The next two teams passed on him as well. People wondered why.
Both Hakstol and Kraken general manager Ron Francis acknowledged the summer immediately after being drafted is a weird one, perhaps especially in this case. Wright showed up for this training camp in a better place.
"He didn't look intimidated being in training camp this year. He looked like he fit in, felt comfortable with our guys," Francis said. "He showed that at times in games. Other times, he showed that he still needed some things to work on. He's 19 years old. It's a process with these kids. We're going to continue to work with him.
"But as I said to him on his way out, the Kraken family is really happy with where he is and how he's progressing, and we'll continue to work with him to get him to where we think he can ultimately get to."
There's a longstanding agreement that requires teenagers like Wright to return to their junior teams. Wright's birthday was barely too late to age out. His junior career was interrupted by the COVID-19 pandemic, otherwise he might have played the requisite four seasons by now. Seattle had to receive a special exemption in order to send him to the AHL instead of his Ontario Hockey League team, the Windsor Spitfires, and did.
After the Spitfires were swept from the playoffs in the spring, he joined the Firebirds' run to the Calder Cup Final and played in 24 playoff games, chipping in nine points (two goals, seven assists).
His last NHL game was Dec. 6, when he scored his first goal against the Canadiens, the team he might have debuted with. He averaged 8:29 of ice time through eight Kraken games.
With so few minutes and as an 18-year-old playing against 30-year-olds, he didn't often stand out at the NHL level. Francis said they've seen progression over the past year, and expect more will come.
"We still see the speed and the skill set he has," he said. "If we keep him here in a fourth-line role, he's in and out of the lineup, he's playing eight minutes, nine minutes a night – that's not the best for his development. It's good we have the ability to get him to Coachella Valley. He'll go down there and play significant minutes and we felt that was the best for his development.
"I'd like to see him still demand the puck more and handle it. Show what he can do when he has it on his stick. So we've given him a few things to work on. We'll pass that on to the Coachella Valley coaches."
Evans received a longer look than he might have due to an undisclosed issue that kept the Kraken's top offensive defenseman and highest-paid player, Vince Dunn, out of training camp for more than a week. Evans got to play with Dunn's usual partner, Adam Larsson, and his puck management in the offensive zone was praised.
He appeared in five of six preseason games. Dunn is seemingly close to a return to game action, which made Evans' opening night inclusion unlikely.
"He's going to be a player for us," Francis said with a chuckle. "He had a real strong camp, had a real strong season last year (with the Firebirds). All-Star game, AHL rookie of the year. We just felt it's important for him to go down there and play the minutes he's going to play down there. If we need him, he'll come up with that sort of confidence he showed here. Step into the league, and then force us to send him back again."
Hakstol said it was "no easy decision" to send Evans down, but he's in a great position, presumably for a recall.
"I thought Ryker had an outstanding camp. I'm extremely happy with where he's at," the coach said. "What he did, his body of work through training camp. The growth in one year…has been outstanding. He's done all of the right things. He's dug in with the people that are there to help him."
Notes
Kraken forward John Hayden, defenseman Cale Fleury and goaltender Chris Driedger all cleared waivers and were reassigned to the Firebirds, who open the regular season Friday. Coachella Valley's one-game preseason consisted of Sunday's 3-1 loss to the Henderson Silver Knights. Another home game was scheduled for Friday, but it was cancelled because of a power outage.
Two former Kraken goaltenders were waived Sunday. Martin Jones, who handled most of the first half of last season in net, was waived by the Toronto Maple Leafs after signing a one-year, $875,000 contract on Aug. 9. Magnus Hellberg was reclaimed by the Kraken from the Ottawa Senators last year, then lost again via waivers. The Red Wings claimed the on-the-go goalie and he appeared in 17 games for Detroit last season. Hellberg signed with the Pittsburgh Penguins as a free agent this summer and was back on waivers this weekend.