NEWS
Alaska Fat Bear Week: Dominant and defensive mother Grazer crowned champion in annual contest | World News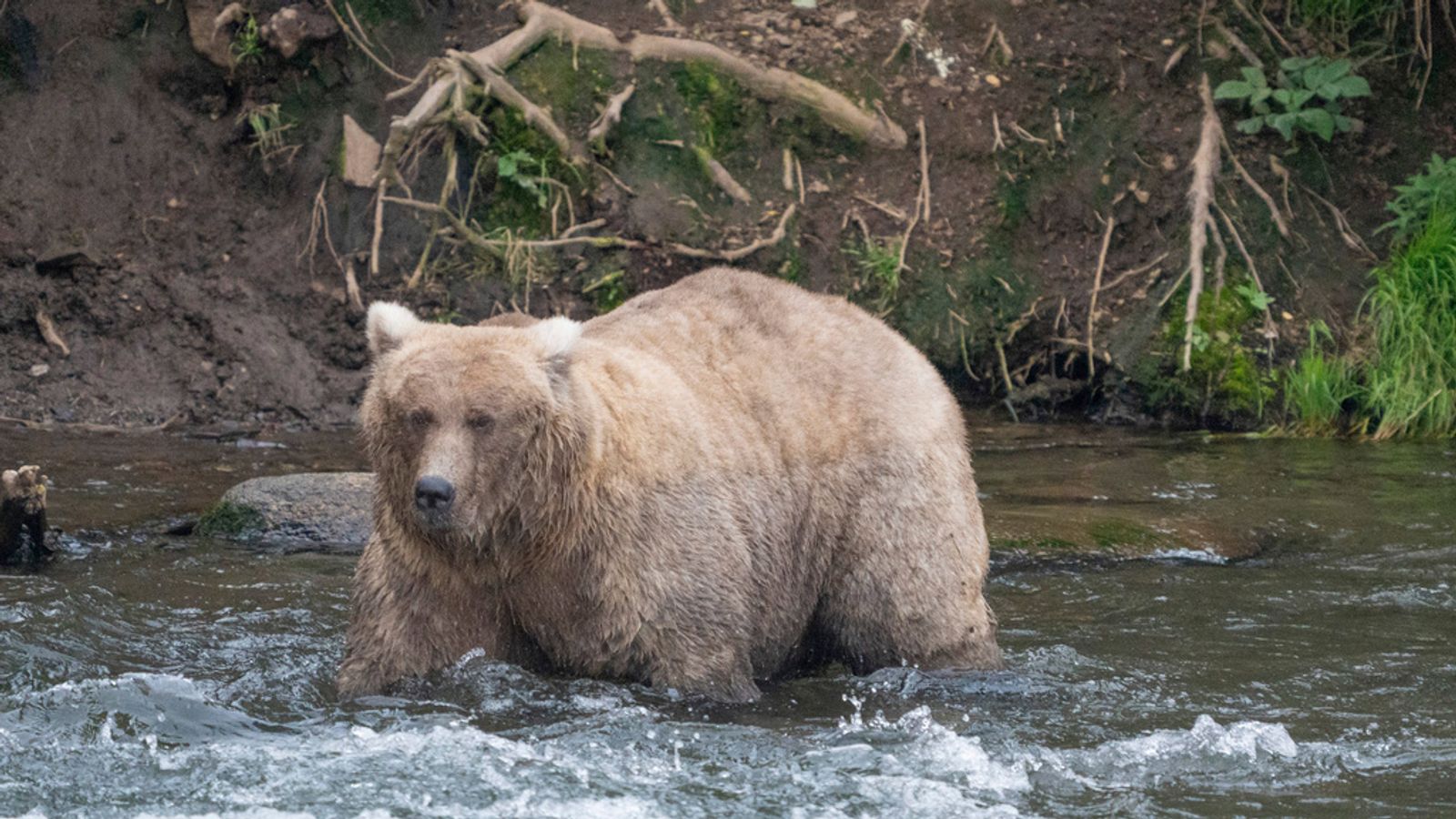 A "gutsy" brown bear described as "thicker than a bowl of oatmeal" has been crowned the champion of Alaska's annual Fat Bear Week competition.
Bear 128, nicknamed Grazer, thrashed her aptly named rival, Chunk, to claim victory in the annual contest.
The dominant mother bear is one of an estimated 2,200 brown bears living in Katmai National Park and Preserve in Alaska.
Grazer, who has successfully raised two litters of cubs, has been known to challenge alpha males in a bid to protect her babies.
Described as one of the fattest bears to collect salmon on the Brooks river, she has been hailed as "one of the best anglers" by park officials due to her ability to catch fish – even chasing down fleeing prey.
The Fat Bear Week tournament sees people from 100 different countries vote online for their favourite bear.
More than 1.3 million votes – a record-breaking number for the contest – were cast by dedicated fans in the battle of the brown bears, with Grazer accounting for 108,321 in the final.
Sharing the news that Grazer had entered the Fat Bear Week "Hall of Chompions", Katmai National Park posted on Facebook: "The gutsy girl grounded the guy with a gut.
"The Mondo mountain of a male, 32 Chunk, proved his prominent posterior was worthy of a whopping win.
"But in the end, Chunk got Grazered!
"Let's crown our queen that's thicker than a bowl of oatmeal, 128 Grazer!"
The park offered its commiserations to the runner-up, adding: "Chin-up Chunk!"
The bears packed on the pounds to survive winter hibernation, with the park declaring all the contenders were winners.
"Though [Grazer] may be blissfully unaware of her new title in this imaginary competition, her success is real!
"In the bear world, fat equals success," organisers said.
Read more:
Bears break into factory in Japan
Bear cools off in a jacuzzi during heatwave
The bears living in Katmai will hibernate from late October until the spring, with their bodies going into a state of hyperphasia, which means the hormone that tells them they are full stops working, ranger Naomi Boak told Sky News' US partner, NBC News.
The annual competition is the brainchild of naturalist Mike Fitz, who decided there should be a Fat Bear Tuesday to celebrate the bears as they gain weight in 2014.
The idea proved so popular it spawned an annual week-long contest, which began the following year.