NEWS
An Oscar-buzzy film and other movie and book events to see this month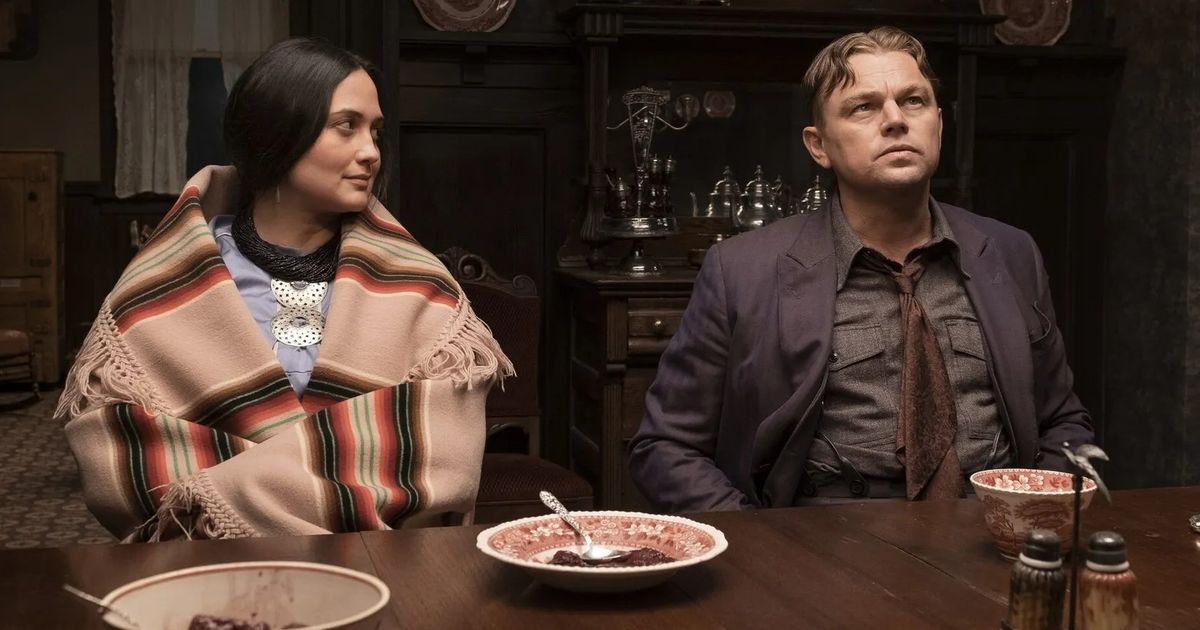 Staff Picks
This fall brings a rush of literary movies and television, as well as visits from numerous intriguing authors near and far; here are just a few events to watch for over the next few weeks.
Movies/television
"Killers of the Flower Moon"
David Grann's bestselling nonfiction book about a 1920s series of murders in the Osage Nation, a Native American tribe based in the Midwest, is now a Martin Scorsese film featuring Leonardo DiCaprio, Robert De Niro and former Seattleite Lily Gladstone. It arrives with thoroughly loud Oscar buzz.  
In theaters and streaming on Apple TV+ starting Oct. 20
"The Pigeon Tunnel"
The great documentarian Errol Morris ("The Fog of War," "The Thin Blue Line") turns his gaze to former British spy David Cornwell — better known as John le Carré, legendary author of espionage novels like "The Spy Who Came in From the Cold" and "Tinker Tailor Soldier Spy."  
Streaming on Apple TV+ beginning Oct. 20
"All the Light We Cannot See"
Anthony Doerr's Pulitzer Prize-winning 2014 novel about a blind French girl and a technologically gifted German boy during World War II finally comes to the screen, in a four-part limited series directed by Shawn Levy ("Stranger Things," "Free Guy") and starring Aria Mia Loberti and Louis Hofmann. Some of the series was filmed in Saint-Malo, France, where the book takes place.
Streaming on Netflix beginning Nov. 2
Author appearances
Jhumpa Lahiri 
Lahiri, author of "The Namesake" and the story collection "Interpreter of Maladies" (which won the Pulitzer Prize), has for the past several years been writing solely in Italian. Her latest collection, "Roman Stories," features nine tales inspired by the city of Rome, all translated into English by the author with Todd Portnowitz. She'll be interviewed at this event by local author/Seattle University professor Sonora Jha ("The Laughter").
7 p.m. Oct. 14; Seattle University's Pigott Auditorium, 901 12th Ave., Seattle; $30 (includes copy of "Roman Stories"); 206-624-6600; elliottbaybook.com
"Soul Jar"
Annie Carl, local writer and bookstore owner (The Neverending Bookshop in Edmonds), edited this collection of 31 short fantasy tales by disabled authors, examining the questions of what disability looks like in a future or magical world. Contributors include a number of other local authors, including Cormack Baldwin, Ellis Bray, Nicola Griffith, Mika Grimmer, Nisi Shawl and Dawn Vogel, all of whom will join Carl for this event.
7 p.m. Oct. 17; Elliott Bay Book Co., 1521 10th Ave., Seattle; free; 206-624-6600; elliottbaybook.com
Nicola Griffith
Speaking of Griffith (see above), the local author will appear with her latest novel "Menewood," the long-awaited sequel to "Hild" set in war-torn seventh-century Britain. She'll speak in conversation with speculative fiction author Neal Stephenson.
7 p.m. Oct. 18; Third Place Books, 17171 Bothell Way N.E., Lake Forest Park; free but RSVP required; 206-366-3333; thirdplacebooks.com
Lauren Groff
The author of multiple novels including "The Monsters of Templeton," "Arcadia" and "Matrix" will discuss her latest, "The Vaster Wilds," in which a young woman escapes from a colonial settlement into the wilderness. She'll speak in conversation with essayist/author Daniel Tam-Claiborne.
7 p.m. Oct. 19; Seattle Public Library's Central Library, 1000 Fourth Ave., Seattle; free but registration required; 206-386-4636; spl.org
Timothy Egan
Egan, the Seattle-based author of numerous nonfiction books including the bestseller "The Immortal Irishman" and the Edward Curtis biography "Short Nights of the Shadow Catcher," will discuss the 1920s history behind his latest book "A Fever in the Heartland: The Ku Klux Klan's Plot to Take Over America, and the Woman Who Stopped Them."  
7 p.m. Nov. 2; Seattle Public Library's Central Library, 1000 Fourth Ave., Seattle; free but registration required; 206-386-4636; spl.org
Viet Thanh Nguyen
The Pulitzer Prize-winning author of "The Sympathizer" comes to town with something new: "A Man of Two Faces," a memoir about his life as a Vietnamese American (his family came here as refugees when Nguyen was 4 years old), as a father, and as a son.
7:30 p.m. Nov. 8; Town Hall, 1119 Eighth Ave., Seattle; $35-$80 in-person, $25-$100 digital; 206-621-2230; lectures.org
Bryan Washington
Washington's acclaimed 2020 debut novel, "Memorial," was a gentle tale of family, connection and food — one main character was a chef, and the novel is full of evocative descriptions of meals. Now he's back with "Family Meal," a tale of two former best friends and a family bakery. Washington will speak in conversation with local author (and recent Washington State Book Award winner) Kim Fu.
7 p.m. Nov. 9; Seattle Public Library's Central Library, 1000 Fourth Ave., Seattle; free but registration required; 206-386-4636; spl.org