Anne Heche got her start in show business at the age of 12 when she was forced to start working to support her family.
The actress, who died last week from an anoxic brain injury after her car crashed into a Los Angeles home, made $100 per week performing at a dinner theater in New Jersey.
Heche, 53, opened up about her start as a child actor on the Behind the Rope podcast during a conversation about which actress she wanted to portray her in a biopic of her life.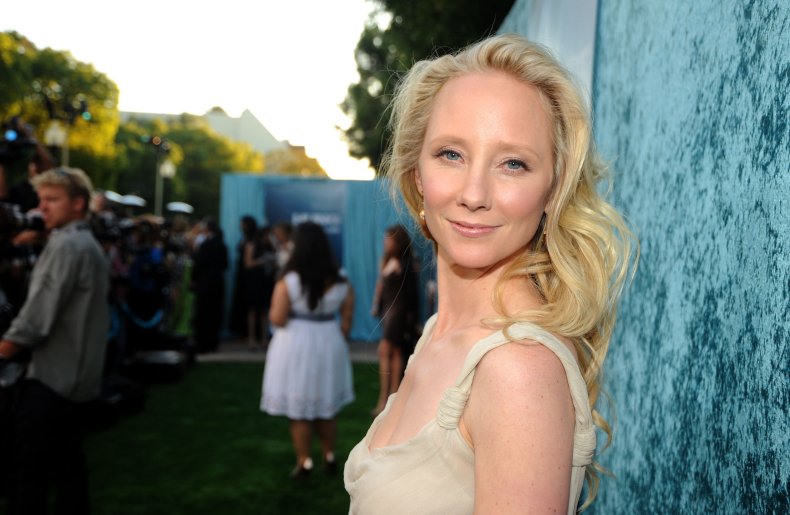 The Volcano actress flagged Miley Cyrus as one of her top choices because she felt they were kindred spirits and both started their careers as child actors—Cyrus as Hannah Montana and Heche in local theater before starring in the TV series Another World.
She first performed in a 1981 production of The Music Man at the 76 House Dinner Theater in Swainton where she made the equivalent of $326 a week in today's money.
"I started when I was 12 supporting my family—it was in dinner theater in New Jersey making $100 a night," she told podcast host David Yontef.
In previous interviews, Heche had said she actually made $100 per week and she had to work to support her family who had been left homeless after getting kicked out of their home.
"That's how I made my break into the whole world of understanding that pretending could make you money," Heche told Larry King on his late night show in 2001.
Then just two years after making her stage debut, Heche lost her father who died of AIDS-related illnesses.
She believed her childhood trauma and abuse got her on the path to acting.
"I think everything in my childhood led me to being an actress," Heche explained.
Also in the same podcast recorded just months before her death, Heche picked Cyrus and Kristen Bell as the actresses she wanted to portray her in a biopic of her life.
The actress paid tribute to Cyrus' ability to play two characters on Hannah Montana and also her transition to a global pop superstar in adulthood.
"To go from Disney to Wrecking Ball… that's a pure artist, engaging with the world to give them the best possible time. She's also a great fking actress," Heche explained.
Heche wanted Bell because "I see myself a lot in her." The two worked opposite each other as mother and daughter in 2004 Lifetime movie, Gracie's Choice. "I don't think it's any mistake I played her mom and I want her to play me."
The 53-year-old fell into a coma following the August 5 crash in the Mar Vista neighborhood where her Mini Cooper was spotted on doorbell cameras speeding down the street. A few moments before crashing the car into a suburban home, footage showed Heche's car hitting the garage of an apartment building.
She died from her brain injuries a week later but was kept on life support to be able to donate her organs.
Doctors took the actress off life support on August 14, with a representative saying in a statement that the mother of two would be "deeply missed" by those whose lives she had touched.
Heche was known for her roles in films such as Donnie Brasco, Wag the Dog and Six Days Seven Nights, and the soap opera Another World, which won her a Daytime Emmy Award.
She became a household name in the late 1990s when she embarked on a high-profile relationship with comedian and talk show host Ellen DeGeneres whom she dated from 1997 to 2000.
They announced their split in a statement to the New York Daily News.
"Unfortunately, we have decided to end our relationship. It is an amicable parting, and we greatly value the 3 1/2 years we have spent together," their statement read. "We hope everyone will respect our privacy through this difficult time."
Despite their cordial message, DeGeneres said their breakup came as a shock.
"She walked out the door, and I haven't spoken to her since," the comedian told The Los Angeles Times in 2001. "I don't have the answers."
Learn More: latest news on stimulus,u visa latest news,o panneerselvam latest news,g dragon latest news,latest news about stimulus check,j cole latest news,p chidambaram latest news,hepatitis b latest news,sarah g latest news,l&t latest news,p square latest news,