NEWS
AOC Suggests Israel Could Try 'Ethnic Cleansing of Palestinians'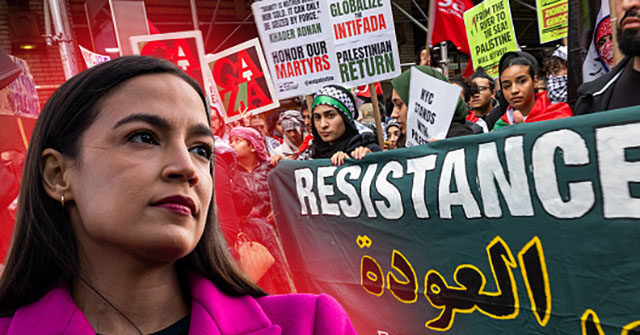 Rep. Alexandria Ocasio-Cortez (D-NY) said on Thursday the United States has a responsibility to prevent Israel from attempting to ethnically cleanse Palestinians from the Gaza Strip.
Speaking on X about Israel's clear intention to destroy Hamas after its gruesome terror attacks over the weekend, Ocasio-Cortez said it is the United States' responsibility to stabilize and secure the Middle East. "That means being able to support … Israel in its defensive capacities … in that context," she said. 
She then suggested that Israel could try to ethically cleanse Palestinians from Gaza. Ocasio-Cortez's suggestion came without making the distinction between Hamas terrorists and Palestinian civilians who live under Hamas rule. 
"It also means that the United States has responsibility to ensure accountability to human rights — to prevent the ethnic cleansing of Palestinians, and to ensure that horrors do not happen in the names of victims who do not want their tragedy used to justify further violence and injustice," said. 
Israeli President Isaac Herzog spoke to reporters on Thursday, making clear Israel's war is focused on "fighting terror" and that it would spare no expense in eliminating Hamas.
"We are fighting terror," Herzog said. "Humanity has to decide: are we accommodating terror or are we fighting terror? We saw the worst atrocities possible. We are seeing the worst atrocities possible by a whole campaign of a movement, which has major support from our neighbors."
Herzog also slammed CNN for accusing the nation for committing a "war crime" by imposing hardships on Palestinians as it responds to the massive terror attack by Hamas.
"I agree, there are many, many innocent Palestinians who do not agree with this [ideology], but unfortunately, in their homes, there are missiles shooting at us, at my children, on the entire nation of Israel. We have to defend ourselves," he said. "We have the full right to do so. It's about time the whole world understands it, this is the tragedy of using terror. There is no mercy to terror."
A Channel 4 journalist followed up by accusing Herzog of "hold[ing] the people of Gaza responsible" for not removing Hamas, and therefore by implication that makes Palistinians legitimate targets.
"I did not say that," he said. "But with all due respect, if you have a missile in your goddamned kitchen, and you want to shoot it at me, am I allowed to defend myself? Yes!"
Follow Wendell Husebø on Twitter @WendellHusebø. He is the author of Politics of Slave Morality.