Bitcoin price fell to a 3-month low earlier today retracing to $42,000 level which many believe was caused by Elon Musk's recent Twitter meltdown, however, the price soon bounced off to rise above $45,000 as the total correction since last month high reached over 30 percent , the biggest correction this bull season. While many Bitcoin proponents believe the recent market shakeup is not out of the ordinary, the unusual exchange inflow continues to rise which might indicate another bearish downtrend in the short term.
BTC Price Dips
Elon Musk's late Sunday tweet sent Bitcoin (BTC) and the entire crypto market into a tailspin, with the latter losing over 10% in a flash crash. Musk's most recent tweet has once again helped to keep Bitcoin losses to a minimum. Following Musk's confirmation, the price of Bitcoin jumped by $2000, from under $43,000 to near $45,000.
Bitcoin is down 20% since @ElonMusk started shitposting.

And you wonder why some people are mad? 🤔 pic.twitter.com/WDMvcptFsK

— Bitcoin Archive 🗄🚀🌔 (@BTC_Archive) May 16, 2021
Clearly, Elon Musk wields a lot of power over Bitcoin and the entire crypto room. Bitcoin critic Peter Schiff questioned whether Bitcoin is a "safe-haven asset" or a "store of value" if a single tweet would cause investors to panic. Elon Musk has reported that Tesla has not yet sold any Bitcoin. It doesn't rule out the possibility of a sale in the immediate future.
Notwithstanding this development with BTC price action, many Bitcoin advocate are calling for investors to buy the ongoing dip. Bitcoin veteran like Anthony Pompliano said that they are buying the dips amid all the FUD.
I bought the dip.

Love the FUD.

Thank you.

— Pomp 🌪 (@APompliano) May 16, 2021
Binance CEO Changpeng Zhao also wrote:
"Bitcoin/crypto have not changed. They don't care. There are always fluctuations in the market, for all kind of reasons. You can blame others for what they tweet (their freedom). Or you can take advantage of the opportunities. Not financial advice".
It is also important to note that the current Bitcoin fear and greed index has dropped to 27 suggest a major fear in the market. According to  market analyst Wu Blockchain, however, this is much better than the fear over the last few weeks.
"The current BTC Fear/Greed Index is 27, which is in a state of fear, but it is a increase from yesterday's index of 20. The BTC Fear/Greed Index on March 13 last year was only 10, and it remained below 20 for nearly two weeks," he writes.
Related article | This Crypto Fund Manager Claims Bitcoin Drop Was "Capitulation"
Exchange Inflows Surge Despite Price Crash
Ki-Young Ju, the founder of crypto analytical company crypto quant and a well-known crypto analyst, has warned traders to keep their leverage low and stop longing Bitcoin in the coming days, citing the increasing exchange inflow.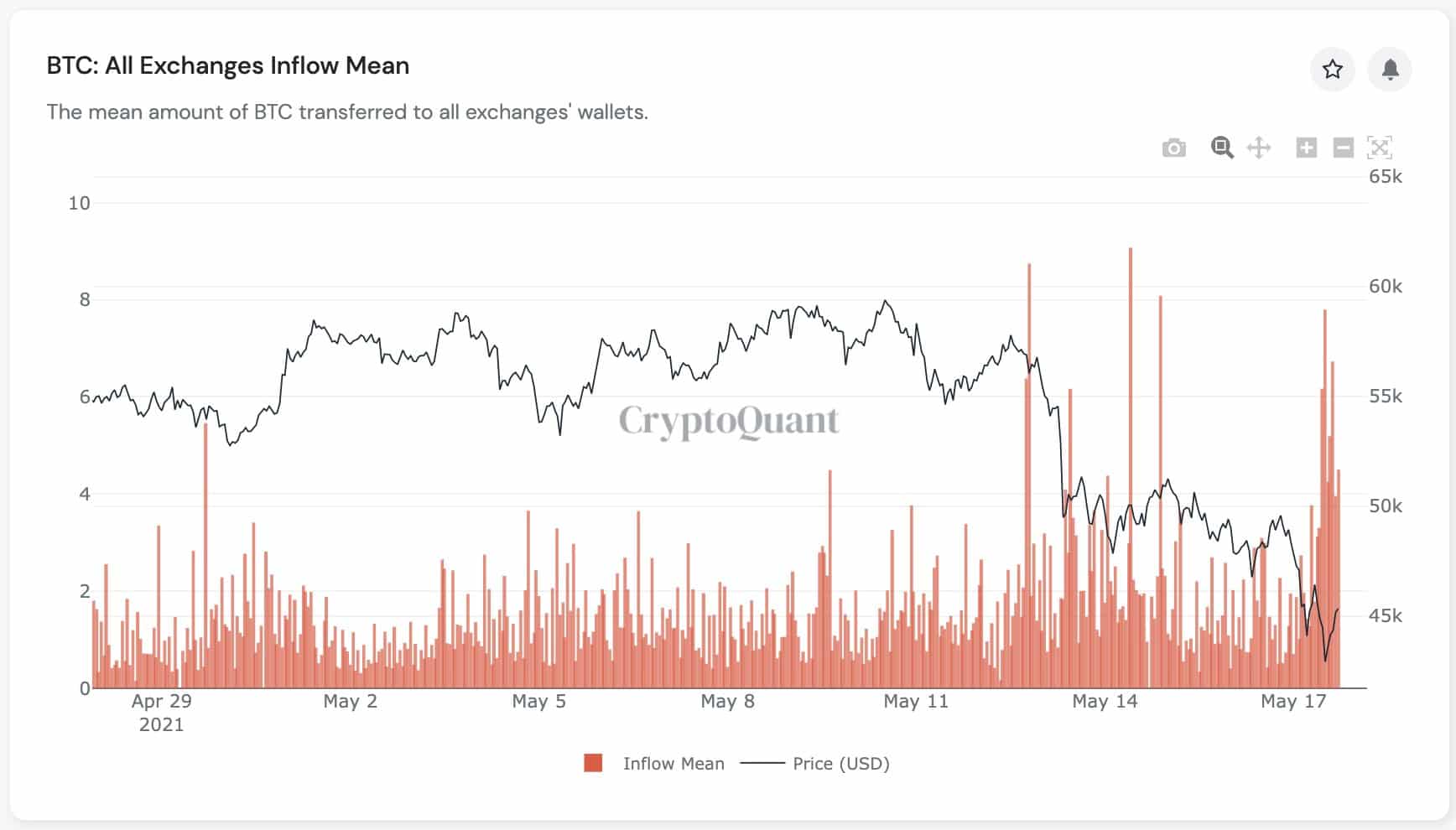 A similar unusual exchange inflow was reported on Bitfinex just hours before Elon Musk declared that Tesla would no longer accept Bitcoin payments due to environmental concerns, prompting a 10% correction in the price of the top cryptocurrency.
Although many people blame Musk for the recent sell-off and corrections, Bitcoin advocates argue that the 200% increase since the beginning of the year has come at the expense of 10% to 40% corrections.
Related article | Lesson Learned: Teacher Loses Life Savings To Elon Musk Bitcoin Scam
Featured image from Pixabay, Charts from TradingView.com
Learn More: business analyst salary, business synonym, business administration jobs, business near me, business hours, business development manager salary, my business course, business in spanish, business headshots, business first, business unit, business brokers near me, dbusiness, 2 business days, is business administration a good major, business horizons, 7 business days, business knowledge, business use case.