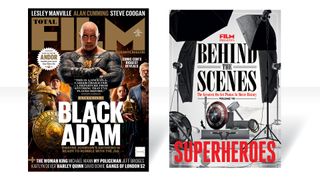 (Image credit: Warner Bros/Total Film)

Get ready for the super(anti)hero event movie of the year, as Total Film (opens in new tab) talks to the world's biggest movie star, Dwayne Johnson, and the rest of the key players about Black Adam, the film that is about to change everything in the DC Universe. Almost two decades in the making, this has been some journey – and Total Film traces every step.
And Black Adam is just the start of the superpowers on show. The issue also rounds up all of the hottest news and insights from this summer's Comic-Con, while a 52-page supplement goes behind the scenes of the most iconic superhero movies ever made, bringing you candid photography and exciting information.
Plus, in-depth looks at brand-new Star Wars show Andor, historical action-drama The Woman King, the complete history of Harley Quinn, ground-breaking Bowie musical documentary Moonage Daydream, and interviews with Lesley Manville, fast-rising star Kaitlyn Dever, and legendary filmmaker Michael Mann as Heat 2 comes out blasting.
Black Adam cover story
(opens in new tab)
A fan of comic books since he was a boy, Dwayne Johnson achieves his lifelong dream of bringing badass antihero Black Adam to the screen, and introduces viewers to the OG super-team Justice Society of America. Expect explosive action in one of the year's biggest movies – the titular titan has been imprisoned for 5,000 years, and now he's out and ready to rip the modern world a new one.
The making of Andor
Rogue One was the end of Cassian Andor's story. Now it's time for the beginning, the middle and much more with the gritty, twisty Andor on Disney+. The band of rebels behind the new maxi-series reveal why it's a Star Wars saga like none you've ever seen…
The Woman King interviews
Having established her action credentials on The Old Guard, Gina Prince-Bythewood has rounded up Viola Davis, Lashana Lynch and many more outstanding actors to tell the tale of the mighty 19th-century Africa army, the Agojie. Director and cast take us inside the good fight.
The history of Harley Quinn
As the mischief maker turns 30, Total Film looks at all things Harley Quinn, from her animated origin story to the comics to Margot Robbie in Birds of Prey… and Lady Gaga in the pipelined Joker 2. Ms. Quinn's creators help unfold the full story.
Kaitlyn Dever interview
After turning heads in ace high-school comedy Booksmart, Kaityln Dever showed she had serious dramatic chops when she migrated to TV for Unbelievable and Dopesick. Now she's back showing her lighter side in Ticket To Paradise (in cinemas September 16), a romantic comedy co-starring Julia Roberts and George Clooney, and Rosaline (on Disney+, October 14), a revisionist spin on the Romeo & Juliet story.

The Brit powerhouse is garnering Oscar buzz for her title role in Mrs. Harris Goes To Paris. What better time for her to talk Total Film (opens in new tab) through the highlights of her work in film and TV, including Paul Thomas Anderson's Phantom Thread, stunning sitcom Mum and her eight-film collaboration with the great Mike Leigh.
The making of Moonage Daydream
Assembled from five million pieces of archival material, Brett Morgen's "experiential" David Bowie documentary took five years to make and is worth every second spent on it. Moonage Daydream takes viewers on an odyssey like no other, and ch-ch-changes music docs forever.
Michael Mann career interview
The master moviemaker has written a novel. It is Heat 2, a tough, terse, thrilling prequel/sequel to his 1995 cops-and-robbers masterpiece starring Robert De Niro and Al Pacino. Will he make Heat 2 into an epic film? Mann talks about this and a 40-year career that includes Manhunter, The Last Of The Mohicans, The Insider, Miami Vice and Collateral.
Comic-Con roundup
Total Film (opens in new tab) was in San Diego for the world's biggest comic-con, and here's everything we learned about the new Fantastic Four movie, the next two Avengers movies, Ant-Man and the Wasp: Quantumania, Dungeons & Dragons, John Wick 4, Shazam! Fury Of The Gods and more. Trust us, you'll want to hold on to your hat.
Superhero special
We look under the capes (not like that) of Batman, Superman, Thor and more. This 52-page supplement goes behind-the-scenes of the greatest superhero productions to bring you plenty of surprise pictures and facts. Includes Wonder Woman, Black Panther, Blade, Spider-Man, Wolverine, and many, many more. (Note, supplement comes with print edition only.)
Out now!
(opens in new tab)
And if you're a print subscriber (opens in new tab), you'll already have the magazine (and the special supplement) waiting for you on your doormat, with this exclusive, subscribers-only cover:
(opens in new tab)
Subscription offer!
And if you're a fan of Total Film, why not subscribe (opens in new tab) so that you never miss an issue? You'll also get it before it's in shops, and you'll get exclusive subscriber-only covers like the fold out crown above, and you'll save money on the cover price. Plus, with our latest subs offer, you can also get a free STM Myth laptop bag worth £90. Head to MagazinesDirect (opens in new tab) to find out more (Ts and Cs apply)

(opens in new tab)
I'm the Deputy Editor at Total Film magazine, looking after the long-form features there, and generally obsessing over all things Nolan, Kubrick and Pixar. Over the past decade I've worked in various roles for TF online and in print, including at GamesRadar+, and you can often hear me nattering on the Inside Total Film podcast. Bucket-list-ticking career highlights have included reporting from the set of Tenet and Avengers: Infinity War, as well as covering Comic-Con, TIFF and the Sundance Film Festival.
Learn More: entertainment near me,entertainment synonym,entertainment center ideas,entertainment lawyer,3 arts entertainment,entertainment law,entertainment 720,entertainment work permit,entertainment room,entertainment logo,entertainment trivia,entertainment wall units,entertainment wall,entertainment industry jobs,entertainment in the 1920s,entertainment and sports arena,entertainment attorney,entertainment media,entertainment design,entertainment marketing,entertainment lawyer salary,entertainment benefits group,entertainment jobs los angeles,entertainment jobs atlanta,entertainment venues,entertainment brands,3 piece entertainment center,entertainment and sports arena dc,entertainment places,entertainment jobs nyc,entertainment hobby shop jungle,entertainment videos,entertainment reddit,entertainment 1920s,yg entertainment actors,p nation entertainment,entertainment voice,entertainment venues near me