NEWS
Bob Menendez's Wife Struck, Killed Pedestrian in 2018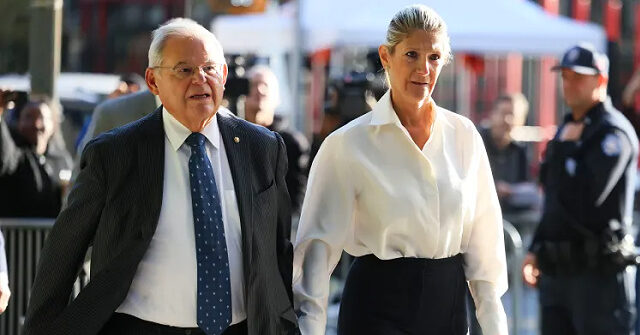 Nadine Arslanian Menendez, the wife of indicted Sen. Bob Menendez (D-NJ), reportedly struck and killed a pedestrian in 2018. She would have been his girlfriend at the time.
Police records of the incident were revealed on Wednesday by the New York Times. Federal prosecutors have claimed that the couple was "given a new Mercedes as a gift" as part of a "bribery conspiracy to cash in on Menendez's power and influence. Police records indicate the fatal collision badly damaged Arslanian's Mercedes," according to NBC News.
The crash happened in the New Jersey town of Bogota. Arslanian was not charged. She told police that she had been driving on Main Street when a man jumped on her windshield. The man was later identified as Richard Koop. Per NBC News:
Koop was found lying in the road with "severe head trauma, bleeding from the back of his head, bleeding from the face, and possible fractured legs and arms" when police arrived shortly after 7:30 p.m., according to police records obtained by NBC News that also said the responding officer described Koop as unconscious and not breathing.

Arslanian was "bleeding from her hands" and had hit a parked car after she struck Koop, police records showed.

"Why was the guy in the middle of the street? I didn't do anything wrong, you know?" she told police, according to the dashcam video.
In the report, police officers said that Arslanian rescinded her consent to have them search her cellphone.
"Ms. Arslanian originally reported I may search her phone, handed me her phone, then shortly after reported she no longer gives consent for a cellular phone search. I immediately returned Ms. Arslanian's phone back to her," one of the officers said.
Police determined that Koop was "jaywalking and did not cross the street at an intersection or in a marked crosswalk." No record shows if she was tested for drugs or alcohol.
Sheri Breen, a lawyer for the Koop family, has alleged that Menendez's wife waited to call 911 and "let him lie on the ground and she took some time to sit there watching before she backed up, moved her car again and then drove around him."
"He just had to cross the street to get to his home when the defendant came barreling down the street and struck him," Breen said.
The Koop family received a settlement from Arslanian's insurance company.
As Breitbart News reported, several Democrats have called on Bob Menendez to resign after being indicted, along with his wife, in New York in "connection with their alleged 'corrupt relationship' with a trio of businessmen and to 'benefit' the Egyptian government." The indictment also alleges that the senator accepted "hundreds of thousands of dollars worth of bribes in exchange for favors from the businessmen."
"Under our legal system, Senator Menendez and the other defendants have not been found guilty and will have the ability to present evidence disputing these charges, and we must respect the process," said Democrat New Jersey Gov. Phil Murphy. "However, the alleged facts are so serious that they compromise the ability of Senator Menendez to effectively represent the people of our state. Therefore, I am calling for his immediate resignation."
Menendez has said he will not resign and has denied any wrongdoing.
"Since this investigation was leaked nearly a year ago, there has been an active smear campaign of anonymous sources and innuendos to create an air of impropriety where none exists," he said in a statement.
"The excesses of these prosecutors is apparent. They have misrepresented the normal work of a Congressional office. On top of that, not content with making false claims against me, they have attacked my wife for the longstanding friendships she had before she and I even met," he added.
Paul Roland Bois joined Breitbart News in 2021. He also directed the award-winning feature film, EXEMPLUM, which can be viewed for FREE on YouTube or Tubi. A high-quality, ad-free stream can also be purchased on Google Play or Vimeo on Demand. Follow him on Twitter @prolandfilms or Instagram @prolandfilms.