Boy George's previous conviction for the false imprisonment and assault on an escort was thrust back into the spotlight on Wednesday night, when it was brought up on U.K. TV show I'm a Celebrity…Get Me Out Of Here!
The Culture Club frontman, real name George O'Dowd, was in January 2009 sentenced to 15 months in jail after he was found guilty of handcuffing Norwegian model Audun Carlsen to a wall and beating him with a metal chain.
As reported in The Guardian, Carlsen previously said he had visited the musician's east London apartment in April 2007, with the two taking cocaine during a nude photo session before he was invited into Boy George's bedroom.
Carlsen said that Boy George, 61, and an unnamed man then ambushed him, with the "Karma Chameleon" singer accusing his guest of attempting to hack his computer.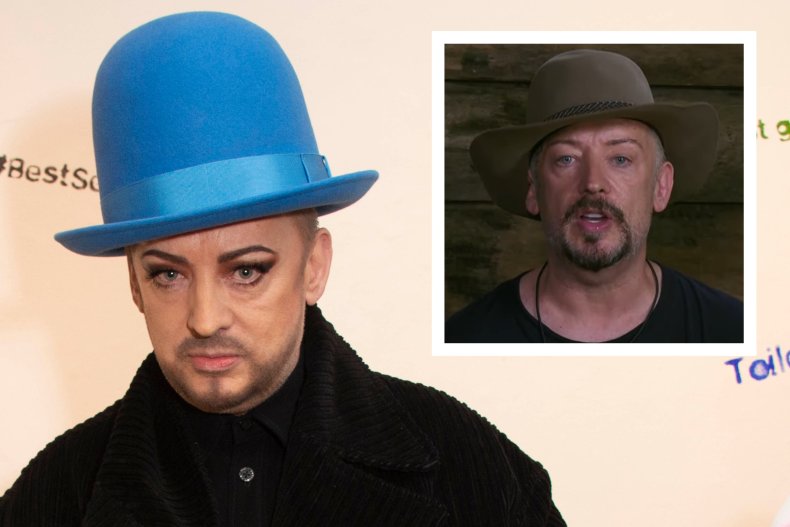 According to Carlsen, he was then beaten and handcuffed to a wall fixture, before Boy George returned to the room with a box containing such items as sex toys, chains and leather straps.
Addressing the court at the time of the trial, Carlsen said that he managed to escape after wrenching the fixture to which he was bound free. He said that Boy George was still able to beat him with a chain as he fled into the street.
While the incident had a damaging effect on his career, Boy George is enjoying something of a comeback, thanks to his appearance on I'm A Celebrity, a hit U.K. reality show that features a group of stars competing in tasks to win food rations—and the ultimate public vote of popularity—as they camp in the Australian jungle.
But on Wednesday, Boy George's past was bluntly brought up when one of his campmates, TV presenter Scarlette Douglas, casually asked: "What happened with you, BG, and some guy in handcuffs and a radiator?"
"That's not true," responded a visibly rattled Boy George, prompting Douglas to explain: "I don't know the story, I just heard radiator, handcuffs…"
"It's not true, no radiators," said Boy George. "Handcuffs is true but the radiator bit wasn't true. But thanks for bringing it up."
As Douglas apologized and added that she wouldn't be surprised if it was a "fake story," Boy George said: "Sometimes these things, they go into the ether, and people keep saying them and they become folklore."
While Boy George didn't appear to be overtly irate about the subject being broached, he later expressed his frustrations as he spoke to cameras in a more private area of the campsite known as the Bush Telegraph.
"Scarlette blatantly talked about my court case. I thought it was inappropriate what she did, actually," he said. "I thought she shouldn't have said what she said to me. And I thought I handled it really well as it's a big sore point for me when people say things like that."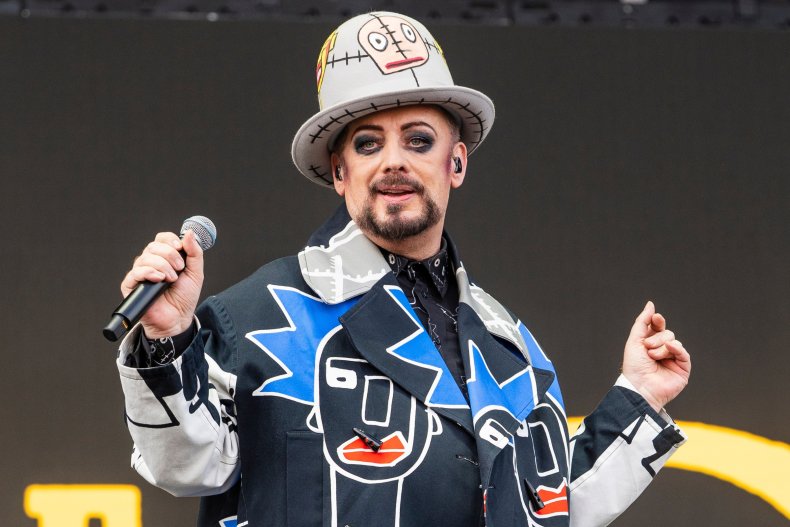 Boy George was later seen telling Douglas that if he had physically attacked Carlsen "there would have been photographs." He also said that "if it was true, [he] wouldn't be working now," though he admitted to handcuffing Carlsen.
At the time that Boy George's sentence was passed in east London's Snaresbrook Crown Court, Judge David Radford called the offense "so serious that only an immediate sentence of imprisonment can be justified," according to The Guardian.
The fallout from the charges saw Boy George being forced to cancel a planned 24-date tour in the summer of 2008, after he was denied a visa to enter the U.S. while awaiting trial.
"I am hardly a threat to national security," he told Newsweek at the time. "I am just a performer trying to do his job. I have called America home at different times in my life. I love America, and the American people have always treated me with love and kindness since I went there as a 19-year-old boy with my band Culture Club."
Boy George has since been allowed entry to the U.S., most recently performing in Austin, Texas, on October 15 of this year with Culture Club.
During an appearance on Piers Morgan's U.K. TV show Life Stories in February 2017, Boy George said that while he had "always denied beating" Carlsen, he explained: "In hindsight I was having a psychotic episode. I was a drug addict so I can't sit here and say my reasons for doing it were founded in any way."
"But I told the truth. I said, 'This is why I did it. I was having a paranoid episode," Boy George went on, explaining that he never apologized directly to Carlsen because it "wouldn't make any difference."
"I always felt like not talking about it was dignified," he said. "All of it was the drugs. There is no way on God's earth this would happen if I had not been on drugs. I kind of took responsibility but in my way. It is in my nature to spill my guts. I never really tell lies and sometimes it has worked against me."
In an interview with The Mirror earlier this month, as Boy George's weeks-long stint on I'm A Celebrity kicked off, Carlsen, now aged 43, said that he remains haunted by the incident as he spoke out against the star being given a platform.
"I still see the monster that he is every time I see him," Carlsen said, adding: "Had I been a woman and he did what he did, he would never have been given the platform."
Learn More: latest news on stimulus,u visa latest news,o panneerselvam latest news,g dragon latest news,latest news about stimulus check,j cole latest news,p chidambaram latest news,hepatitis b latest news,sarah g latest news,l&t latest news,p square latest news,