President Muhammadu Buhari has signed 16 Constitution Amendment Bills into Law.
Lifestyle Nigeria reports that By this signing, State Houses of Assembly and Judiciaries now have constitutionally-guaranteed financial independence, while Railways have moved from Exclusive Legislative List to the Concurrent List.
Some of the amendments signed by the President include,
Nigerian States can now generate, transmit and distribute electricity in areas covered by the National grid.
Prisons – now known as "Correctional Services" – has also now moved from the Exclusive Legislative List, to the Concurrent List. Meaning that States now have the power to establish Correctional and Custodial facilities, and State Assemblies have the power to legislate on such.
The Constitution now mandates the President and Governors "to submit the names of persons nominated as Ministers or Commissioners within sixty days of taking the oath of office for confirmation by the Senate or State House of Assembly…"
Local governments' names can no longer be changed without a Constitution Amendment process. Because LGAs are listed in the Constitution, you can't alter their names or create new ones without due process.
And LGAs whose names have just been changed through the constitutional amendments will formally be changed and referred to by their new names in the Constitution.
Railways have been moved from the Exclusive list to Concurrent, which means Rail is no longer an exclusive preserve of the Federal Govt/NASS. States will now be able to make laws regulating establishment and operation of rail services within their territory. Inter-State Rail will remain FGN responsibility.
The Amendment Bill passed by the NASS for financial autonomy for Local governments, seeking for the "State Joint Local Government Account" to be separated and a new "Local Govt Council Allocation Account" to be credited directly was not accepted as not enough State Assemblies concurred
With the Bills been assent as Acts of Parliament,the next step is for "gazetting" to happen – the process by which the assented Acts are published in the Official Gazette of the Federal Republic of Nigeria.
See  sample of Gazette Below: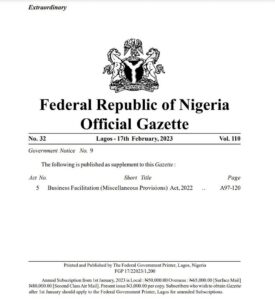 Learn More: entertainment near me,entertainment synonym,entertainment center ideas,entertainment lawyer,3 arts entertainment,entertainment law,entertainment 720,entertainment work permit,entertainment room,entertainment logo,entertainment trivia,entertainment wall units,entertainment wall,entertainment industry jobs,entertainment in the 1920s,entertainment and sports arena,entertainment attorney,entertainment media,entertainment design,entertainment marketing,entertainment lawyer salary,entertainment benefits group,entertainment jobs los angeles,entertainment jobs atlanta,entertainment venues,entertainment brands,3 piece entertainment center,entertainment and sports arena dc,entertainment places,entertainment jobs nyc,entertainment hobby shop jungle,entertainment videos,entertainment reddit,entertainment 1920s,yg entertainment actors,p nation entertainment,entertainment voice,entertainment venues near me