On Monday evening, a group of animal welfare activists in the southwestern city of Chengdu made a horrific discovery. 
At a local logistics depot, they found an enormous stack of boxes, packaged ready for shipping. There were 160 in total, the pile stretching several feet high. Inside the boxes, they could hear squealing.
Each package contained a live cat or dog. They had arrived at the depot inside crates disguised as regular express deliveries, and were due to be shipped to cities across China. Many of the animals were already in a pitiful state.
The volunteers did all they could to help the creatures, feeding them glucose water with syringes through holes in the boxes, a member of the group surnamed Zhou told Sixth Tone. But they couldn't save them all. By Tuesday, four had died.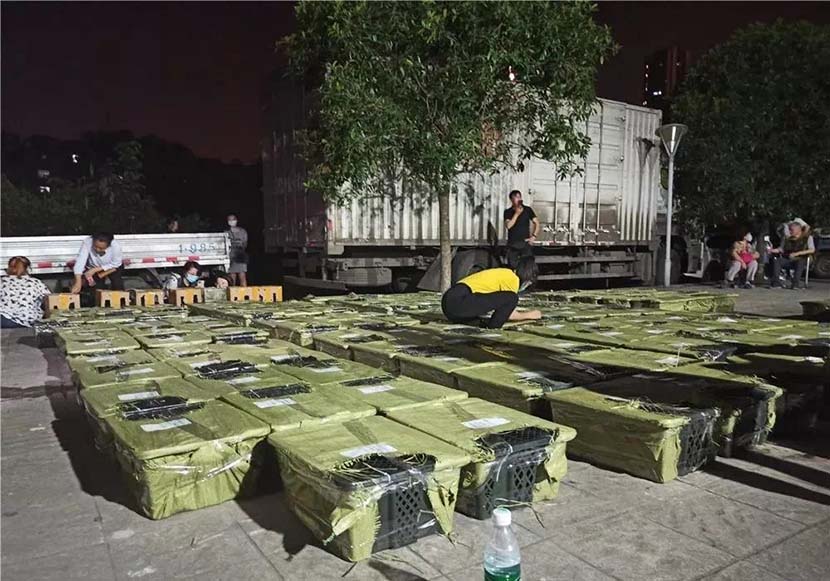 Members of an animal welfare group inspect a stack of boxes containing live animals at a logistics center in Chengdu, Sichuan province, May 3, 2021. From @河南法制报 on Weibo
The incident has focused public attention on a dark new trend: a rise in Chinese e-commerce businesses selling live animals inside "blind boxes."
Blind boxes — opaque gift boxes containing a mystery toy — have become hugely popular in China, with market leader Pop Mart valued as a billion-dollar company. Now, online vendors have begun offering a twist on the concept, by replacing the toy with a mystery pet.
Since January, stores offering blind boxes containing all kinds of animals — including dogs, cats, turtles, and even spiders — have been active on e-commerce platforms Taobao and Pinduoduo. In most cases, buyers aren't allowed to select a specific breed, nor return the animals.
Mailing live animals inside regular express delivery packages is illegal, but it has been happening in China for years. In Chengdu, neighbors had been hearing animals howling inside the logistics depot for two weeks, according to Zhou.
"Most of the boxes say the animals are offspring of expensive dog breeds, but they're just rural dogs," Zhou said. "People buy them, and once they find they don't like what's in the blind box, they return the animals or just abandon them." 
The volunteers posted photos and videos of the animals to Chinese social media on Monday night, and the story quickly sparked an outpouring of public anger. On microblogging platform Weibo, commenters condemned not only the e-commerce vendors, but also the customers, logistics companies, and lax law enforcement that make the trade possible.
"From the point of view of the animals, it's extremely cruel," wrote one user. "From the point of view of public health, it might spread the virus."
On Tuesday, state-run broadcaster CCTV weighed in on the case, describing the trend of buying blind boxes containing live pets as "a departure from human nature" and the "alienation of entertainment."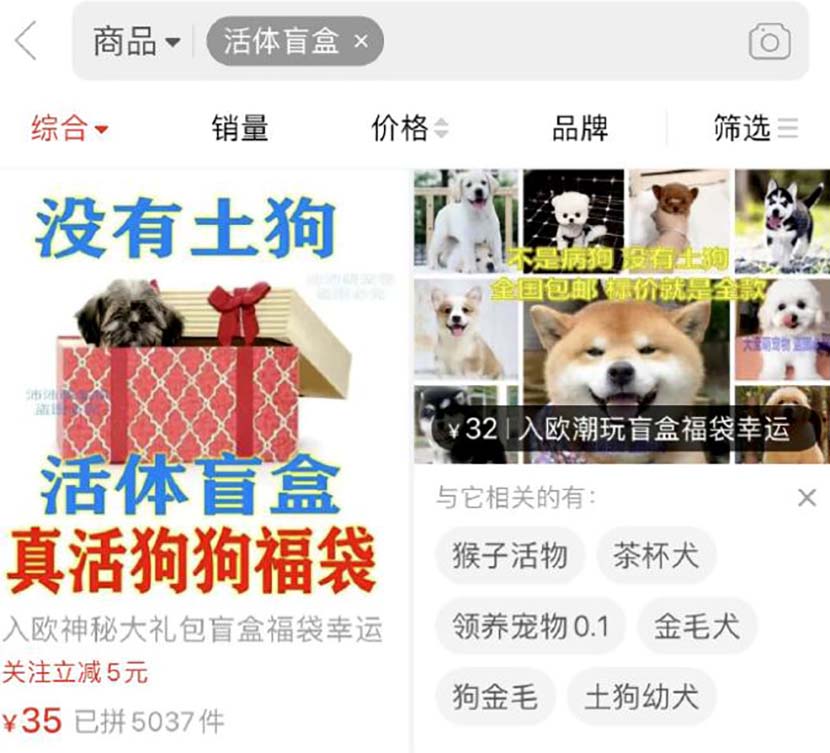 A screenshot shows a store advertising pet blind boxes on an e-commerce platform. From @天眼新闻 on Weibo
Local authorities, however, appear to be uncertain how to respond. On Tuesday, police in Chengdu told domestic media they had no power to deal with the issue. Officials from the local agriculture and rural affairs bureau, meanwhile, said they were only responsible for managing animal transportation and virus-control measures.
"If economic disputes are involved, we have no authority to manage them," the officials said.
On China's major e-commerce platforms, vendors are still openly selling animal blind boxes, though it appears the platforms are making some efforts to clamp down on the practice.
When Sixth Tone searched "pet blind box" on Taobao on Wednesday, several stores selling turtles appeared. One store based in the southern Guangdong province reported sales of over 300 turtles a month, with prices ranging from around 20 yuan to 1,300 yuan ($3-200).
On the store's page, customers had left comments including "it was dead when I opened the box," "the seller sent me an egg," and "strongly recommended."
An animal welfare advocate, who requested anonymity for privacy reasons, told Sixth Tone that despite the platforms' attempts to shut down stores selling pet blind boxes, many vendors are evading the clampdown by using different keywords.
"On Pinduoduo, we just found quite a few shops claiming they can't ship boxes to Sichuan province (where Chengdu is located) or use ZTO Express," the person said on Wednesday morning.
According to a statement released by ZTO Express, the logistics firm that owns the center, one of the company's security directors in Sichuan was suspended following the incident.
The company added that after an investigation, it had confirmed the live animals had been sold through an e-commerce platform. The firm also admitted it had violated China's postal regulations by accepting the packages containing the animals. 
In Chengdu, the animals that survived their ordeal at the depot have been transferred to a local pet store, where they are being quarantined temporarily, according to Zhou.
"Once the results are out, the healthy cats and dogs will be sent to Aizhijia rescue center, which holds 5,000 rescued animals," Zhou said. "The sick ones will be treated as soon as possible."
But the volunteer added that similar incidents are likely to occur unless China passes stronger animal protection legislation.
"China's lack of laws to protect small animals makes these problems difficult to solve," Zhou said. "If we want to prevent this happening again, we must have laws to restrain people's behavior."
Editor: Dominic Morgan.
(Header image: A puppy rescued by members of an animal protection group at a logistics center in Chengdu, Sichuan province, May 3, 2021. From @河南法制报 on Weibo)
Learn More: entertainment near me,entertainment synonym,entertainment center ideas,entertainment lawyer,3 arts entertainment,entertainment law,entertainment 720,entertainment work permit,entertainment room,entertainment logo,entertainment trivia,entertainment wall units,entertainment wall,entertainment industry jobs,entertainment in the 1920s,entertainment and sports arena,entertainment attorney,entertainment media,entertainment design,entertainment marketing,entertainment lawyer salary,entertainment benefits group,entertainment jobs los angeles,entertainment jobs atlanta,entertainment venues,entertainment brands,3 piece entertainment center,entertainment and sports arena dc,entertainment places,entertainment jobs nyc,entertainment hobby shop jungle,entertainment videos,entertainment reddit,entertainment 1920s,yg entertainment actors,p nation entertainment,entertainment voice,entertainment venues near me