Young women in China's towns and smaller cities have little interest in getting married unless they find the right partner, according to a report by Chinese dating app Tantan.
The survey of over 3,000 millennials living in 68 different counties — which was published Friday — found stark differences between men and women in their attitudes toward dating and marriage, with male respondents expressing far more traditional views.
While 60% of men said they would "get realistic when reaching a certain age and settle for an OK match" in order to get married, women were much less willing to compromise. Around 65% of female respondents said they'd only walk down the aisle if they were in a "high-quality relationship."
Over 41% of women said it was acceptable to "die alone," while only 20% of men agreed.
The results are yet another indication that young Chinese women are increasingly pushing back against traditional social mores, which pressure them into getting hitched and starting a family as early as possible.
Women no longer need men and marriage to guarantee their survival.
– Jiang Yunfei, professor
Females who stay single have long been stigmatized as "leftover women," and many face intense pressure from their parents to settle down. This is particularly common in smaller towns, where communities are closer-knit and social attitudes are less liberal than in the major cities.
According to the report, nearly 43% of millennials believe their hometown is intolerant of single people. Around half the respondents said they had been set up on blind dates — and 6.9% said they'd been on at least five of them.
Yet young Chinese are becoming less willing to bow to such pressure. The country's single population has been on the rise for years, and the birth rate has plummeted. There are 240 million unmarried adults in China as of 2018, according to China's Ministry of Civil Affairs.
In terms of attitudes toward marriage, there is now little difference between women who live in small towns and those from China's major cities, according to Jiang Yunfei, an associate professor of gender studies at Shanghai University of Finance and Economics.
"Now, modern women regard some traditional ideas as a kind of inequality and discrimination," Jiang told Sixth Tone on Tuesday. "Plus, they now have more opportunities in education and work, so they no longer need men and marriage to guarantee their survival."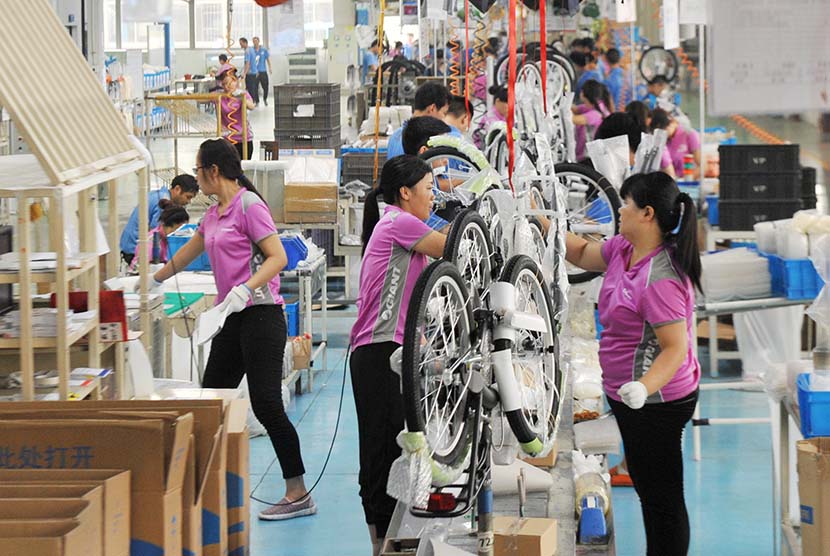 Young women work on a production line at a bike factory in Suzhou, Jiangsu province, Aug. 6, 2017. People Visual
Traditionally, however, Chinese men tend to prioritize their own careers and view marriage as simply a rite of passage, according to Jiang. "If men don't change their attitudes toward marriage, it will reinforce the trend toward low birth rates and discourage women from getting married," she said.
The Tantan survey also found that most millennials in rural China are still keen to move to larger cities, despite the improvements in quality of life in the Chinese countryside over recent years.
Some 68% of respondents born after 1995 said they planned to move to a major city within five years. Nearly 40% of the rural young people surveyed described their lives as "boring."
Dating apps have become an important outlet for millennials outside the major cities, allowing them to expand their social circles and find partners without having to rely on their families, according to Tantan.
"In big cities, there are plenty of social options and a more diverse population, but in small towns, choices of romantic partners are limited," a company spokesperson said.
In my hometown, dating largely depends on your family's connections.
– Wang Yunchu, rural resident
In the survey, over 66% of respondents agreed that "social apps are a more progressive way to make friends," and nearly 31% said they'd met their last date through an app. 
Wang Yunchu, 25, told Sixth Tone she has started using dating apps regularly since moving back to her hometown in eastern China's Anhui province after living in Shanghai for seven years.
"Back in Shanghai, I joined various activities organized for singles to meet new people, like hikes, picnics, and museum visits," she said. "But in my hometown, dating largely depends on your family's connections."
According to Wang, she is tired of going on blind dates set up by her "desperate" parents and other relatives. Though she doesn't like meeting people through apps, it's less awkward than the alternative, she said.
"On the app, I can read their profiles and make my own choices," she said. "Even though I haven't found the right match yet, I feel there are more possibilities ahead of me." 
Usage of dating apps has been climbing rapidly in China in recent years, with downloads on the iOS market increasing by nearly 40% between 2017 and 2019. Tantan, one of the market leaders, claims to have over 400 million users.
Editor: Dominic Morgan.
(Header image: A bride arrives at a wedding ceremony in a village in Zhaoqing, Guangdong province, March 29, 2017. IC)
Learn More: entertainment near me,entertainment synonym,entertainment center ideas,entertainment lawyer,3 arts entertainment,entertainment law,entertainment 720,entertainment work permit,entertainment room,entertainment logo,entertainment trivia,entertainment wall units,entertainment wall,entertainment industry jobs,entertainment in the 1920s,entertainment and sports arena,entertainment attorney,entertainment media,entertainment design,entertainment marketing,entertainment lawyer salary,entertainment benefits group,entertainment jobs los angeles,entertainment jobs atlanta,entertainment venues,entertainment brands,3 piece entertainment center,entertainment and sports arena dc,entertainment places,entertainment jobs nyc,entertainment hobby shop jungle,entertainment videos,entertainment reddit,entertainment 1920s,yg entertainment actors,p nation entertainment,entertainment voice,entertainment venues near me