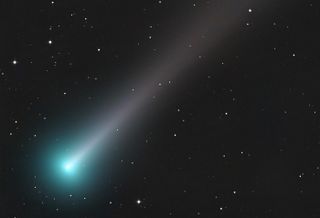 Astrophotographer Chris Schur captures this stunning photo of Comet Leonard on Dec. 4, 2021 from Payson, Arizona using a 10-inch Newtonian telescope and 60-minute camera exposure.
(Image credit: Chris Schur)

Comet Leonard, the brightest comet of the year, made its closest approach to Earth today (Dec. 12) and should be visible through binoculars and telescopes, weather permitting.
Officially known as Comet C/2021 A1 (Leonard), Comet Leonard was discovered in January by astronomer Gregory J. Leonard of the Mount Lemmon Infrared Observatory in Arizona. On Sunday, it passed Earth at a range of 21 million miles (34 million km), but is still not visible to the unaided eye, according to EarthSky.org. 
On Sunday (tonight), Comet Leonard can be found about 30 minutes after sunset in just above the western horizon, according to a NASA guide. You'll be able to look for it again early Monday (Dec. 13), when the comet will rise above the eastern horizon at 6: 37 a.m. EST, just 12 minutes after the dawn twilight breaks. 
"This will be the last morning the comet will be visible in the morning sky until March of 2022 when it will only be visible through a large telescope," NASA officials wrote in the guide. 
Monday evening, Comet Leonard will be visible about 8 degrees above the west-southwestern horizon about 30 minutes after sunset and should be about 2 degrees above the horizon as evening twilight ends at 5: 50 p.m. EST, NASA added. "This again should be a good time to look for this comet," NASA wrote. (Note: Your closed fist held out at arm's length covers about 10 degrees of the night sky.)
Related: Comet Leonard is fading and acting strange
When, or even if, Comet Leonard will become visible to the unaided eye is still uncertain. The comet is still falling inward toward the sun and will make its closest sun approach on Jan. 3, 2022.
"Depending on the dust and gas, the modeled peak brightness is expected to be around Dec. 13 or 14, 2021, about 1 to 2 days after its closest to the Earth," NASA wrote in its guide. "If the comet is giving off a lot of dust, this should make the peak brighter due to forward scattering which could shift the peak later toward Dec.14."
Editor's Note: If you snap an amazing comet or night sky picture and would like to share it with Space.com readers, send your photos, comments, and your name and location to spacephotos@space.com.
Email Tariq Malik at tmalik@space.com or follow him @tariqjmalik. Follow us @Spacedotcom, Facebook and Instagram. 
Join our Space Forums to keep talking space on the latest missions, night sky and more! And if you have a news tip, correction or comment, let us know at: community@space.com.
Tariq is the Editor-in-Chief of Space.com and joined the team in 2001, first as an intern and staff writer, and later as an editor. He covers human spaceflight, exploration and space science, as well as skywatching and entertainment. He became Space.com's Managing Editor in 2009 and Editor-in-Chief in 2019. Before joining Space.com, Tariq was a staff reporter for The Los Angeles Times covering education and city beats in La Habra, Fullerton and Huntington Beach. He is also an Eagle Scout (yes, he has the Space Exploration merit badge) and went to Space Camp four times as a kid and a fifth time as an adult. He has journalism degrees from the University of Southern California and New York University. To see his latest project, you can follow Tariq on Twitter.
Learn More: science clipart,science memes,q sciences,science diet puppy food,science background,science gif,science is real,science 37,science logo,science wallpaper,science symbols,science gifts,science pick up lines,science jobs near me,science center of iowa,pescience protein,science beaker,science park high school,science bowl,science spot,science immunology,science hill ky,science synonym,science emoji,science valentines,science t shirts,science spectrum,science riddles,science notebook,science history institute,science kits for teens,science skills center high school,pescience high volume,science 37 careers,science kits for adults,q sciences login,science in german,usciences basketball,pescience pre workout,science 360,in science an educated guess is a,science uil,kscience photolab,science under evaluation