NEWS
Crock-Pots Are On Sale At Target For $19.99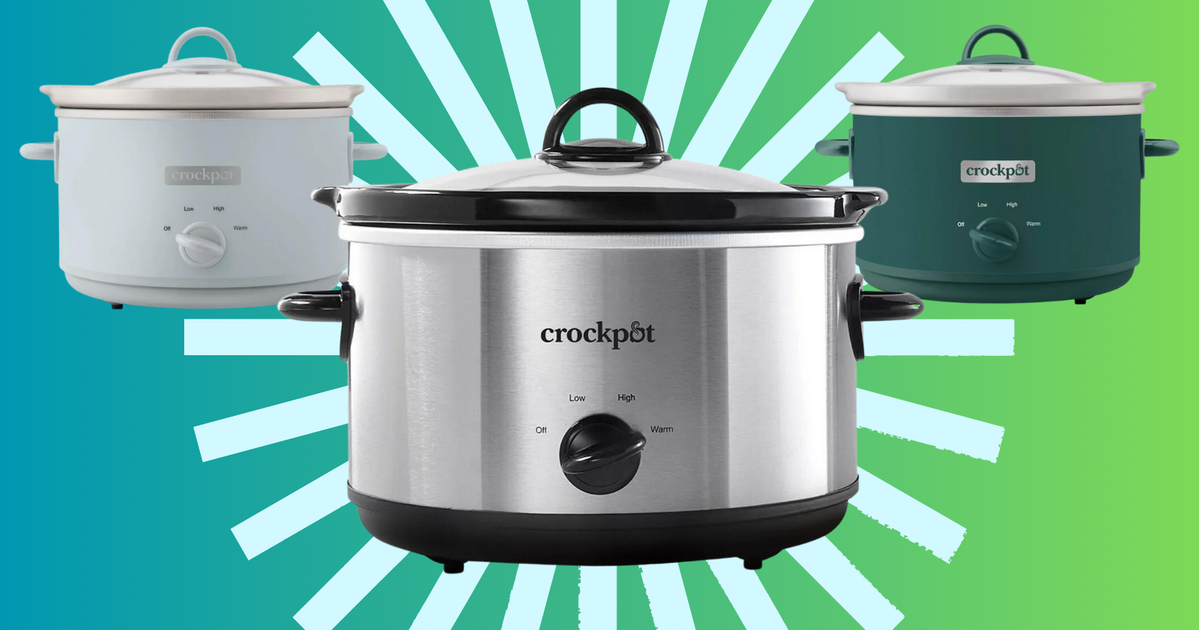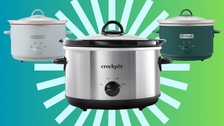 Have you always wanted a Crock-Pot but don't have the space for a massive oval-shaped cooker? Are you dreaming of walking in the door after a long day at work to find a home-cooked meal that's hot and ready for you? Do you love appliances in chic colors, or very good deals?
Today's your day, because right now at Target, these 4.5-quart slow cookers are are on sale for 20% off (putting the purchase price at just $19.99) in shiny silver, light blue and ponderosa green.
Crock-Pots are truly a secret weapon for any cook. You can add your ingredients to the stoneware pot, set the temp, and walk away for hours on end. When food is cooked, simply switch the machine to warm and it'll keep your meal hot and ready. It's worth noting that this 13-inch-wide model doesn't have a built-in timer like some other Crock-Pots do, but most slow cooker recipes can be adjusted in time and temp if you need to leave the cooker unmonitored (and let's face it, we all have clocks or timers on our phones). If you don't need those bells and whistles, it's hard to beat this value.
Crock-Pot says this size can feed five-plus people, but it'll also be easy enough to use for fewer servings without getting one that's too small and losing flexibility. You'll be able to turn out holiday hams, chili, pastas (yes, even mac and cheese), Sunday suppers, soups and stews, meats, curries, Thanksgiving dishes and more, all while you go about your business doing other things.
Best of all, you can use the stoneware cooking vessel as a serving dish, too, and it's both dishwasher-safe and oven-safe. The glass lid is dishwasher-safe as well, making cleanup totally easy. These slow cookers have ratings of 4.7 (blue), 4.5 (silver) and 4.8 (ponderosa) at Target, with reviewers loving the smaller size and convenience. Grab one for yourself for just $19.99 while it's on sale.
Promising Target reviews:
"Hi, I love the color, it's gorgeous on my counter. The crock pot is a great size for me. I have the option to envoys friends over for dinner or make a smallish meal for myself. I have cooked with it and I must say the meat came out super tender. Fall is here and I am prepared to make all this season's goodies. Excited!!!" — Clau Clau

"This is a great slow cooker. The size is just right for many dishes. It's not too heavy to carry. I like the look of the stainless steel. It doesn't heat up too fast like other slow cookers that I've had. The price was really reasonable." — Wally37

"Great size and perfect for keeping side dishes warm." — Mira2018

"Perfect sized crock pot! I have a larger crock pot but needed something a little smaller for weekly use and this was the right size. I've had it a few weeks and I have used it at least 5 or more days. I can put dinner in it in the am and it's ready after work. It's a great buy!" — Budnbutafli69