Swedish billionaire Daniel Ek is set to launch a takeover bid for Arsenal with the help of Thierry Henry, Dennis Bergkamp and Patrick Vieira.
Ek, co-founder and chief executive of music streaming service Spotify, has enlisted three of Arsenal's legendary 'Invincibles' to help him purchase the club from current owner Stan Kroenke.
Ek first expressed an interest in buying Arsenal last week, after fans protested outside the Emirates Stadium against Kroenke's ownership and his involvement in the failed breakaway European Super League.
Ek has intimated he would be open to having fan representation on the Arsenal board if he succeeds in buying the club.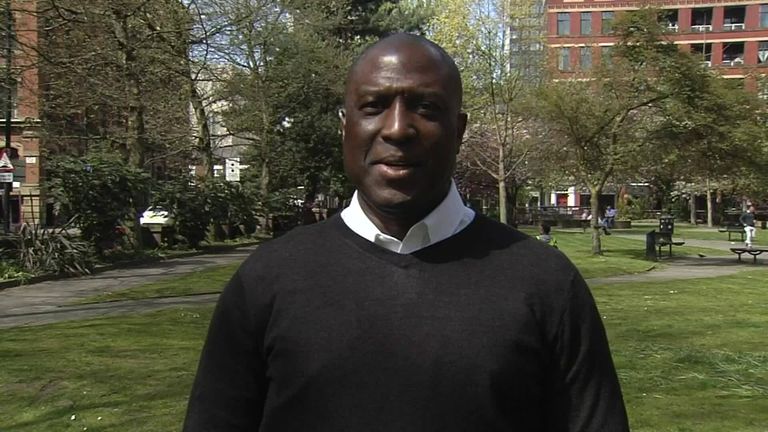 "As a kid growing up, I've cheered for @Arsenal as long as I can remember. If KSE would like to sell Arsenal I'd be happy to throw my hat in the ring," Ek tweeted on Friday.
Ek is understood to be totally serious about the deal and has the funds to make it happen. According to Forbes, he is worth £3.38bn (€4.7bn), and was named the most influential person in the music business by American magazine Billboard in 2017.
As a kid growing up, I've cheered for @Arsenal as long as I can remember. If KSE would like to sell Arsenal I'd be happy to throw my hat in the ring.

— Daniel Ek (@eldsjal) April 23, 2021
Close friends have described Ek as an Arsenal obsessive who watches every game. He has even been known to watch live Arsenal games during Spotify board meetings. He has been to many games at the Emirates Stadium and at Highbury.
A key figure in any proposed takeover will be Arsenal non-executive director Tim Lewis who is close to owner Stan Kroenke.
At this stage, it is not known how much the 38-year-old is willing to bid for Arsenal.
However, Arsenal director Josh Kroenke has told fans that his family has "no intention" of selling the club.
Speaking last week at a fans' forum following the collapse of the European Super League venture, Kroenke said the club was not for sale but that they would work harder to engage with fans more effectively in the future.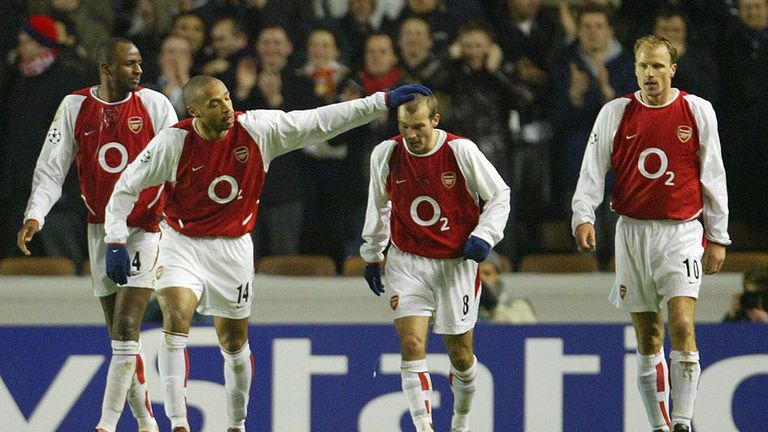 Henry, Arsenal's all-time top goalscorer, joined his former manager Arsene Wenger in publicly criticising the club's ownership last week.
"I do not recognise my club and what happened just now, with them trying to join a league that would have been closed, makes no sense to me," Henry told the Telegraph. "They have been running the club like a company, not a football club, and they showed their hand.
"Maybe it's a lack of understanding of the core football values and maybe the money was too big of a temptation. But whatever it was, they got it wrong. Badly wrong.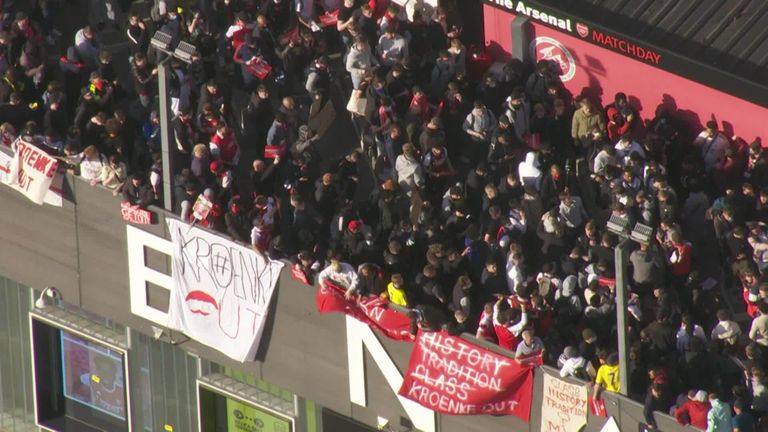 "I was genuinely shocked like most people and couldn't believe what was unfolding.
"I have never talked before, but what happened recently made me realise fans, this is your club. It is your club and I'm an Arsenal fan too.
"I'm proud of what the fans achieved. Not just Arsenal fans, all the fans. The result was a victory for football."
What do we know about Daniel Ek?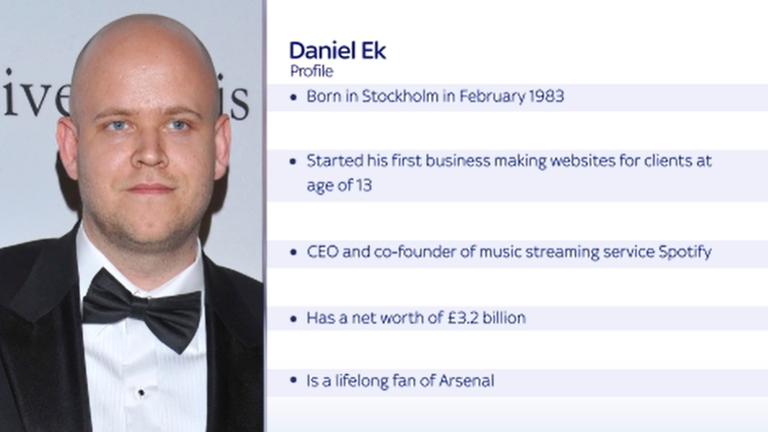 Sven Carlsson, Author of The Spotify Play:
"It was Anders Limpar, the Swedish midfielder, who caught Ek's attention and made him start supporting Arsenal.
"As far as his investments go, he's laid low for a long time. He has, however, in the past year or so began to really look outside the company he founded.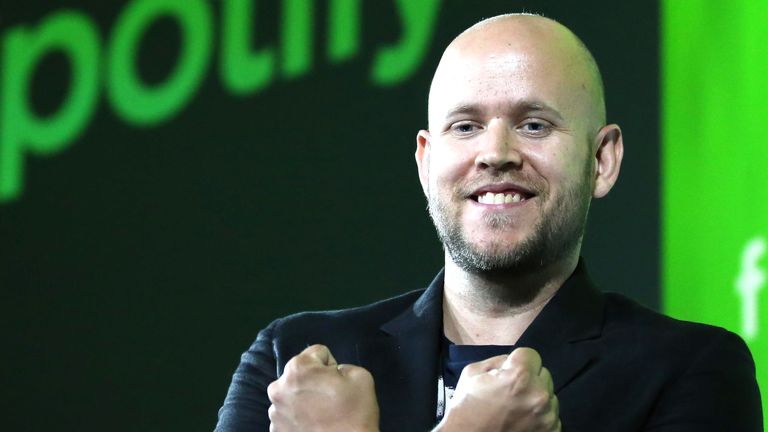 "So, he's actually pledged one billion euros of his wealth – a sizeable amount of his wealth – to invest in technology companies, essentially, but no sort of entertainment bet outside of Spotify, yet.
"And this makes this very interesting."
'There's a willing buyer, but is there a willing seller?'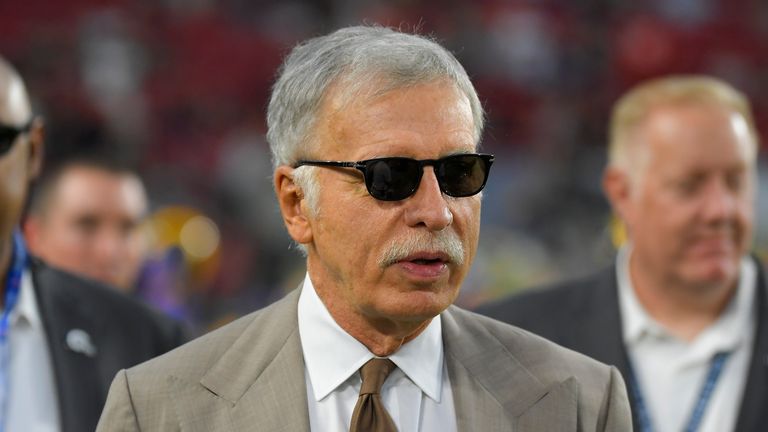 Sky Sports News reporter Kaveh Solhekol:
"For a deal to happen you have to have a willing buyer and a willing seller.
"So, what do we have in this case? Do we have a willing buyer? Yes, of course we do. Daniel Ek has come out on social media and said he's interested in buying Arsenal. He certainly has the money. He is worth about three to four billion pounds and he's also backed by three club legends in Henry, Vieira and Bergkamp.
"Arsenal fans say they want their Arsenal back and if these three legends were involved in buying Arsenal, they would almost certainly be getting their Arsenal back, and they would also have a principal owner in Daniel Ek, someone who has been an Arsenal supporter himself since the early '90s.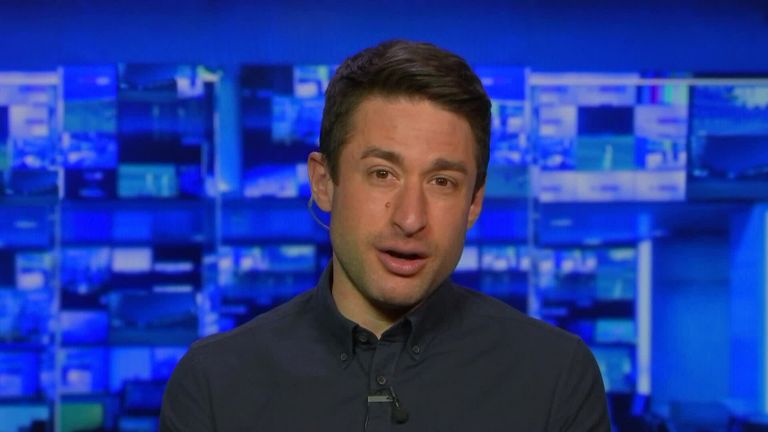 "The question was, is this deal likely to happen? The most important thing is, do we have a willing seller? Does Stan Kroenke want to sell Arsenal? All the indications have been that the club is not for sale.
"Arsenal is not officially for sale but I have been told in the last few days that the owners of the six breakaway clubs have been taken aback by the backlash to their plans and in fact, one of those six owners is close to throwing the towel in and he would listen to offers for his club.
"Of course, if you own a Premier League club, one the of the big six, and you want to sell the club, you are not going to come out in public and say I've had enough, the fans are forcing me out and the club is for sale. You are not going to do that because that's going to affect the price you are going to get for the club. But you would discreetly make it known to people that the club is for sale.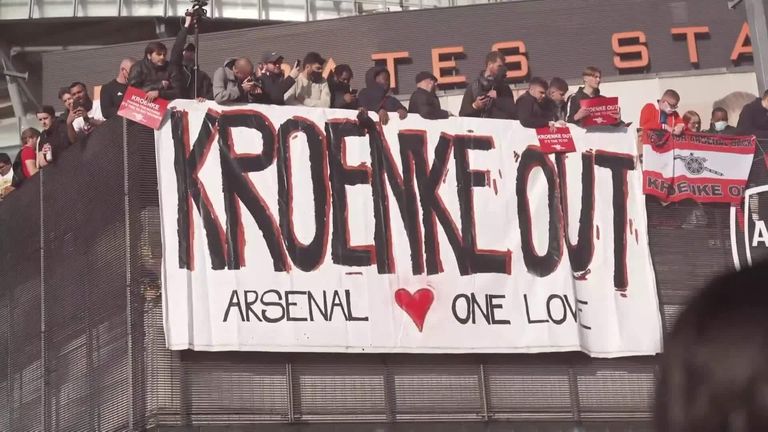 "Now, there has been no indication that Arsenal is for sale but my understanding of the situation is that if Stan Kroenke was to sell the club to anyone, it would be to a consortium that included club legends like Henry, Vieira and Bergkamp.
"So, I wouldn't say that this is certainly going to happen. I wouldn't say I'd put money on it happening, but it is a possibility. The other tiny concern I would have is the fact that when these kinds of deals happen, they tend to come out of the blue. It just happens. People who've got the money to buy a big Premier League club like to do things discreetly. Normally, when we see these things played out in the media, they don't come to fruition.
"That is another concern but look, if you are going to put a consortium together to buy a club like Arsenal, you would want a billionaire like Daniel Ek, who also supports the club and you would want people like Thierry henry, Dennis Bergkamp and Patrick Vieira involved."
'The fans still want a voice'
More from Sky Sports News' Kaveh Solhekol:
"We have to be cautious when it comes to the supporters. It's a case of once bitten, twice vexed. Yes, I think Arsenal supporters, of course, would prefer this consortium to take over and buy the club from Stan Kroenke.
"At the moment, there is no love lost at all between the supporters and the present owners, but I think what the fans want is to make sure, going forward they have a voice on the board.
"We are going to have a fan-led review into football governance that may well recommend that clubs have to have a supervisory board that is controlled by supporters.
"So, the supporters, going ahead, still want to have a say.
"My sense of it is the Arsenal supporters are not just saying to Mr. Ek, Henry, Bergkamp and Vieira, come in and do what you want. No, the Arsenal fans are saying of course we'd welcome you with open arms but let's not forget about the fan-led review into football governance as well because we still need to have a voice going forward."
'Fans have to be realistic; Fan-led review big opportunity'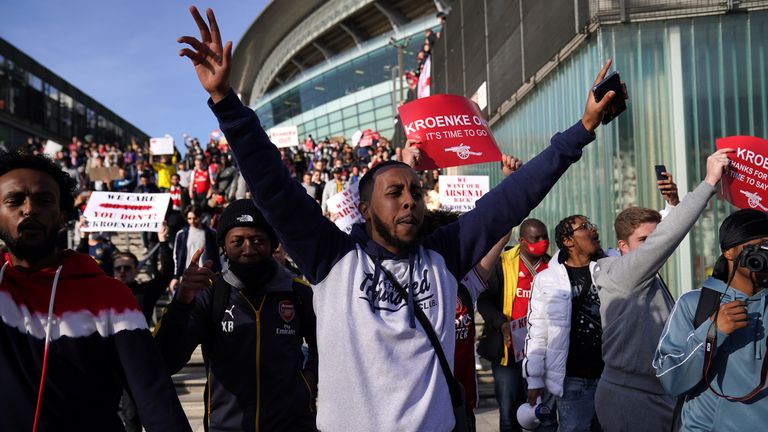 Tim Payton from the Arsenal Supporters Trust:
"Stan Kroenke is the 100 per cent owner. He will decide what he wants to do.
"Criticism and pressure don't really get through to him. He's a long way away and he doesn't come to games.
"So, I think we must be realistic here. I think the biggest chance of change still comes from what Boris Johnson said to me last week when I met him in Downing Street, which is that things have to change with the ownership of football clubs and their governance.
"And he was good to his word as 48 hours later he announced a review of how football is run which the former Sports Minister Tracey Crouch will oversee and I think the most important opportunity for Arsenal fans, and all football fans in the weeks ahead, is Tracey Crouch's review."
'The fans have had enough but takeover a long shot'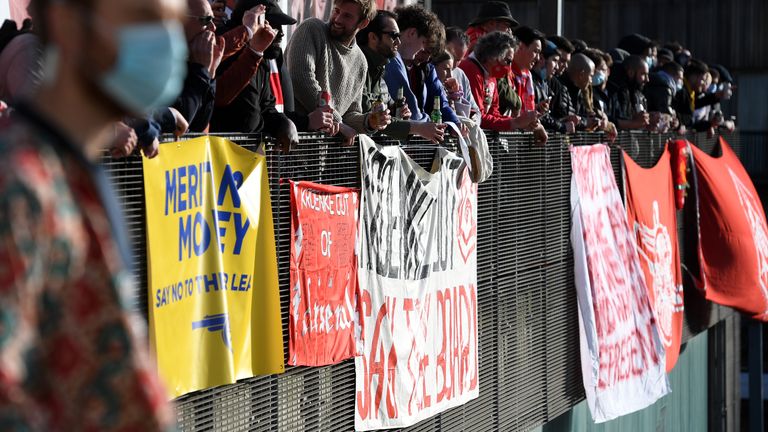 Former Arsenal striker Kevin Campbell:
"Those Arsenal legends and Mr Ek, an Arsenal supporter, It's the dream team, isn't it? But I think it's a real long shot, I really do.
"The Kroenkes are very wealthy, obviously. They don't live here in the UK and although there has been a lot of blow back on them, they have a plan for the football club and whether us fans agree to it or not, they've come out and said they are going to be keeping the club and build moving forward.
"It's going to be an interesting time
"I think Mr. Ek would look at having some sort of fan connection, but these are business deals and we are talking big money here. So, to be able to have the fans controlling, no, I can't see that happening. Can you even see Kroenke even consider selling? The backlash has been heavy but at the moment, they've come out, hardened their stance and said no, they are not selling.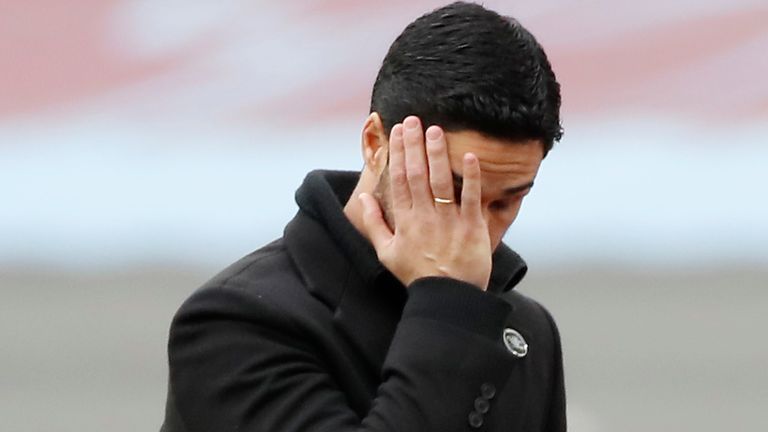 "It's a really difficult situation but one that I don't think is going to get off the ground.
"What can the current owners do to build back the relationship with the fans? You've got to turn up and make yourself available, especially to the Arsenal Supporters Trust. That's very important. They are a good organisation and it is an important one.
"The fact the owner doesn't come to the games, there has to be a go-between and who is that. Josh Kroenke has come out and put himself forward as the go-between but the fans have been disregarded on a lot of things with Arsenal and especially the European Super League which has been the straw that broke the camel's back.
"It's a difficult one for Arsenal fans to take and rightly so, they've shown their displeasure. The Arsenal I love and grew up supporting as a boy, seeing success, seeing the team be able to challenge, the Invincibles and all that, for the last 17 years it has been regressing and it isn't good enough.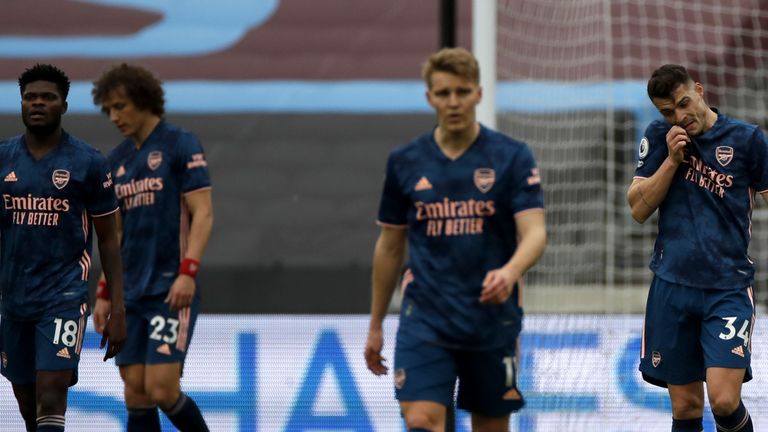 "The fans have stuck with Arsenal through thick and thin over the years and a few FA Cups here or there has papered over some cracks, but that challenge of a league title just hasn't been there. The investment hasn't really been there to make Arsenal be the best and now, the fans have had enough.
"They've rightly shown their displeasure and when you get legends coming out and wanting change as well, it's very difficult for the owners to try and curb that swell."
Learn More: sports clips near me,isportsman,sports card shops near me,sportsrecruits,sports management,sports cuts,sports research,sports business journal,sports tape,sports radio 610,sports research collagen peptides,sports physical therapy,sports in spanish,sports zone,sports emporium,sports ltd,sports jobs near me,sports wallpapers,sports journalism,sports headbands,isportsman eglin,sports den,sports video group,sports doctor near me,m sports package,sports village,sports kilt,sports kids,sports x radio,a sportsman's sketches,sports 56,sports 790,sports 1 marketing,sports 610,x sports radio,sports yard signs,sports 2000,sports 11,sports vet,sports zone topeka,sports zone aurora