Sports
Fara Williams: England's record appearance holder to retire at end of season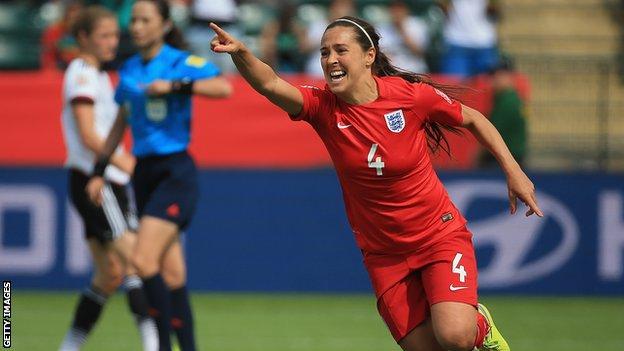 England's record appearance holder Fara Williams has announced she will retire at the end of the season.
The Reading midfielder, 37, won 172 caps and played at four European Championships and three World Cups.
She represented Great Britain at the 2012 Olympics and played for Charlton, Chelsea, Everton, Liverpool and Arsenal during a 20-year career.
"It is the right time," said Williams, whose recent playing time has been limited by a kidney condition.
"You know when your body is done."
Williams won two Women's Super League titles with Liverpool and won the FA Cup twice, in 2010 with Everton and in 2016 with Arsenal.
She was part of the England squad that finished third at the 2015 World Cup and passed Rachel Yankey's record of 129 caps in 2014.
Speaking to BBC Radio 5 Live, Williams picked her England debut against Portugal aged 17 as her career highlight.
"As a young girl growing up, I didn't know too much about the women's game," said Williams, who became an MBE in 2016.
"I never had a dream of being a footballer. I just loved the game.
"To understand what it meant to be an England player, I will always remember that moment."
After thigh surgery in early 2020, Williams was diagnosed with nephrotic syndrome – a kidney condition caused by an excess leak of protein from blood into urine.
The steroids required to treat the condition led to weight gain and other side effects.
"I thought when I came off the medication, I would be in a better place but I have been off the medication three months and I am so far from being 100% well in myself," Williams said.
"For the sake of another year, I am not sure my body is able to go and put in that extra work needed to rebuild the muscles I lost during the illness.
"I don't have the motivation to do it for another year. The illness played a little part in that but I am not mentally and physically ready to do another year."
Williams said she would like to "stay in the game" – in coaching or in the media.
"I love talking about football," she said. "I talk about football all day every day.
"I am not ruling anything out. I haven't got anything planned as such."
'A true legend and pioneer'
In a statement, Reading described Williams as a "true legend and pioneer".
"I remember meeting Fara for the first time, and – I'm not going to lie – I was a little nervous," manager Kelly Chambers said.
"I simply cannot speak highly enough of Fara. She has been such an instrumental part in our development and success as a club and we will be forever grateful."
England tweeted "sad news, but what an incredible legacy to leave".
"Congratulations on an incredible career, Fara!" they added.
Williams' former club Everton said: "Congratulations on all you have achieved in the game and for everything during those eight wonderful years in the royal blue."
Learn More: sports clips near me,isportsman,sports card shops near me,sportsrecruits,sports management,sports cuts,sports research,sports business journal,sports tape,sports radio 610,sports research collagen peptides,sports physical therapy,sports in spanish,sports zone,sports emporium,sports ltd,sports jobs near me,sports wallpapers,sports journalism,sports headbands,isportsman eglin,sports den,sports video group,sports doctor near me,m sports package,sports village,sports kilt,sports kids,sports x radio,a sportsman's sketches,sports 56,sports 790,sports 1 marketing,sports 610,x sports radio,sports yard signs,sports 2000,sports 11,sports vet,sports zone topeka,sports zone aurora