Escapade, Tim Horton's Dragon Boat Festival and TD Ottawa Jazz Festival delight Ottawa music fans in diverse ways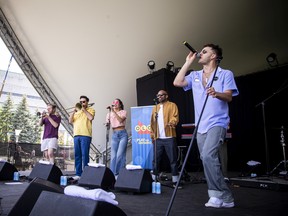 Thousands of Ottawa music fans shook off the lingering threat of COVID-19, braved the heat and made their way to a festival on the weekend, whether it was the throbbing electronic beat at Escapade, the singalong Can-rock at Tim Horton's Dragon Boat Festival or the abundance of extraordinary musical talent at TD Ottawa Jazz Festival.
With three major music festivals converging on the same weekend, Ottawa's festival industry returned, not quite as big and robust as before the pandemic, but with much of the same vibrancy we missed during the last three years.
Back in its traditional headquarters at Confederation Park, the jazz festival marked its first weekend of a 10-day, 40th-anniversary celebration with delightful headlining performances by bluegrass innovators Punch Brothers on Friday, legendary Charles Loyd Quartet on Saturday and Ottawa festival faves Blue Rodeo on Sunday.
Attendance was strong each night, as a few thousand fans reclined in their folding chairs or stretched out in the grass. With a pleasant forecast and no sign of disruptive protesters, many folks decided to show up at the last minute, organizers said, boosting the overall numbers.
Jazzfest also featured concerts on a separate, non-tented stage at Marion Dewar Plaza, with a free Block Party during the day on Saturday and Sunday, more performances at the National Arts Centre and a late-night jam at the Lord Elgin Hotel.
One NAC highlight was Friday's appearance by Cecile McLorin Salvant in the Azrieli Studio. Despite the sudden failure of the sound system late in her set, a glitch that required immediate reconfiguring, the American vocalist soared, engaging in a uniquely inventive back-and-forth with her backing musicians.
While technical problems like that were rare and quickly solved, it wasn't so easy to solve some of the logistical challenges of getting artists to the city. Punch Brothers, for example, couldn't travel with two of their members, who came down with COVID last week, so they recruited the acclaimed Nashville fiddler Brittany Haas to join them at the last minute.
Then the band's Air Canada flight was cancelled the day before departure. To get to the festival, they had to get up before dawn, drive 12 hours from Iowa to Nashville, and then flit through Chicago and Toronto before landing in Ottawa.
"And that was just the first day of the festival," said artistic director Petr Cancura, estimating that he's already dealt with at least a dozen flight delays or cancellations affecting artists. "There were more travel issues in the past three days than we usually get in a whole festival."
The Punch Brothers' performance, by the way, was fantastic, with Haas adding a beautiful texture to the sparkling precision of the bluegrass-dominant sound.
At the other end of the Rideau Canal, a bicycle ride away, 110 dragon-boat teams paddled in Mooney's Bay and more than 10,000 people showed up for two nights of free concerts staged by the Dragon Boat festival, with Strumbellas headlining on Friday and Serena Ryder on Saturday.
John Brooman, who's CEO of the Dragon Boat fest, said attendance was down about 30 per cent, but he was happy with the turnout. Other dragon-boat festivals in Canada are down even more, he added, although the American events are back in a big way.
"It tells us the paddling community is still out there," he said, noting the positive spirit of the weekend. "I think what this weekend has taught us is we have something great here for the community. It was nothing but positive vibes from everybody — paddlers, fans, and vendors."
Meanwhile, 802 days after its last edition, the Escapade Music Festival was the biggest and loudest of the three events, attracting a sold-out crowd of thousands of young electronic-dance music fans — most dressed for the heat in short shorts and skimpy tops — to Lansdowne Park to hear DJs from around the world, including big names like Deadmau5, Tiesto and Martin Garrix. The music took place on three stages over three nights, and was topped off by a fireworks display as a grand finale.
Escapade and Dragon Boat will return next year, while the jazz festival continues until July 3, with a day of free outdoor programming planned for Monday, spotlighting the music of New Orleans. Don't miss some of Big Easy's finest, including Dirty Dozen Brass Band, Cha Wa and Aurora Nealand and the Royal Roses.
Other performers on the schedule range from the not-so-jazzy sounds of country queens Lucinda Williams and Emmylou Harris to jazz heavyweights Kamasi Washington and the Jazz at Lincoln Centre Orchestra with Wynton Marsalis. Go to ottawajazzfestival.com for more details.
Ottawa Citizen Headline News
Sign up to receive daily headline news from Ottawa Citizen, a division of Postmedia Network Inc.
By clicking on the sign up button you consent to receive the above newsletter from Postmedia Network Inc. You may unsubscribe any time by clicking on the unsubscribe link at the bottom of our emails. Postmedia Network Inc. | 365 Bloor Street East, Toronto, Ontario, M4W 3L4 | 416-383-2300
Learn More: healthy food near me,health care privacy part 2,health store near me,health triangle,health plan of san joaquin,health o meter scale,health hut,health partners plans,heath zenith,health related fitness,health o meter,health unlimited,health food near me,health gear inversion table,health warrior,no healthy upstream,health journeys,health right 360,healthx,health union,health unit coordinator salary,health gauge des moines,health village imaging,health gorilla,health zone,health nut cafe,health 3.0,how much health does the ender dragon have,health kick,health verity,health velocity capital,health quarters,how much health does the wither have,health 101,c health lebanon va,e health messaging,m health maple grove,healthxl,health 5e,i health inc