A Georgia gas station manager confirmed the validity of a viral Facebook photograph that showed his ExxonMobil location had charged $7.99 a gallon for premium gasoline in the wake of last week's Colonial Pipeline shutdown.
Despite the receipt showing both an incorrect address and a misspelled version of the ExxonMobil company name, the manager of the East Point, Georgia, gas station said there was a brief period of time this past week in which the price was mistakenly raised to $7.99 per gallon. The Atlanta suburb gas station manager, M.D. Azim, told WXIA-TV Saturday that the price was an accident and it should have been $4.99.
Online hoaxes and doctored photographs supposedly showing price gouging had emerged across social media following the cyberattack, which shut down the 5,500-mile Colonial pipeline.
The unidentified individual who initially posted the jarring gas station receipt put just over six gallons of gas in their car, running the price up to $52.92.
Several states, including Florida, Georgia and Alabama, experienced a rush of people stockpiling gasoline and diesel as reports of the pipeline shutdown emerged. But Azim insisted to the local Atlanta TV station that he was not trying to price gouge any customers and that he corrected the $7.99 error within an hour of it happening earlier this week.
Azim reiterated that he will offer refunds to anyone who brings in their receipt showing they paid $7.99 a gallon for the premium gasoline. He also confirmed the fears of many that the viral screenshot of the receipt was in fact a legitimate reflection of the temporary price. Many comments on Facebook and Twitter dismissed the receipt as fake, pointing out the glaring spelling and address issues. But the manager said all of those quirks were simply technical glitches with the pump system.
Reporters and producers with the 11 Alive TV station said gas was at $3.49 when they went to conduct a fact-check on the receipt Friday. They noted that the combined gas station and convenience store used the tagline "Best 4 Less."
The gas station manager said Friday that he was not currently selling premium gas because that specific ExxonMobil franchise had sold out and was waiting on incoming deliveries to restart after the pipeline rebooted on Thursday. Oil and gas analysts as well as Colonial itself asked the public to expect delays and shortages to potentially continue through the weekend. The hackers managed to halt the pipeline's use for six full days.
Newsweek reached out to the manager and owner of the East Point, Georgia, gas station Saturday afternoon for any additional details about last week's temporary price inflation.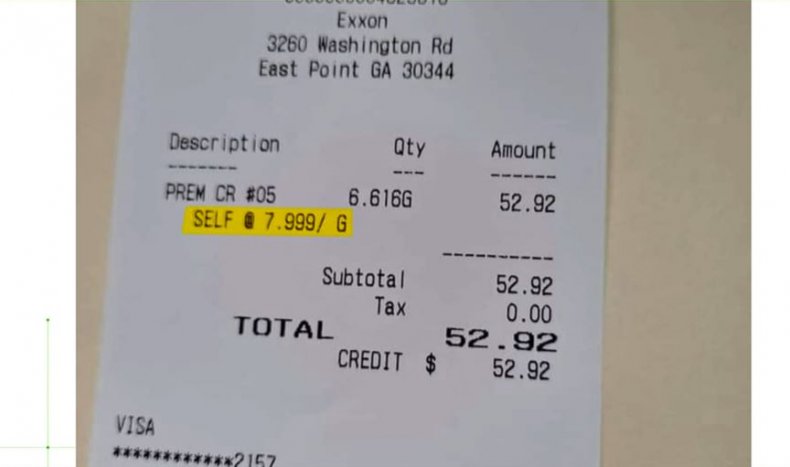 Learn More: latest news on stimulus,u visa latest news,o panneerselvam latest news,g dragon latest news,latest news about stimulus check,j cole latest news,p chidambaram latest news,hepatitis b latest news,sarah g latest news,l&t latest news,p square latest news,