Representative Mike Rogers, an Alabama Republican, apologized to Representative Matt Gaetz, a Florida Republican, on Sunday after lunging toward him on the House floor last week during a heated debate about the speaker race.
Tensions within the Republican Party reached a boiling point amid a contentious speaker race late Friday night as a group of hard-right conservatives withheld their votes for Kevin McCarthy, a California Republican.
Gaetz, a vocal opponent of McCarthy, voted against him on the 14th ballot, sparking a tense discussion with some of his colleagues. During that discussion, Rogers, a McCarthy ally, confronted Gaetz and lunged at him while another congressman held him back.
The scene was illustrative of a chaotic start to the freshly convened Congress, as Republicans struggled to elect their speaker due to their narrow control of Congress. Ultimately, McCarthy managed to sway enough detractors to win the election, but only after 15 rounds of voting that nearly lasted five days.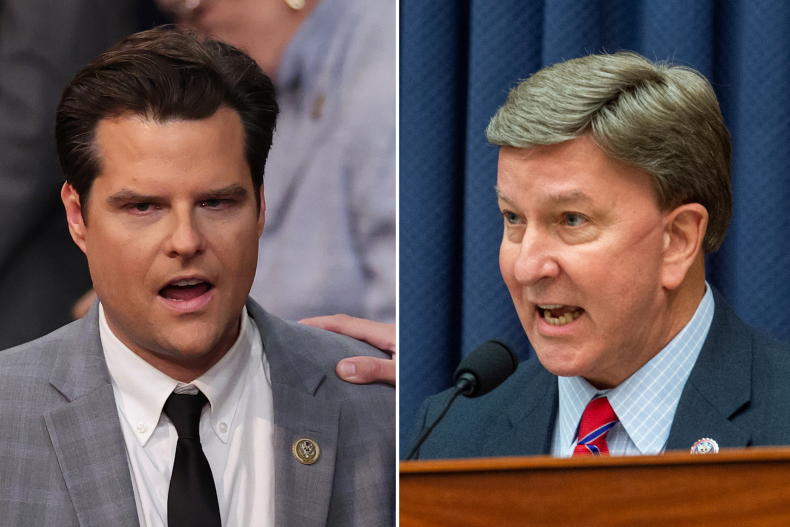 A day before House Republicans will face another test of unity with a vote on the rules package, Rogers took to Twitter to share an apology to Gaetz, explaining that he "briefly lost [his] temper."
"@RepMattGaetz and I have a long and productive working relationship, that I am sure will continue. I regret that I briefly lost my temper on the House Floor Friday evening and appreciate Matt's kind understanding," Rogers wrote.
Prior to the apology, Gaetz tweeted that he forgave Rogers over the incident, highlighting their strong working relationship over the past six years. The GOP lawmaker said the incident would not get in the way of their work in the new Congress.
"I don't think there should be any punishment or reprisal just because he had an animated moment. He has my forgiveness," Gaetz wrote.
Video of the confrontation went viral on Twitter, with one video being viewed more than 3.8 million times as of Sunday afternoon. Erik Wasson, a Bloomberg congressional reporter, described it as the "most extraordinary CSpan floor video I have ever seen."
Prior to the incident, McCarthy reportedly pleaded with Gaetz to vote "present," which would lower the threshold of votes he would need to be elected. Gaetz, however, declined. Rogers allegedly approached Gaetz to tell him he would regret voting against McCarthy.
Although Gaetz's vote helped block McCarthy's victory on that ballot, he and five other McCarthy critics voted present later that night, allowing the GOP leader's victory. Those additional members were Representatives Andy Biggs of Arizona, Lauren Boebert of Colorado, Eli Crane of Arizona, Bob Good of Virginia and Matt Rosendale of Montana.
Newsweek reached out to Gaetz and Rogers' offices for further comment.
Learn More: latest news on stimulus,u visa latest news,o panneerselvam latest news,g dragon latest news,latest news about stimulus check,j cole latest news,p chidambaram latest news,hepatitis b latest news,sarah g latest news,l&t latest news,p square latest news,