NEWS
Hamas' Mohammed Deif, Mastermind of Israel's 9/11, Faces Last Stand in Gaza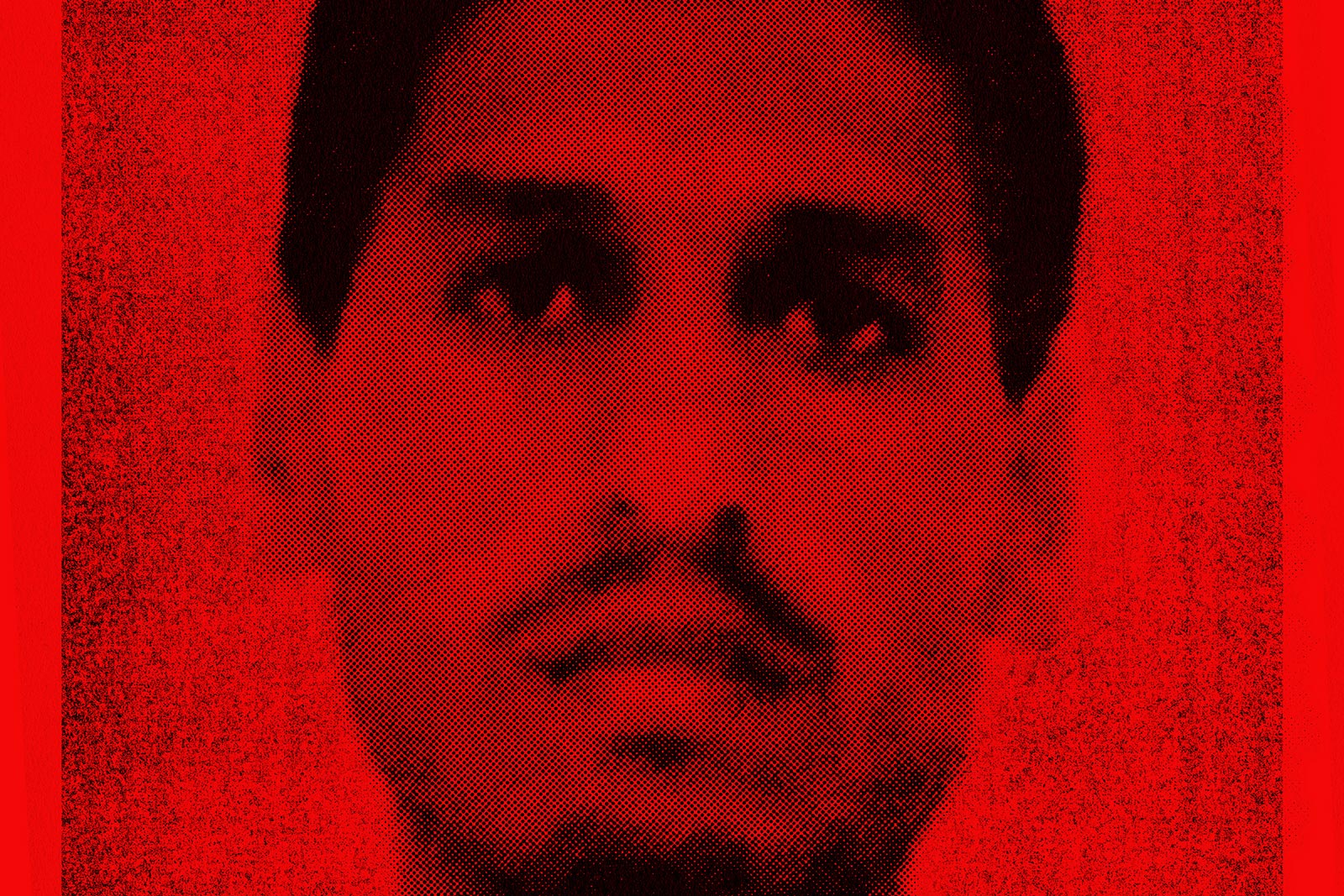 As the Israel Defense Forces (IDF) step up their assault on the Gaza Strip in the wake of the deadliest-ever Palestinian militant assault on Israel, the murky figure at the heart of Hamas' military wing may be getting ready to make his final stand.
Little is known for certain about Mohammed Deif. That's by design for Hamas' Al-Qassam Military Brigades supreme commander, whose nom de guerre means "guest" in an apparent reference to his frequently shifting location. Deif's elusiveness has allowed him to escape numerous Israeli attempts on his life. But having survived so long, a massive IDF incursion could bring a dramatic end to a bloody game of cat-and-mouse that's dragged on for more than three decades.
"I don't think that a man with his legacy, name and position, and immersed in the culture of steadfastness and martyrdom thinks of leaving his land and battlefield," Khaled Hroub, professor at Northwestern University in Qatar who has authored books on Hamas' inner workings, tells Newsweek.
"If a ground campaign takes place, and the Israelis managed to get to him, he will fight until the last drop of blood," Hroub adds.
Hamas is fighting to destroy Israel and replace it with an Islamist Palestinian state and Deif's role has been pivotal, not least in masterminding the assault by land, air and sea on October 7 that left at least 1,300 dead in Israel, followed by crushing Israeli airstrikes on Gaza in which casualties are nearing 2,000.
Deif has already suffered various injuries in assassination attempts: reportedly losing an eye, part of his arm and his legs. He also lost his wife, 7-month-old son and 3-year-old daughter in an airstrike during the last total war in Gaza in 2014. New reports suggest the ongoing IDF campaign has now killed more relatives, including his brother and son, possibly indicating an intensified Israeli campaign to take him out once and for all.
But while Hroub said Deif's downfall may have short-term impacts on Hamas' military capabilities, he argued that achieving martyrdom status for a man so widely revered by his supporters—and reviled by detractors—could at the same time actually enhance Hamas' status and prestige.
"Deif could become a Palestinian Che Guevara," he said.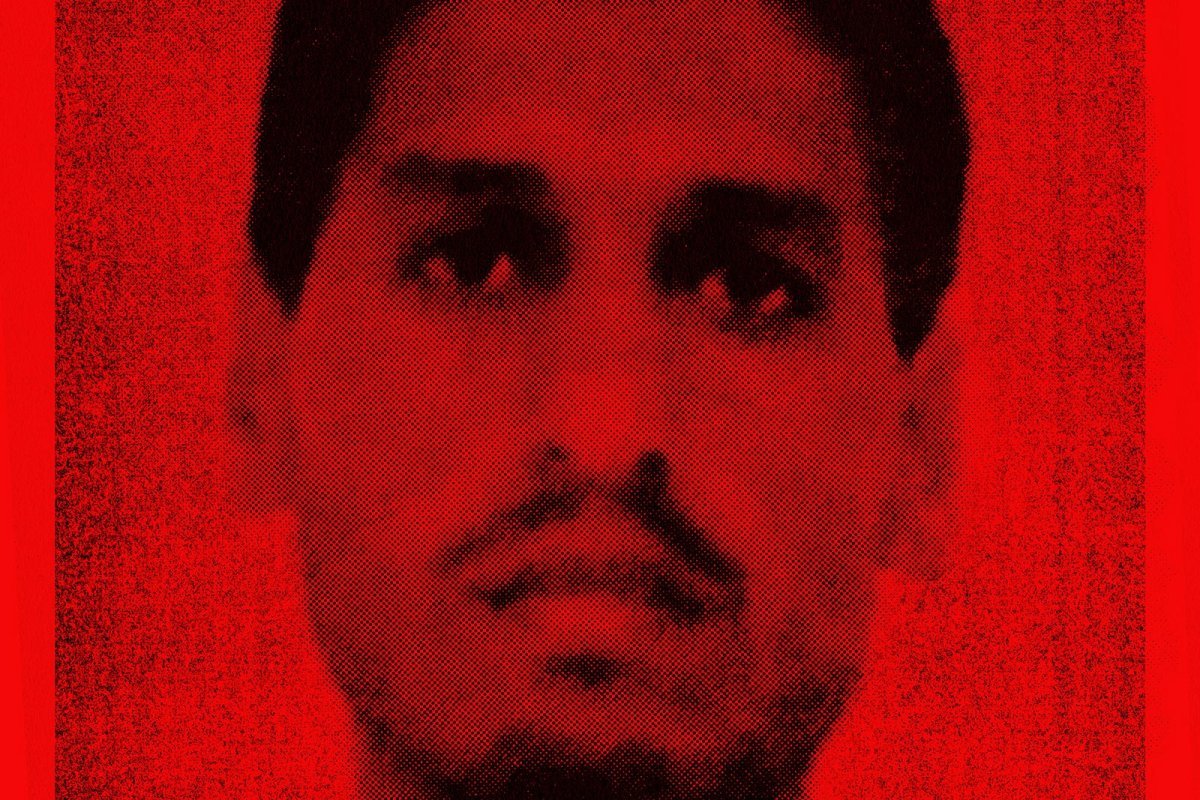 Chasing a Myth
Such an image presents a unique challenge to Israel. What sets Deif apart from other senior Hamas leaders, such as Gaza chief Yahya Sinwar and political head Ismail Haniyeh, according to Yossi Kuperwasser, former head of the IDF Intelligence Corps' Research Division and director general of Ministry of Strategic Affairs, "is that he is a symbol more than anybody else."
Kupperwaser compares Deif to Iran's Quds Force commander Qassem Soleimani, Hezbollah military chief Imad Mughniyeh and 9/11 architect Khalid Sheikh Mohammed of Al-Qaeda, telling Newsweek that, "even though we don't try to make him as such, he has become a myth." To many Israelis, he's their Osama bin Laden, the most readily identifiable face of 9/11.
While Soleimani was killed in a 2020 U.S. airstrike, bin Laden died during a 2011 U.S. raid, Mughniyeh was slain in a 2008 joint CIA-Mossad operation and Mohammed was captured in a joint U.S.-Pakistani sting in 2003, Deif remains on the run as Israel's most wanted man.
Avi Melamed, former Israeli intelligence official and senior adviser on Arab affairs, tells Newsweek it is currently in the IDF's interest not to focus on the hunt for Deif, potentially further feeding into his reputation as a "man of shadow" who still may ultimately get away.
"Israel's strategic objective is currently to destroy Hamas' military and organizational capacities. This is the move," Melamed says. "One person is not the story. We may get to them, we may never get to them, they may be buried somewhere that we'll never know about, it's irrelevant to a large extent."
"You don't need to further blow up the myth," Melamed adds. "He's a brutal murderer, he is a very dangerous and sophisticated person, bordering psychotic personality."
For a number of Hamas supporters, however, Deif's enigmatic capacity to wage war from the shadows has long helped fuel support for his cause. As Mkhaimar Abusada, chairman of the department of political science at Al-Azhar University in Gaza, tells Newsweek, "his presence is important to the military wing of Hamas, they admire him and are very inspired by his leadership."
Ayman al-Rafati, a researcher who serves on the board of directors at the Center for Regional Studies in Gaza, tells Newsweek that Deif "has become a symbol of the Palestinian resistance and has great popularity among Palestinians." Today, Deif "is considered an inspiration to the new generation of Palestinians everywhere in Palestine, as evidenced by the chants that always ring his name."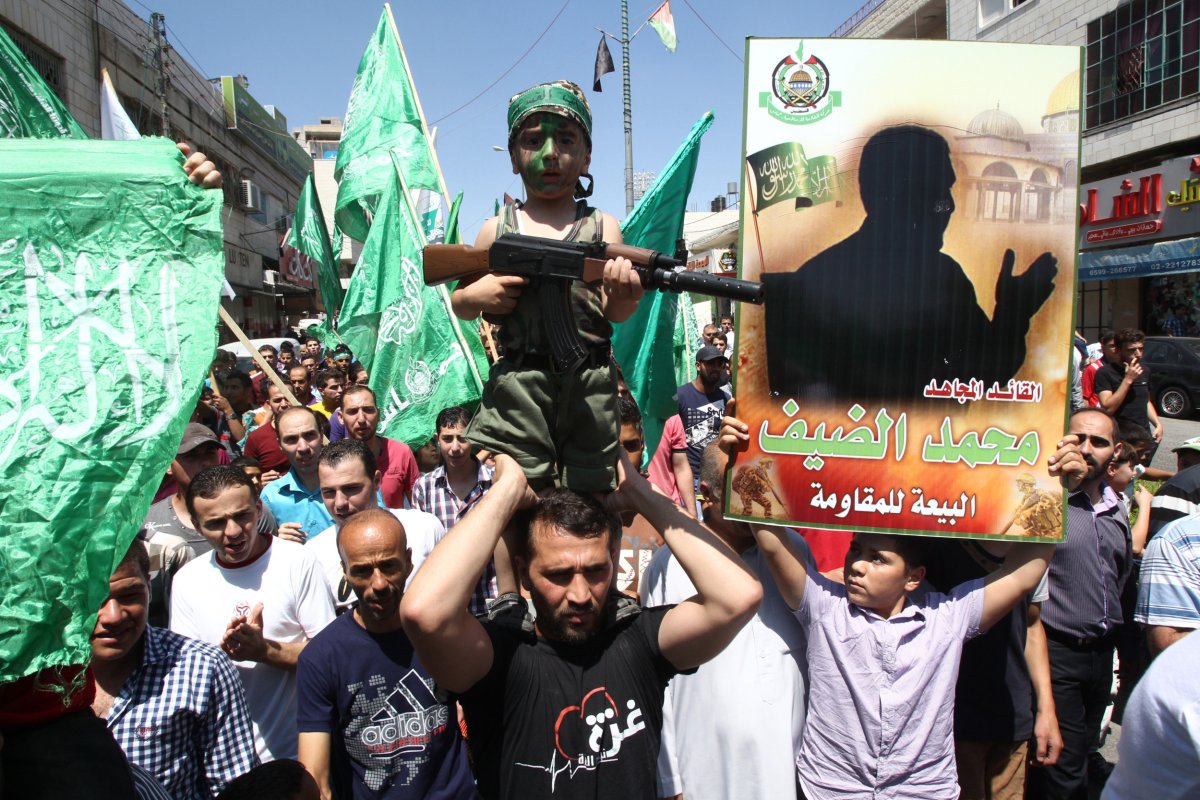 The Man Behind the Shadow
Only two known photos reveal Deif's face, both taken decades ago. So when a silhouetted Deif made a rare appearance in a recorded speech released in the opening hours of Hamas' unprecedented attack, Palestinian fighters were all the more galvanized. Deif now also sought to rally fighters beyond, calling upon "brothers in the Islamic resistance in Lebanon, Iran, Yemen, Iraq and Syria" to join in against Israel, a call that's actively being discussed in all five countries.
Behind the literal shadow, Deif's true identity is Mohammed Diab Ibrahim al-Masri, also referred to Abu Khaled, born around 1965 in the southern Gaza refugee camp of Khan Younis, according to Melamed. Like many Palestinians, he hails from a family deeply impacted by the Israeli-Palestinian conflict, originating in the village of Al-Qubayba, from which Palestinians fled in the 1948 war at Israel's founding that set the stage for many more decades of strife in the Middle East, before relocating to Khan Younis, long on the front lines of the conflict.
Deif pursued his studies at the Islamic University of Gaza and even joined a theater group, Melamed said, giving him a flair for the dramatic still palpable in his charged speeches. He became involved with Hamas sometime after the group's inception as a manifestation of Muslim Brotherhood resistance to Israel in the 1980s and ended up spending 16 months in an Israeli prison, the only known setback in an otherwise unbroken record of eluding capture.
He went on to become an innovative member of the newly formed Al-Qassam Brigades, particularly excelling in strategy and bomb-making. He has been linked by Israeli authorities to high-profile operations including the killings of IDF soldiers and a deadly suicide bombing campaign in the 1990s before eventually taking the helm of the force in 2002 during the Second Intifada, or uprising, following the death of Salah Shehadeh in an Israeli airstrike in Gaza.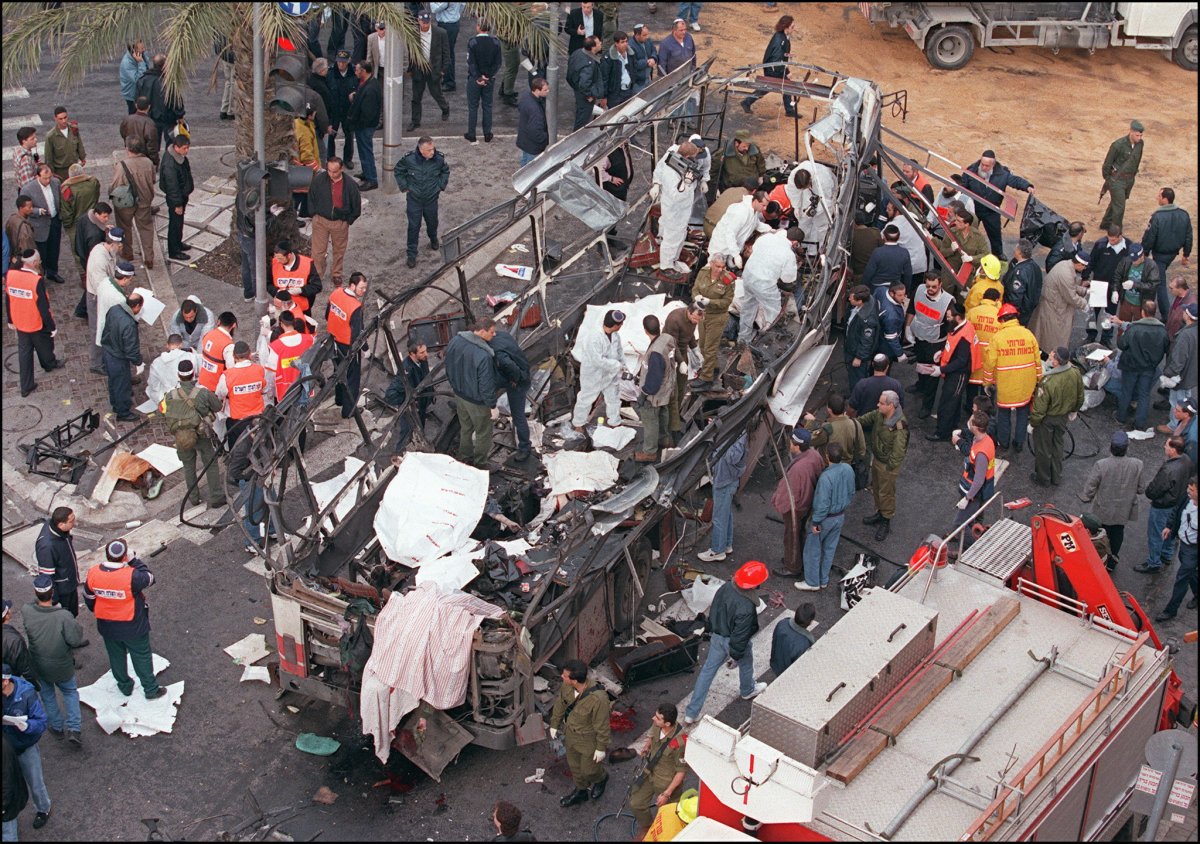 The Will to Live
Melamed said that, for someone so sworn to a cause that glorifies martyrdom, Deif has proven exceptionally committed to staying alive.
"In most of the cases, these people are not exactly the typical figure you think about who are willing to die at all costs, that they don't care, and so forth," Melamed said. "At the end of the day, you find out those people, whether it's ISIS people or Islamic Jihad people or Hamas people, they are often taking a lot of precautions for one reason, to defend themselves, to avoid damage to themselves."
"They know to protect themselves quite well," Melamed adds.
Kuperwasser says Deif is likely considering both fight or flight options, though he believes Deif "would rather escape to survive and keep fighting from another place." He's a "good learner," Kuperwasser says. "Every time we managed to reach him, he did the necessary learning process to make sure that it would be difficult for us to catch him again. He was never complacent."
In fact, Deif "has a very high sense and measures for security," Rafati says. "No one knows Deif's fate or his location in Gaza. The lack of physical photos of him complicates the chances of identifying him or reaching him if we assume that Israel is able to completely invade Gaza by land this time."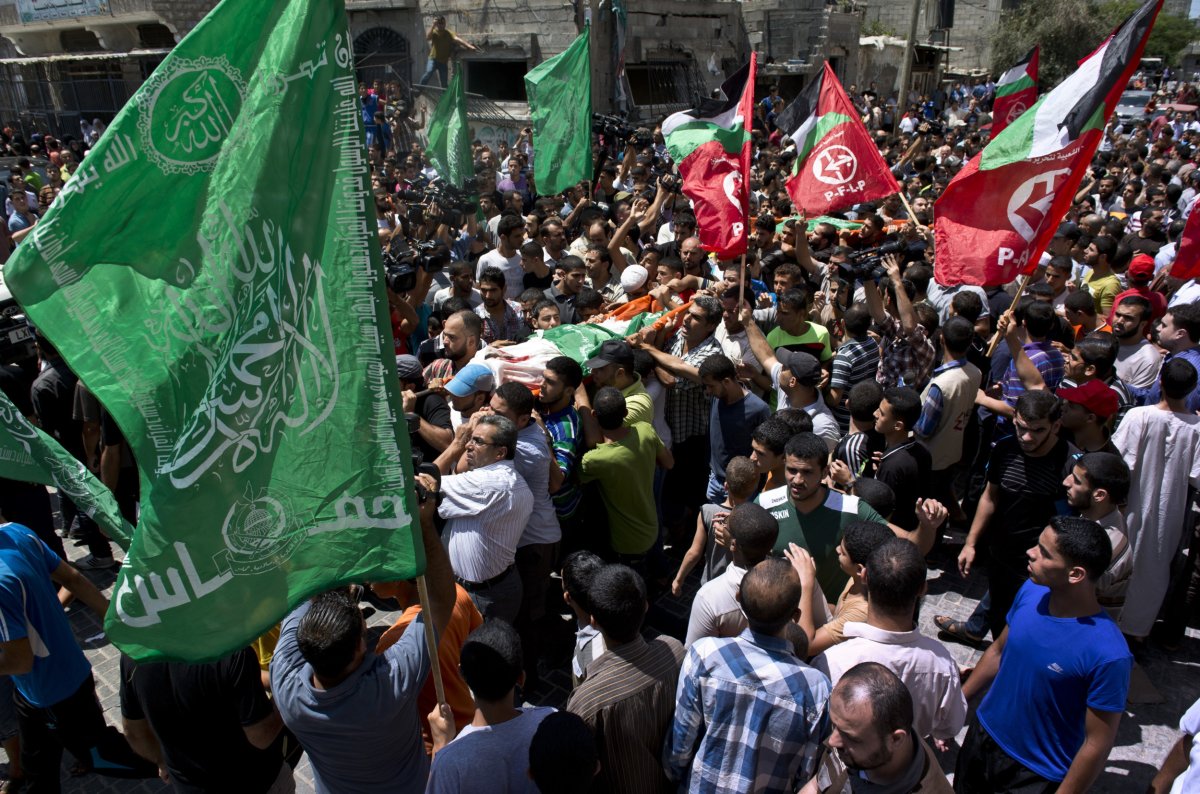 No Way Out
Should such an operation occur, however, Rafati says Palestinians fully expect Deif to meet his end in battle. "A person who has led the struggle for more than 35 years cannot be expected to escape from the battle, which is his project for which he lived, and people like him are ready to die in order to achieve their major and strategic goals of 'the liberation of Palestine' and establishing a Palestinian state."
Echoing Hroub, Rafati says Deif's death "may sadden the Palestinians, but it will not stop the resistance to the occupation." Abusada agrees, saying, "his killing will not put an end to Hamas. Hamas is an idea, an ideology and they cannot finish and kill this idea."
But whether or not Deif is anticipating a fiery finale, the magnitude of the Israeli military operation may not give him that choice.
"If there is going to be a ground invasion against Gaza, I do not think he will try to flee, and even if he tries to flee, the only path is through Egypt, that is not easy," Abusada says. "He most likely will fight the Israeli army until his death."