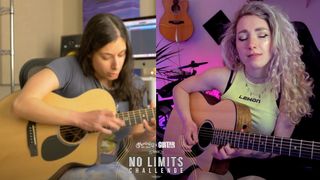 (Image credit: NiliBrosh, Sophie Burrell/YouTube)

When it first unveiled the offset SC design at NAMM two years ago, Martin wanted guitarists to re-think what was possible on an acoustic guitar. 
Featuring a bold cutaway that grants unprecedented upper fret access for an acoustic, the SC line – which was expanded with the unveiling of the SC-10E, SC-13E Special and SC-13E Special Burst in January – was a significant step for the storied company.
With that in mind, Martin recently launched – in partnership with Guitar World – the No Limits Challenge, an exciting competition where eight up-and-coming guitarists face off against one another, covering tunes one wouldn't normally associate with an acoustic using a Martin SC model. 
For the quarterfinal round, the eight competitors have been split into four genres – funk/R&B, '80s rock, '90s rock and classic rock. The winners in all four categories will advance to a semifinal round, where they'll be divided into two genre-based face-offs. The winners of those, of course, will advance to the finals. 
Who decides the winners, then? That distinction belongs to you, the reader! Take a look at the two performance videos below, and cast your ballot for your favorite in the box at the bottom of the article. It's that simple! 
This week, we've got two scintillating covers, from Nili Brosh and Sophie Burrell.
The theme this week is '80s rock, and Brosh and Burrell dutifully put together acoustic arrangements of two still-ubiquitous rock standards from that decade – Van Halen's Jump and Guns N' Roses' Sweet Child O' Mine – for the occasion.
You can see Brosh's Van Halen cover above and Burrell's Guns N' Roses cover below.
So, which is the better, more skillful cover? That's for you to decide. Be sure to check back next week, too, for the next quarterfinal matchup.
For more info on Martin's SC acoustics, visit the company's website.
Jackson is an Associate Editor at GuitarWorld.com. He's been writing and editing stories about new gear, technique and guitar-driven music both old and new since 2014, and has also written extensively on the same topics for Guitar Player. Elsewhere, his album reviews and essays have appeared in Louder and Unrecorded. Though open to music of all kinds, his greatest love has always been indie, and everything that falls under its massive umbrella. To that end, you can find him on Twitter crowing about whatever great new guitar band you need to drop everything to hear right now.
Learn More: entertainment near me,entertainment synonym,entertainment center ideas,entertainment lawyer,3 arts entertainment,entertainment law,entertainment 720,entertainment work permit,entertainment room,entertainment logo,entertainment trivia,entertainment wall units,entertainment wall,entertainment industry jobs,entertainment in the 1920s,entertainment and sports arena,entertainment attorney,entertainment media,entertainment design,entertainment marketing,entertainment lawyer salary,entertainment benefits group,entertainment jobs los angeles,entertainment jobs atlanta,entertainment venues,entertainment brands,3 piece entertainment center,entertainment and sports arena dc,entertainment places,entertainment jobs nyc,entertainment hobby shop jungle,entertainment videos,entertainment reddit,entertainment 1920s,yg entertainment actors,p nation entertainment,entertainment voice,entertainment venues near me