NEWS
House Passes Resolution Against Biden's Attack on School Hunting Programs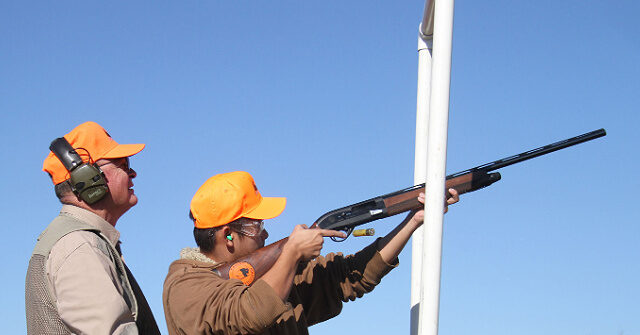 On Tuesday night, the U.S. House passed a resolution against President Joe Biden's attacks on school hunting and archery programs by a vote of 424-1.
The clerk for the U.S. House listed the one lone "nay" vote as being cast by Rep. Veronica Escobar (D-TX).
Breitbart News pointed to reports in late June indicating the Biden administration was blocking funding to schools with hunting and/or archery programs under the guise that the Elementary and Secondary Education Act (ESEA) of 1965, in combination with the Bi-Partisan Safer Communities Act (BSCA), prohibited funding for schools if certain weapons are used.
The BSCA, which was passed in the summer of 2022 with the help of Sen. John Cornyn (R-TX), amended a subsection in the ESEA to prohibit any act to provide dangerous weapons or pay for "training in the use of a dangerous weapon."
BREAKING: House of Representatives REBUKES @JoeBiden 424-1 for defunding archery, hunter safety & shooting sports teams at the beginning of the Fall 2023 school year, re-funds school programs.

A good first step, but Congress must also repeal the Bipartisan Safer Communities Act! pic.twitter.com/nvDiCIIKSo

— Gun Owners of America (@GunOwners) September 27, 2023
The resolution, H.R. 5110, is sponsored by Rep. Mark Green (R-IN). It is designed to amend the Elementary and Secondary Education Act (ESEA) of 1965, thereby removing any opportunity for Biden's education department to use the ESEA to piggyback on the BSCA for the purposes of withholding funding over school hunting and/or archery programs.
The resolution against Biden's attack on hunting and archery programs must now pass in the Senate.
AWR Hawkins is an award-winning Second Amendment columnist for Breitbart News and the writer/curator of Down Range with AWR Hawkins, a weekly newsletter focused on all things Second Amendment, also for Breitbart News. He is the political analyst for Armed American Radio and a Turning Point USA Ambassador. He was a Visiting Fellow at the Russell Kirk Center for Cultural Renewal in 2010, a speaker at the 2023 Western Conservative Summit, and he holds a Ph.D. in Military History, with a focus on the Vietnam War (brown water navy), U.S. Navy since Inception, the Civil War, and Early Modern Europe. Follow him on Instagram: @awr_hawkins. You can sign up to get Down Range at breitbart.com/downrange. Reach him directly at awrhawkins@breitbart.com.