Entertainment
How I'm Reconnecting Migrant Parents With Their Children
My organization's Shanghai branch used to be based inside one of the city's many wholesale agricultural markets: a place where merchants, most of them migrants, eke out a living selling fresh vegetables to residents and local restaurants. One day, I noticed a 2-year-old boy — the son of a couple who ran a stall in the market — muttering the same phrase over and over: "Warning: vehicle backing up." He wasn't just playing; he was learning. The alarm emitted from produce delivery trucks as they'd go into reverse was one of the few phrases he knew how to say.
That may seem unthinkable to members of Shanghai's middle-class, who normally send their 2-year-olds off for classes in music, art, English, or parent-child bonding — anything to get a leg up on the city's competitive education market. Yet the children of the city's migrant underclass are too important to the city's future to be ignored. According to the All-China Women's Federation, four out of 10 children in Shanghai are migrant children, and while not all are poor, many lack access to the early education programs their middle-class peers take for granted.
That's a gap my organization has sought to fill. Beginning in 2006, we've offered extracurricular tutoring services to primary school students aged 6-12. Many of them have parents who work 14 hours a day, every day, at places like the above-mentioned wholesale market.
Although we've made some progress, it didn't take long for us to question how much of an impact we were having on children's lives simply by tutoring them. We wanted to improve their academic performance, but what was our end goal? Any progress we made was often swamped by the realities of our students' living situations. Studying alone isn't always enough to lift these children out of poverty: Many still wind up dropping out of school or going to work. Their parents, too, were uncertain about whether their children's progress in tutoring really mattered, as they would sooner or later need to return to their hometowns to continue their education.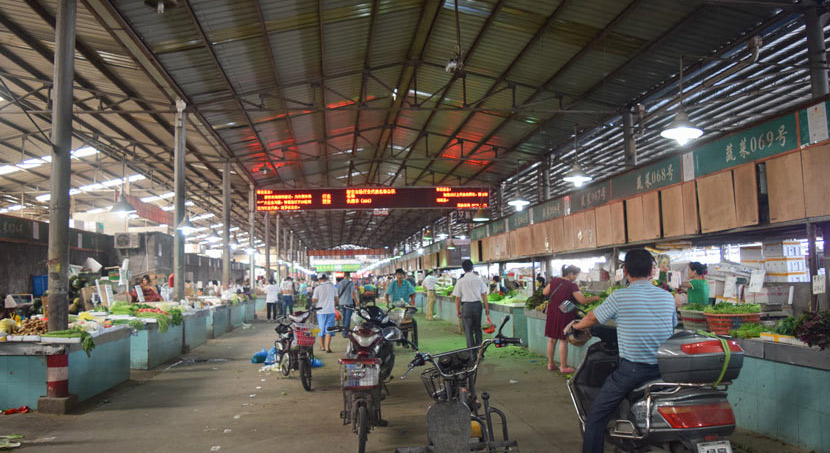 A view of the wholesale agricultural market where the first Vibrant Communities center was located, Shanghai, 2015. Courtesy of Xiong Chunyan
So we decided to focus instead on developing students' "soft skills" — things like self-confidence, interpersonal skills, and emotional control. Early education is crucial to a child's cognitive and emotional development, and these are the kinds of skills that will stick with them no matter where they go in their lives.
Yet it soon became clear that our programs were more effective if they engaged parents as well as students. Although it wasn't the case for all families, we found that many parents have trouble communicating with their kids. This made it easy for conflicts between the two to fester for years before escalating into verbally or even physically abusive behavior.
We decided to focus instead on developing students' 'soft skills' — things like self-confidence, interpersonal skills, and emotional control.
– Xiong Chunyan, educator
We therefore designed our courses as parent-child joint classes, with a special emphasis on parental participation. Many of the parents — or in some cases, grandparents — who participated were not used to our methods. As far as they were concerned, education was the teacher's business: Their only job was to get their children to and from school.
That's just not true. The first 1,000 days of a child's life — what they eat, learn, and experience, both physically and psychologically — play an outsize role in their future development. But many migrant parents we worked with were not aware of this and spent little time directly talking to and educating their children.
Even in our classes, many parents would just sit and watch at first. Nevertheless, as our tutors worked with them, encouraging them to talk over our questions with their children, we began to see real changes in the parent-child relationship. The effect wasn't just limited to class, either. Roughly 90% of parents reported that they'd started to read for their kids and play games with them at home. We also convinced some parents to take part in book groups, where they would read books on parenting and discuss them with each other. Most of these discussions involved them sharing their lives and problems, then talking over how best to solve them with their peers and our trained staff.
Migrant parents are often criticized in mainstream Chinese society for not taking good enough care of their children, but such critiques ignore the realities of life as a migrant. Many migrants are just as committed to improving their kids' futures as any other parent; they simply face greater barriers to success. For example, when visiting the homes of some students, we found that their living conditions were quite poor: five people sharing a cramped room, with the husband and wife constantly bickering over minor issues.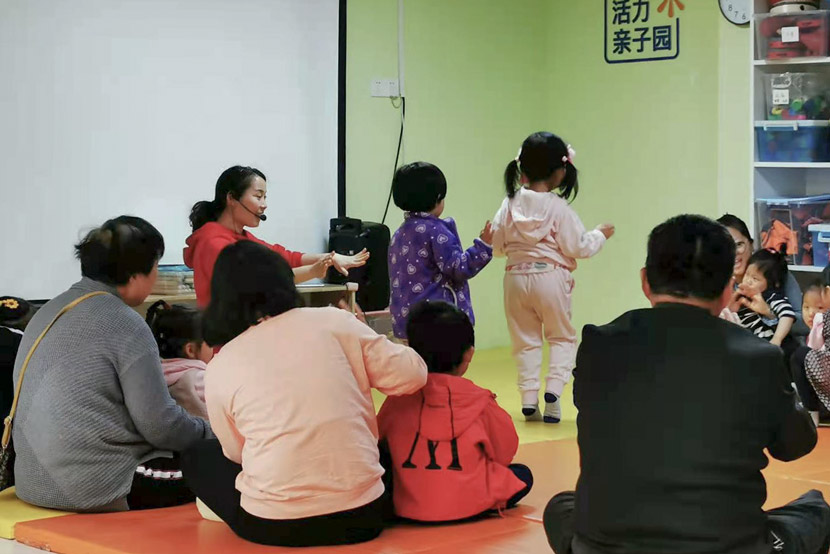 A teacher guides children and their family members at Vibrant Communities' center in Shanghai, April 2021. Cai Yiwen/Sixth Tone
Given the challenges migrants face in carving a place for themselves and their children in their city of residence, it's easy for emotions to boil over. That's precisely what we want to help them avoid. For example, one of the mothers in our class shared a story about when her youngest son burst into tears because his older brother had thrown away a stick that he had wanted to throw away. 
Previously, she saw every incident like this as a hopeless battle. Unable to connect with the younger boy, all she could do was scold him for crying over nothing, but that would only make him cry more. This time, however, she thought back to a conversation she'd had with one of our staff members about needing to see things from her child's point of view. She then took two bean sprouts and gave one to each brother, telling them to throw them away together, which cheered up the younger son. The battle was resolved at the cost of two bean sprouts, and the mother found herself with one fewer source of stress.
At this point, many of our staff members are actually parents who have passed through our classes. This has not only provided us with a relatively stable source of teachers, but also helped some stay-at-home moms get out of the house and pick up new skills. A few of our part-time teachers have even gone on to work in kindergartens or early education centers in their rural hometowns.
It takes a village to raise a child, even if you've left the village behind. China's urban parents have long known the importance of early education for their children, but these opportunities can seem like out-of-reach luxuries for migrants, many of whom consider themselves lucky just to be able to enroll their kids in a city school. It's vital to create more community- and family-based educational opportunities for migrant children. Only then can we give them the nourishment they need.
As told to Sixth Tone's Cai Yiwen.
Translator: David Ball; editor: Kilian O'Donnell; portrait artist: Wang Zhenhao.
(Header image: Children and family members play with each other at Vibrant Communities' center in Shanghai, 2015. Courtesy of Xiong Chunyan)
 
Learn More: entertainment near me,entertainment synonym,entertainment center ideas,entertainment lawyer,3 arts entertainment,entertainment law,entertainment 720,entertainment work permit,entertainment room,entertainment logo,entertainment trivia,entertainment wall units,entertainment wall,entertainment industry jobs,entertainment in the 1920s,entertainment and sports arena,entertainment attorney,entertainment media,entertainment design,entertainment marketing,entertainment lawyer salary,entertainment benefits group,entertainment jobs los angeles,entertainment jobs atlanta,entertainment venues,entertainment brands,3 piece entertainment center,entertainment and sports arena dc,entertainment places,entertainment jobs nyc,entertainment hobby shop jungle,entertainment videos,entertainment reddit,entertainment 1920s,yg entertainment actors,p nation entertainment,entertainment voice,entertainment venues near me