NEWS
How Jordan Love's First Season as Starting QB Compares to Aaron Rodgers'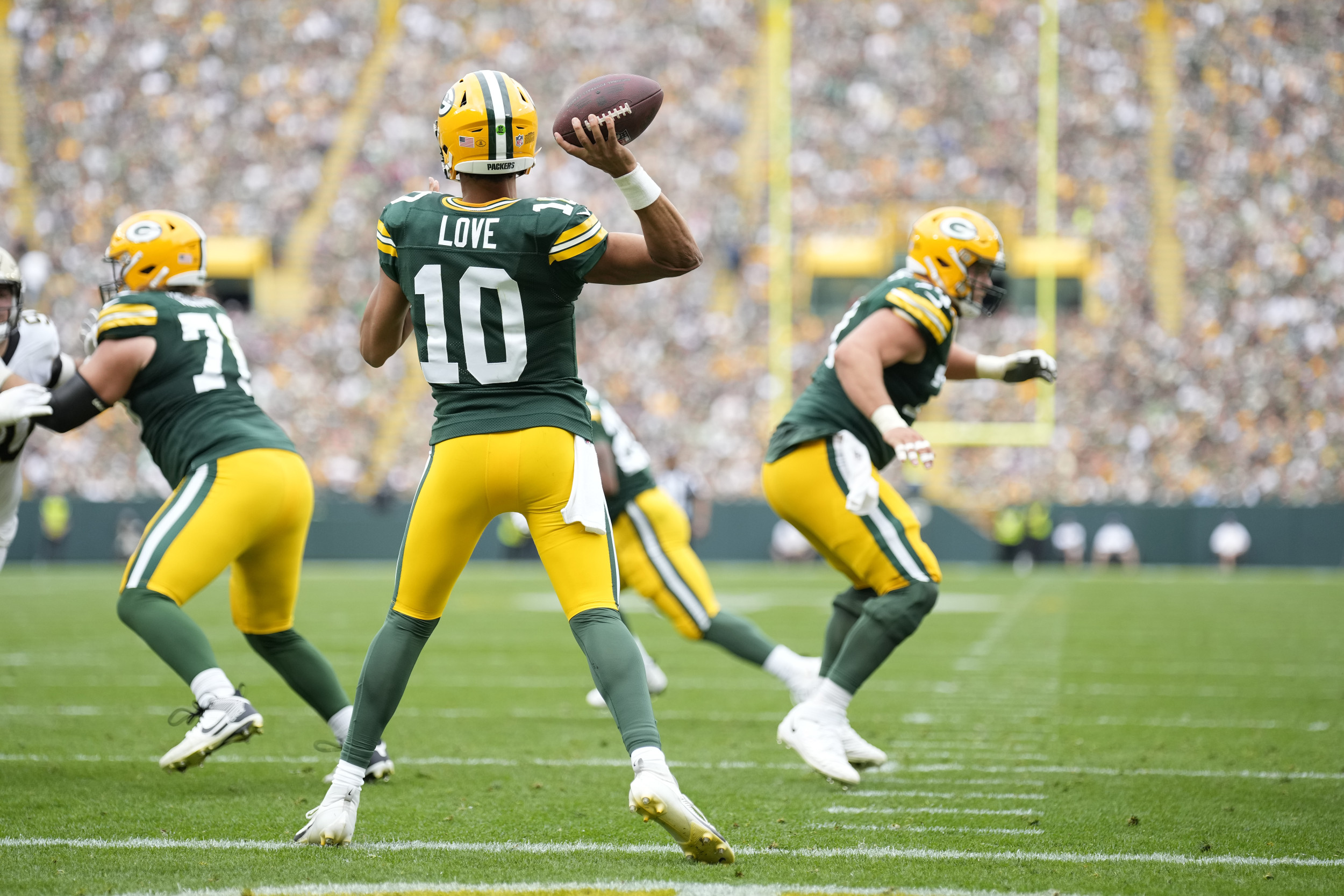 Jordan Love's first start at Lambeau Field finished in a way he won't soon forget.
The Green Bay Packers overcame a 17-0 fourth-quarter deficit in Week 3 to defeat the New Orleans Saints, 18-17. Love, in his first season as the starting quarterback for the Packers, led Green Bay on three consecutive scoring drives in the final quarter to leave Week 3 with a win and a 2-1 record.
"It's always about how the game ends," Love said after Sunday's game. "It felt great at the end. That's all I can say. It felt really good at the end….To be able to turn it around, start putting some drives together and start getting some points, it felt great. The energy in that stadium was awesome. We got our fans going and got our team going, so I think that's exactly what we needed right there."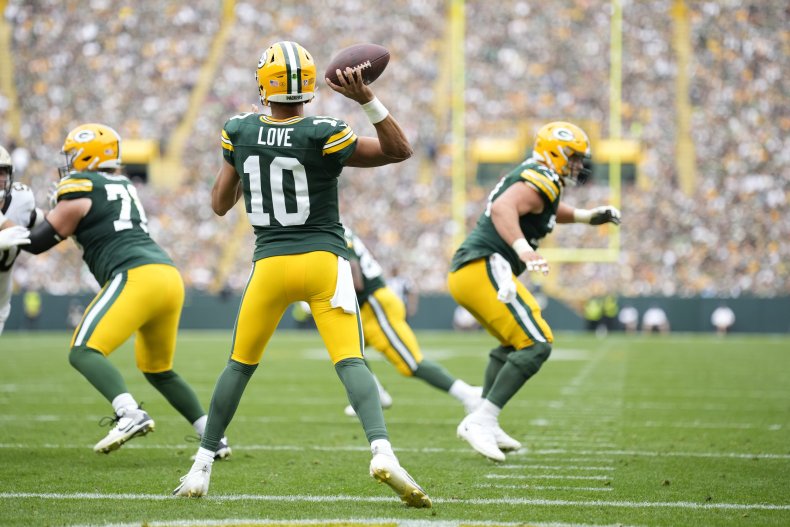 It marked the second time in more than 100 years of Packers football that the team overcame a 17-point deficit in the fourth quarter to win. The first occurred when Love's predecessor, Aaron Rodgers, returned from injury to lead a comeback against the Chicago Bears in the 2018 opener.
There are bound to be comparisons between Love and Rodgers because the similarities are there. Both were drafted in the first round despite the Packers having an all-time QB still leading the way. Love, of course, sat for three years behind Rodgers. And Rodgers was the backup for three seasons behind Brett Favre.
Favre was eventually traded to the New York Jets when he was 38. Rodgers is now on the Jets, albeit injured, at 39. In a way, history appears to be repeating itself.
So, how is Love faring in his first season as the starter? Here's a look before Love and the Packers host the Detroit Lions on Thursday Night Football.
How Love's First Season Compares to Rodgers'
The Packers parted ways with their four-time MVP quarterback when they traded Rodgers, now out for the season with an Achilles injury, to the Jets this offseason. Love, a first-round pick in 2020, had started only one game over his first three seasons while largely acting as Rodgers' backup. After the trade, the Packers were Love's team to lead. And everyone seemed to have the same message for him.
"Be yourself," Love said before the season of the advice he'd been receiving. "Don't try to be anybody else. Don't try to be Aaron. Things like that. Just be yourself, and that's what I'm trying to do."
The 24-year-old is playing like himself, though showed in Week 3 he is capable of making highlight plays in dramatic moments just like his mentor.
Love's start against the Saints marked the first time since 1992 a QB other than Rodgers or Favre started for the Packers in their home-opener. During this week's appearance on The Pat McAfee Show, Rodgers said he congratulated his former backup for a memorable first home start.
"Big congrats to J," Rodgers said ."I sent him a message after the game. Happy for him, that's a cool moment. He'll never forget that moment."
Through three games, Love is completing 53.1 percent of his passes for 655 yards, seven touchdowns and one interception. In Weeks 1 through 3 after taking over in 2008, Rodgers completed 64.7 percent of his passes for 796 yards, four touchdowns and no picks.
The 2008 Packers also started 2-1, though they finished 6-10.
Where Love Can Improve Statistically
Love's play against the Saints through three quarters was far from perfect.
The Packers turned the ball over on downs twice. Green Bay botched a trick play on the first drive of the game. Love overthrew tight end Luke Musgrave on what could have been a long touchdown, took a sack that prevented a Packers field goal before halftime, and threw his first interception of the season.
Then, things changed.
Green Bay scored its first points of the game early in the fourth quarter on a field goal. Love ran for a score on the next possession, then connected with Romeo Doubs on a go-ahead 8-yard touchdown with two minutes and 56 seconds to play. The Saints missed a field goal in the final seconds of the game to secure the Packers victory.
Multiple ESPN analysts raved over Love's performance. Ryan Clark said on X, formerly Twitter, that Love changed fans' mindsets from, "'Bruh, we miss Aaron' to 'Boy I love Jordan,' in one quarter." Marcus Spears praised Packers general manager Brian Gutekunst for his decision to draft, and stick with, Love.
The Packers comeback was improbable, but Love's teammates weren't surprised.
"That's just who J-Love is," Packers linebacker Rashan Gary said, via ESPN. "I've been seeing him since Year 1. His confidence has been building and building. I know he was behind Aaron, a Hall of Famer, so having seen some of his mannerisms and seen when the game is like that, how he's keeping everybody up, how he's keeping everybody locked in and focused, and making sure we're on our keys, he's a true leader."
The heroics from Love and the Packers offense came a week after they blew a 12-point fourth-quarter lead to the Atlanta Falcons. Love couldn't lead the Packers on a game-winning drive late in the 25-24 loss but made up for it this week.
Thursday night will be another opportunity for Love to progress. And there are certainly areas in which Love has room to improve. According to Pro Football Focus, 31.5 percent of Love's throws this season have been uncatchable, the highest rate in the NFL. He also ranks second-to-last among qualified passers in completion percentage.
Getting wide receiver Christian Watson back in the lineup this week could provide a boost.
Watson was a big-play threat for the Packers last season as a rookie. The 6-foot-4, 208-pounder caught 41 passes for 611 yards and seven touchdowns a year ago. Watson has not played so far this season because of a nagging hamstring injury. But the plan is for Watson to be on the field against the Lions, he said this week.
According to the NFL's Next Gen Stats, Love leads the league in average intended air yards (10.4) through three weeks. One of the league's most aggressive downfield passers, he is tied for fifth in the NFL with seven completions of 25 yards or more.
A wide receiver prone to making highlight plays could be just what the Packers passing game need. Watson ranked in the top 10 in yards after catch and average targeted yards last season. Love and Watson connected on a 63-yard touchdown against the Philadelphia Eagles a season ago while Rodgers was out of the game with an injury.
Watson's return to the lineup could be significant as Love continues to settle in as the starter.
"He's gonna be a big playmaker for us and probably just make the offense be a little more explosive when he's out there," Love said.
Uncommon Knowledge
Newsweek is committed to challenging conventional wisdom and finding connections in the search for common ground.
Newsweek is committed to challenging conventional wisdom and finding connections in the search for common ground.