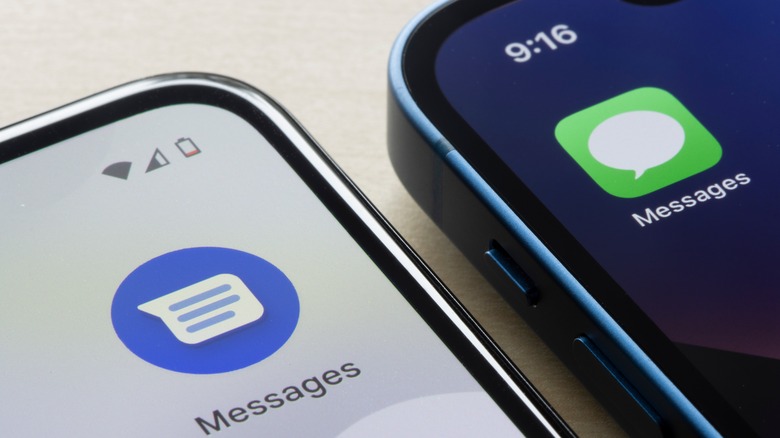 Tada Images/Shutterstock
The messaging experience is one of the main points of contention in the iOS/Android conflicts, which are as old as their parent companies. iPhone-to-Android texting is not very seamless, especially judging by modern messaging standards — media files are pixelated, and there are no read receipts, tapback reactions, typing indicators, or end-to-end encryption. And these are all features that we expect from contemporary messaging platforms.
Google says the experience would improve if Apple agreed to support a messaging protocol called RCS, or Rich Communication Services. The company has tried a few tactics to cajole Apple into adopting the RCS standard, with the latest being a public campaign rallying public support to make Apple #GetTheMessage.
Currently, the problem is that Apple uses its proprietary messaging service, iMessage, to send texts between iPhone users. For Android users, Apple defaults to the SMS/MMS standard, which is grossly incapable of supporting the features and functions available on iMessage.
If it's the first you've heard of it, you might be confused: What is RCS? How does it work? Is it an app? How is it different from iMessage? What's in it for Apple? Well, you have questions; we have answers. Let's check out the major differences between RCS and iMessage.
iMessage vs RCS: The differences explained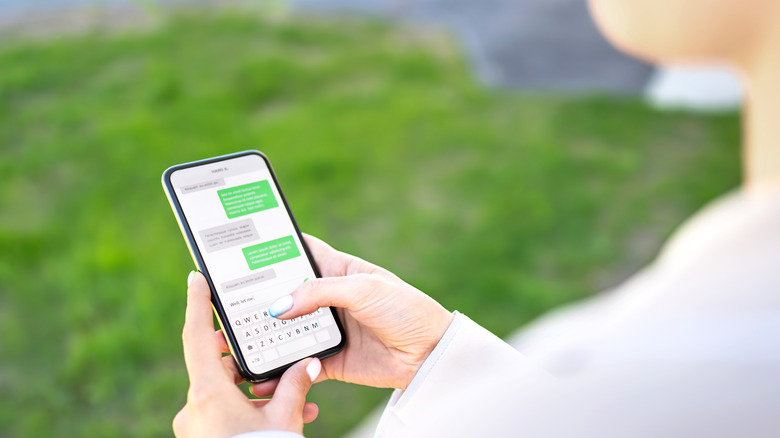 Tero Vesalainen/Shutterstock
First, let's get one vital misconception out of the way: RCS is not an app, the same way iMessage isn't. Just as iMessage is Apple's dedicated messaging service, RCS is a chat protocol that upgrades the texting experience that SMS/MMS provides. RCS brings in many iMessage-like functionalities to texting, including support for high-quality media transfer, tapback reactions, read receipts, and texting over Wi-Fi.
Also, RCS will not replace iMessage. Whether Apple will adopt RCS on its devices remains to be seen, but even if it does, RCS can coexist with the iMessage service. The difference would be that iPhone-Android texting would take on the iMessage features mentioned above.
As for differences, one major distinction between iMessage and RCS is exclusivity. You can only send iMessages on devices within Apple's ecosystem — Macs, iPads, iPhones, and Apple Watches. RCS can work on any Android device regardless of its manufacturer, as long as it's running Android 5.0 or later.
Also, let's talk about ease of use. The Messages app is pre-installed on Apple devices, but Android users who want to access RCS text features must download Google's Messages app from the Play Store. Although Samsung adopted Google Messages as its default messaging app in Galaxy S22 devices (via ZDNet), users with older devices still have to enable the feature manually.
Even if Apple adopted RCS support, iPhone-Android texting would be missing some distinct iMessage features, like iMessage allows users to send texts with screen effects like spotlights, fireworks, or lasers, which would not be possible with RCS.
Also, iMessage interacts seamlessly with other Apple products like Apple Pay and iMessage apps, but that integration would still be exclusively available to iPhone-only messages.
Learn More: technology clipart,technology student association,technology management,technology readiness level,technology acceptance model,technology gif,technology transfer,technology consultant,technology package,technology addiction awareness scholarship,is technology good or bad,technology networks,technology movies,technology gap,technology jokes,is technology limiting creativity,technology leadership,technology drive,technology zero,technology help,technology 100 years ago,technology project manager,technology house,technology unlimited,technology background images,technology readiness level dod,g technology ssd,technology economics definition,technology obsolescence,is technology science,technology life cycle