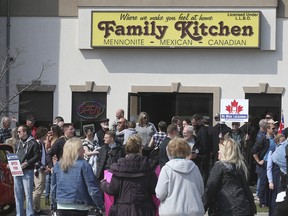 Openly defying Ontario's COVID-19 lockdown orders earlier in the pandemic — and doing so repeatedly — has cost a Leamington restaurant owner a stiff $20,000 penalty.
With support protests held outside her business, and media helping spread the word of Kirsty Leathem's ongoing defiance of health guidelines aimed at containing the highly contagious virus, the owner of Family Kitchen drew visits by police, bylaw and health officials in the spring of 2021.
Leathem, who publicly vowed "I will not give up," would eventually rack up 15 charges under the Reopening Ontario Act, legislation created by the Ford government that carries with it fines of up to $100,000 and up to a year in jail per count upon conviction.
"She was so vocal in her opposition to … these rules put in place to ostensibly protect all of us," said lawyer Ken Marley, who prosecuted the case against Leathem on behalf of the municipality and its bylaw enforcement department.
During a pre-trial appearance before Justice of the Peace Susan Hoffman in provincial offences court in Windsor on June 24, the Leamington business owner pleaded guilty to seven of 15 charges. She was handed a $16,000 fine with another $4,000 added for court costs.
"She was treated very leniently," Marley told the Star. He said the prosecution and court took into consideration the fact "she eventually started to cooperate" with the COVID-19 health guidelines and rules.
Marley said the municipality did not want to appear "unduly harsh" in prosecuting a member of the local business community described in court as "very community-minded and charitable."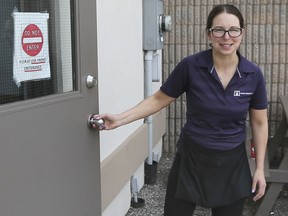 Reached Friday, Leathem told the Star: "I choose not to comment."
Facing Leathem and her lawyer in court were three prosecutors — Marley, acting for Leamington and its bylaw enforcement department; another lawyer representing the police through the attorney general's office; and a third lawyer on behalf of the Windsor-Essex County Health Unit. The three different agencies, responding to ongoing public complaints about Leathem's alleged skirting of Ontario's lockdown rules, each laid their own charges — a total of 15 counts covering different days between May and mid-June of 2021.
The lockdown rules at the time prohibited any indoor or outdoor event or social gathering with people outside of a household, with rare exemptions, like weddings and funerals, and even those were subject to capacity limits and enforcement of mask-wearing and two-metre distancing between individuals.
Family Kitchen became a lightning rod for lockdown protesters on April 6, 2021, when Leathem's establishment continued to hold indoor dining in violation of Ontario's "emergency brake" measures meant to address surging provincial COVID-19 case numbers.
"We're all together to put an end to these lockdowns," Leathem told a crowd outside her restaurant on Erie Street South that day. She and most of the protesters did not wear face masks.
She told demonstrators that "everyone has the right and freedom to earn a living" and that "only the privileged can say, 'We are all in this together.'"
Marley said that, in Leamington alone, he's aware of at least one other restaurant operator being fined $15,000 in May after guilty pleas to several Reopening Ontario Act charges. During the court proceedings against Leathem, mention was also made of a Windsor restaurateur on Via Italia similarly being fined $5,000 after a guilty plea on a single count earlier this year.
Sign up to receive daily headline news from the Windsor Star, a division of Postmedia Network Inc.
By clicking on the sign up button you consent to receive the above newsletter from Postmedia Network Inc. You may unsubscribe any time by clicking on the unsubscribe link at the bottom of our emails. Postmedia Network Inc. | 365 Bloor Street East, Toronto, Ontario, M4W 3L4 | 416-383-2300
Learn More: latest news on stimulus,u visa latest news,o panneerselvam latest news,g dragon latest news,latest news about stimulus check,j cole latest news,p chidambaram latest news,hepatitis b latest news,sarah g latest news,l&t latest news,p square latest news,