NEWS
NYPD Orders All Officers to Duty over Hamas's Call for 'Day of Jihad'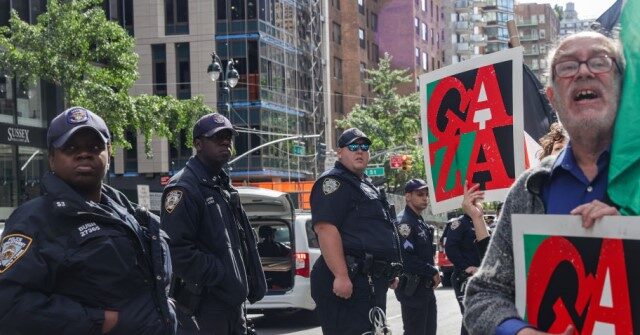 The New York City Police Department (NYPD) has directed all officers to report for duty in uniform Friday after the Palestinian terror group Hamas called for a global "Day of Jihad."
The New York Post reports:
During a meeting with Jewish community leaders Thursday, Rebecca Weiner, deputy commissioner of the NYPD Intelligence and Counterterrorism Bureau, stressed that police were bolstering their presence out of "an abundance of caution" and that there were no credible or specific threats to the city.

"This is to deter anyone who would seek to do us harm in this city," Weiner said, "We still are not seeing any threat reporting suggesting violence in New York City."

"We are obviously aware that that can change at any moment."

Police advised religious centers to limit access to buildings, ensure doors are locked at all times, double-check that their security cameras and alarms are working properly, conduct perimeter sweeps, and screen any mail and packages.
Hamas called the a "Day of Jihad" after the terror group launched its shockingly deadly assault on Israel, which killed 1,300 people and wounded over 3000 more, according to reports. The attack took place on the Jewish holiday of Shemini Atzeret, the final day of the annual High Holy Day cycle.
"We declare next Friday, 'The Friday of the Al-Aqsa Flood,' as a day of general mobilization in our Arab and Islamic world and among the free people of the world," Hamas said, according to the Middle East Media Research Institute (MEMRI), a not-for profit press monitoring organization that focused on the Islamic word.
"It is a day to rally support, offer aid, and participate actively. It is a day to expose the crimes of the occupation, isolate it, and foil all its aggressive schemes. It is a day to demonstrate our love for Palestine, Jerusalem, and Al-Aqsa," the terror group added. "We call upon the free people of the world to mobilize in solidarity with our Palestinian people and in support of their just cause and legitimate rights to freedom, independence, return, and self-determination."
In a separate statement, former Hamas chief Khalid Mashal urged Muslims around the world to participate in the "Day of Jihad" by taking "to the streets."
"To all scholars who teach jihad," he said, "to all who teach and learn, this is a moment for the application [of jihad]."
Despite the NYPD claiming there are no credible or specific threats, some Jewish schools have chosen not to open on Friday, citing advice received from security firms they employ.
"It's just for tomorrow. They want to be cautious — so who am I to criticize it? We're all in a stressful situation here, living through this crazy Twilight Zone," Rabbi Hillel Lavery-Yisraëli told the Post.
"Our kids go to a pluralistic Jewish school focused on social justice, diversity & community. School is cancelled tomorrow because of the Day of Jihad," another parent wrote on social media. "We live in NYC. Are we still pretending this is about Israel?"
"This isn't about Israel — it's about Jews. And that's what's so horrifying."
As Breitbart News reported:
New York City expects a significant number of people to fill Times Square and other public areas in support of the "Day of Jihad." The Times Square event is scheduled to begin at 3 p.m. local time. In anticipation of potential violence, many Manhattan offices chose to advise employees to stay home.
On Sunday, the Democratic Socialists of America (DSA) held a large rally in New York City's Times Square in support of the terror attack against Israel.
In one instance, a protester at the rally was seen holding up a swastika to mock pro-Israel counter-protesters.
Today's cover: Security heightened at NYC synagogues, Jewish sites in wake of Hamas attack on Israel https://t.co/h2kUgFJjnN pic.twitter.com/s8bfikRUhV

— New York Post (@nypost) October 9, 2023
New York Gov. Kathy Hochul (D) announced that National Guard servicemembers were ready to deploy if the security situation requires it.
"There's no reason to feel afraid," Hochul said. "No one should feel they have to alter their normal lives or their routines, and, indeed, when we change our behavior without a serious, credible threat, we're letting the terrorists win."