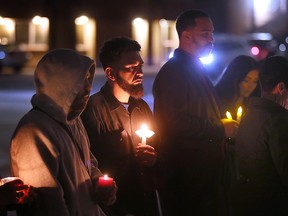 As the historic global pandemic lingered on, the past year saw numerous noteworthy community members from across Windsor and Essex County pass on.
On Jan. 31, Windsor artist Helen Turner-Brown died at the age of 82. A prominent local artist whose work often showcased Black Canadian heritage, she was remembered for creativity in her work, along with serving as the first secretary on the board of the North American Black Historical Museum — now the Amherstburg Freedom Museum.
Windsor Star Headline News
Sign up to receive daily headline news from the Windsor Star, a division of Postmedia Network Inc.
By clicking on the sign up button you consent to receive the above newsletter from Postmedia Network Inc. You may unsubscribe any time by clicking on the unsubscribe link at the bottom of our emails or any newsletter. Postmedia Network Inc. | 365 Bloor Street East, Toronto, Ontario, M4W 3L4 | 416-383-2300

On the same day, former Second World War veteran and Tecumseh mayor Donald Lappan died at the age of 94.
He was remembered for his lifelong service to the Tecumseh community and being a "real family man." Married to Denise, the couple had 10 children and were married for 72 years. He served on Tecumseh council for decades, including 14 years as mayor, from 1971 to 1985.
Lappan gave his time to numerous causes, including Ste. Anne's Parish Ushers Group, the Lions Club, Knights of Columbus and Tecumseh Baseball Club. He was retired from Chrysler Canada and also owned the family business Excelsior Monuments.

In early February, the community learned of the tragic death of Anatole Rybas who died from hypothermia while huddled on a sidewalk in the 500 block of Ouellette Avenue. Well known by area outreach workers, Rybas, 69, was a well-educated man who battled schizophrenia and spent three decades living on the streets. His tragic death sparked local officials to study gaps in the system.

On Feb. 12, former long-time Windsor star photographer Ted Rhodes died at the age of 65 as the result of a skiing accident in a resort area in Fernie, B.C.
Rhodes worked at the Star from 1991 to 2003, then continued his career at the Calgary Herald until his retirement in 2017. Windsor Star managing editor Craig Pearson remembered Rhodes as "a professional, through and through. He always got the photo. But more than that he was a great guy."

On Feb. 28, former Windsor Woman of the Year, Mina Grossman-Ianni died at the age of 78. Her life included stints in local journalism and the Windsor Symphony where she served as executive director.
Born in Poland in 1943, Grossman-Ianni came to Canada in 1948 after living with thousands of other Jewish refugees in displaced persons camps at Bergen-Belsen, Germany, after the war. She came to Windsor in the early 1970s when her husband, Ron Ianni, became president of the University of Windsor.
Grossman-Ianni was a broadcast journalist for radio and television, mainly with CBC and Radio-Canada. She later joined the Windsor Symphony Orchestra, first as a board member, then as its executive director.

Former Windsor police chief and Second World War veteran John Shuttleworth died March 8 at age 98.
An Air Force man, he was as a member of the police department's first bomb squad. He spent 38 years with Windsor police, including four as chief. He retired in 1984, devoting his time to two of his greatest joys: fishing and his grandsons.
"He was like the best father in the whole, wide world," said daughter Shirley Ann Shuttleworth, 70. "He was a kind and generous man."

On March 18, a tragic car accident near Leamington claimed the lives of a mother and daughter. Carrie Steeman, 50, and Jacqueline Steeman, 30, were victims in an early-morning crash on County Road 34 between Leamington and Wheatley.
Both women, described as "beautiful" people, were driving to work at ElringKlinger near Leamington at the time of the crash.
"Carrie's and Jackie's absence there has been met with anguish and complete sorrow," Unifor Local 444 said in a statement.
A 22-year-old Chatham-Kent man has been charged with two counts of impaired driving causing death and driving while disqualified.

On March 19, Amanda Lyons (née Ioannidis), a 34-year-old mother of three was killed in an apparent murder-suicide in LaSalle.
Her obituary referred to Lyons as a "beautiful princess" and a "strong, fierce and independent woman" whose death left everyone with "broken hearts."
Police pointed to husband Blair Lyons as the cause of her death, with evidence showing he soon afterwards jumped to his own death from the Ambassador Bridge.

Another local family was left reeling when a Windsor man was killed while cycling in a hit-and-run incident by a suspected impaired driver on March 25.
Kenny McEldowney, 58, was on his bike when he was fatally struck by a vehicle that left the scene on Wyandotte Street West near Crawford Avenue. About 45 minutes later, Windsor police located the suspected driver at an establishment in the 300 block of Mill Street.
Amanda McEldowney described her uncle as the "problem solver" of the family.
"Didn't matter how big or small the problem was, didn't matter how long it took to solve, he fixed it," Amanda said. "That's what I want everyone to remember about him, how much he loved his family."
Kelsey Barkovsky, 28, was charged with impaired driving causing McEldowney's death, exceeding the legal blood alcohol level and leaving the scene of an accident. According to the local Crown's office, weeks later she was discovered deceased in mid-June.
"I feel for all the parties," said her defence lawyer Bobby Russon of the families impacted.
On March 26, Dr. George Stecko, who for decades was known as a top local orthopedic surgeon, died at the age of 87 in Kelowna, B.C.
Struggling with dementia in his later years, he was remembered for his outgoing manner and desire to help others less fortunate, including underprivileged children and those with special needs. "He was really caring and compassionate toward those families," said daughter Cathy Stecko. "Not that he wasn't to everybody else, but he had a heart for them."
On March 28, tool maker Darrell Mills, 58, was killed on the job at Saturn Tool & Die Inc. in Oldcastle. He was remembered as a generous hard worker who loved his family and would "give his shirt off his back to help others," according to friends.
"Darrell was 100 per cent about family — all he cared about were his kids and me. We were a very, very close family," said wife Michelle Tremblay-Mills.

On April 5, former Windsor Spitfires' owner and community advocate Fred Sorrell died at the age of 87. A local businessman and former Rotary Club president, he was remembered as a fun-loving, happy, generous man who adored his family.
He was a retired CKLW radio executive who, aside from co-owning the Spitfires for several years, also co-owned and managed Wheels Roller Rink. Said his wife Donna Jean Sorrell: "(Fred) was a very, very happy person. He was just happy to be on this earth. Happy to be alive."

On Aug. 15, a confrontation with Windsor police led to the tragic death of Allan Andkilde, 70, who was shot after officers responded to a man attacking cars with a machete at the intersection of Wyandotte Street East and Ouellette Avenue.
"He was a flawed guy," said Ted Andkilde, the man's nephew. "Despite the fact that he was family and I loved him in my own way, I don't fault the police in any way. I understand the situation that they were facing and I hope the best for them and their families."
In mid-September, the former longtime executive director of Windsor's Artcite Inc. died at the age of 62 after a battle with cancer. Christine Burchnall was widely known throughout the community for her passion of bolstering the profiles of local contemporary artists.
Burchnall was Artcite's program co-ordinator from 1984 to 1990, then served as its executive director from 1994 until 2017 before retiring from the role.
"She was instrumental in helping so many young artists and bringing good contemporary art to Windsor," said husband Terry Whelan. "Everybody knew her and benefited from her support. She had a good heart and always went above and beyond to help people."

On Aug. 21, a young Windsor man was killed in a hit-and-run incident in Rochester, N.Y. Anthony Trayner, 24, who was hearing impaired, was a recent business graduate of the Rochester Institute of Technology.  He was attending a friend's wedding celebration when afterwards stopped on the freeway after the vehicle had stalled. He was hit by another vehicle which left the scene.
Along with Trayner's constant advocacy for the deaf, he was a multi-sport athlete during his years at Holy Names Catholic High School.

On the night of Nov. 18, another hit-and-run incident led to the death of a 33-year-old Windsor man.
Kyle Verbrugge was described as "smart, industrious, and capable," with a passion for electronics and computers. He was walking near the intersection of Elsmere Avenue and Ellis Street East when he was struck by a black Dodge Caravan which left the scene.
A 22-year-old Windsor man surrendered to police four days later and was charged with failing to stop after an accident, resulting in death.

On Nov. 24, one of the most prominent and decorated golfers from the Windsor area, Audrey Bendick-Akins, died at the age of 55 after a lengthy battle with leukemia.
Inducted into the Windsor-Essex Sports Hall of Fame in 2001, Bendick as a youth won the Canadian junior title at the age of 13 — the youngest then to do so — and went on throughout life to achieve success at various tournaments provincially and across North America.
Bendick-Akins was also widely known in the Windsor area through her career as a longtime secondary school English teacher, most recently at Sandwich Secondary School.

On Nov. 28, Daniel Squalls, 24, was fatally shot in a residential neighbourhood in the 800 block of Hanna Street East. An obituary notice described Squalls as a devoted and loving father of a daughter and a stepdaughter. In his youth, Squalls attended Herman Academy Secondary School, where he was a student athlete playing football and basketball.

Learn More: latest news on stimulus,u visa latest news,o panneerselvam latest news,g dragon latest news,latest news about stimulus check,j cole latest news,p chidambaram latest news,hepatitis b latest news,sarah g latest news,l&t latest news,p square latest news,