NEWS
Philipp Grubauer has been solid for Kraken, who need to get offense going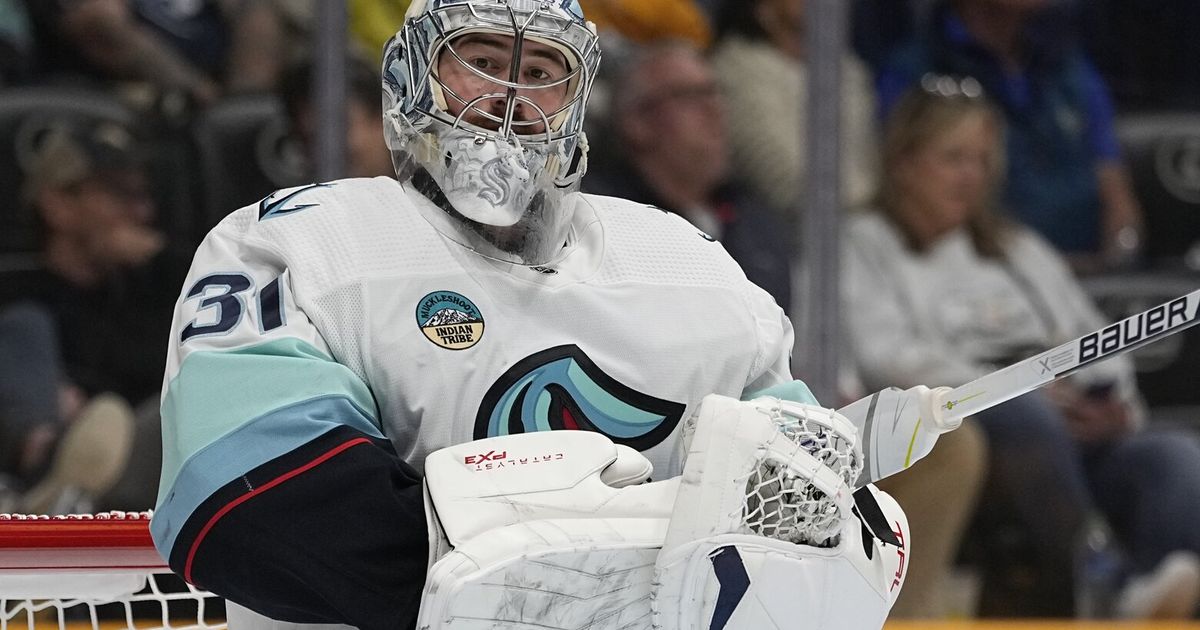 NASHVILLE — The 2023-24 season is newly underway, but the Kraken offense is running behind, managing just one goal in two games.
Goals were often easy to come by last year and at times compensated for sloppy defense and average goaltending. Through the Kraken's first two games, it has all been a little bit off. The timing, the setups, the wayward shots, to some extent the puck luck — all not quite right.
When the offense isn't coming, the call is usually for a return to basics. They need to make it harder on goalies, winger Jaden Schwartz said, and fight for rebounds.
"Not look for that extra play or that cute play. Just got to keep it simple," the alternate captain said. "Go north and get our work boots on. It's not coming easy right now."
The penalty kill hasn't allowed a goal on seven attempts, including a minute-and-a-half of 5-on-3 on Thursday. The power play hasn't scored on six tries, including a five-minute major.
What time they're spending in the offensive zone — too little, center Yanni Gourde said after Thursday's 3-0 loss against the Predators — hasn't been productive. Nashville goaltender Juuse Saros was occasionally excellent, turning in 23 saves, but outside of a few flurries, the Kraken had issues sustaining pressure long enough to get multiple shots off. The ones that got through went high and wide.
"Some good things, but not nearly enough," Schwartz said.
One thing everyone seems to agree on — goaltender Philipp Grubauer wasn't the problem this week.
Removing empty-netters — one per game — and friendly fire, Grubauer has only been beaten fairly three times. The Predators scored on a short-handed 2-on-1, while the Vegas Golden Knights concocted a backdoor tip and a short breakaway Tuesday.
Two of the goals against were unlucky deflections in front. Against the Golden Knights, Brandon Tanev tried to dump the puck safely behind his own net, but it glanced off Vegas' Jonathan Marchessault and in. The Predators' second goal Thursday looked like a pass attempt through the cease from Gustav Nyquist to Ryan O'Reilly at the back door. En route, it nicked Kraken defenseman Adam Larsson's skate and went in.
That's two respectable outings in the Kraken's net, but no response from the guys in front of it.
"Grubi's been solid both nights here. He's given us good opportunities, has played very well," coach Dave Hakstol said. "He's been sharp. He's seeing the puck well. I really like his competitive level."
Last season, the Kraken dropped their first game, a sloppy collapse against the Anaheim Ducks, who ultimately finished last in the league. Seattle took a standings point out of it and managed four goals. The second game was a dominant win.
A 100-point campaign began with a lukewarm October. The Kraken started 4-4-2. There isn't cause for alarm yet this month, but some urgency. They favored rest when there was just one day off between games with travel last season, but opted to practice Friday in St. Louis.
They can salvage the road trip with a win Saturday night against the Blues. The Golden Knights were the defending champions and the Predators were in the playoff hunt until the final weeks. The Blues finished well outside the playoff picture and didn't qualify for the first time since 2017-18. They were sellers at the trade deadline and are supposed to be retooling. The Kraken earned at least a point in all three regular-season games they played against St. Louis last season, going 2-0-1.
The Blues launched their season Thursday with a 2-1 shootout loss at the Dallas Stars, featuring 33 saves from Jordan Binnington. They're going for their fourth straight win in a home opener Saturday against the Kraken.