NEWS
Rashida Tlaib Gets Single Defender From Democrats' Criticism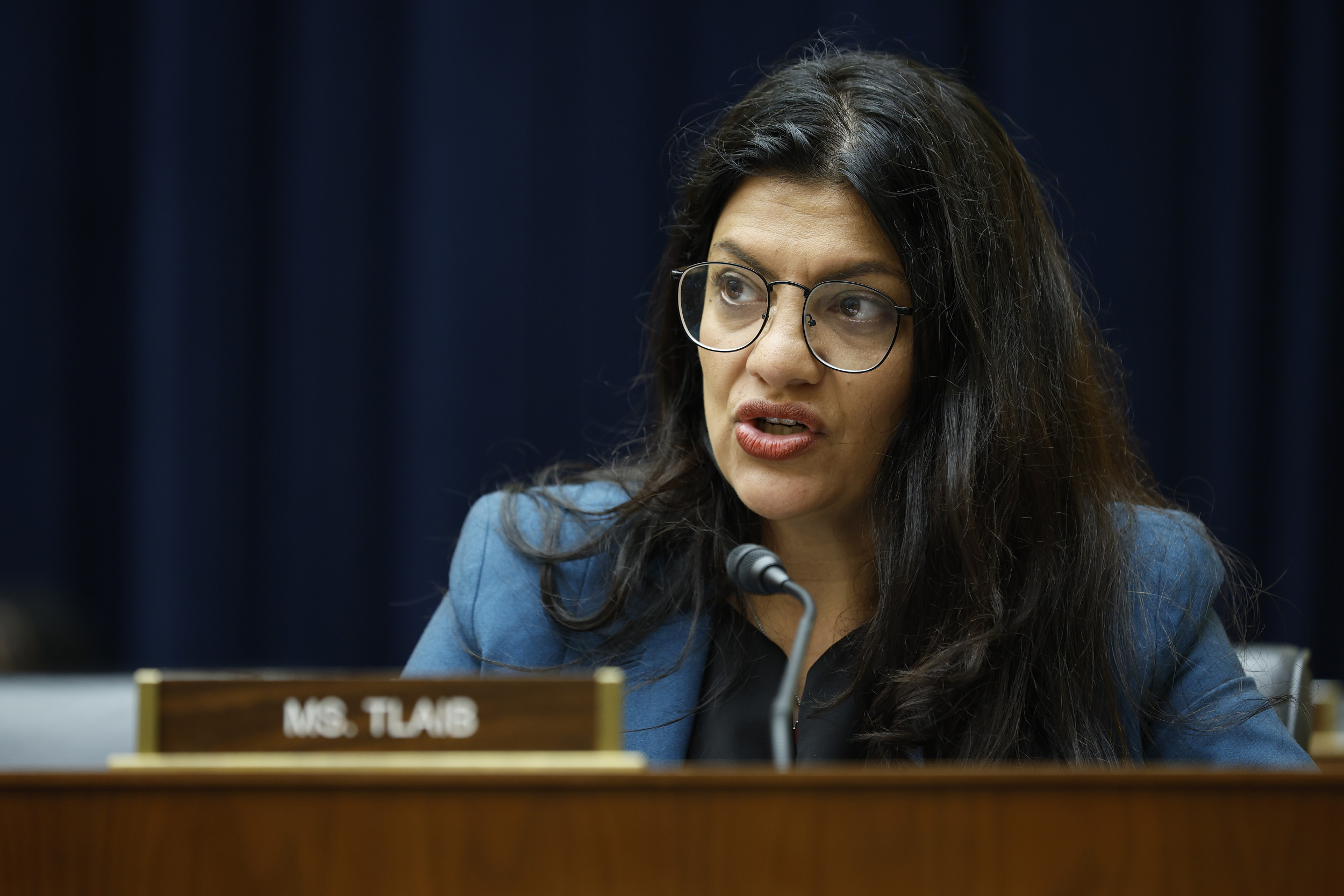 Representative Rashida Tlaib, the only Palestinian American member of Congress, has come under fierce criticism over her response to the fighting in Israel and Gaza, and the backlash against her is continuing to mount.
Tlaib, a staunch critic of Israel, has faced pushback from even members of her own party for her statement on last weekend's Hamas attack on Israel and the subsequent violence that is escalating in the region. She has also been criticized for displaying a Palestinian flag outside her office on Capitol Hill.
While most U.S. lawmakers rushed to issue messages of solidarity for Israel, Tlaib stressed the loss on both sides, saying, "I grieve the Palestinian and Israeli lives lost yesterday, today and every day." Without mentioning Hamas, Tlaib referred to Israel as an "apartheid system" and renewed her calls for "ending the occupation." (The West Bank has been occupied by the Israeli military since 1967, while Gaza has not been occupied by Israeli forces since 2005.)
"The failure to recognize the violent reality of living under siege, occupation, and apartheid makes no one safer," she said in a Sunday statement. "No person, no child anywhere should have to suffer or live in fear of violence. We cannot ignore the humanity in each other. As long as our country provides billions in unconditional funding to support the apartheid government, this heartbreaking cycle of violence will continue."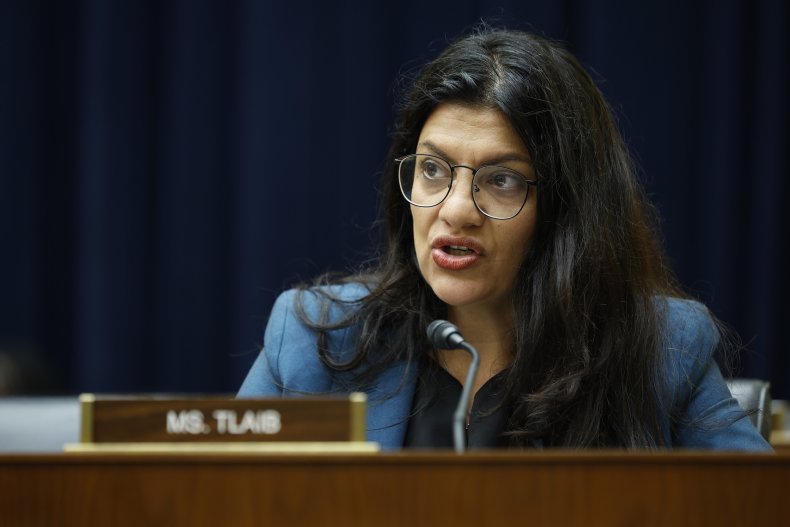 Asked by a reporter about the deadly violence committed by Hamas militants in last weekend's attacks on Israelis, Tlaib ignored questions while walking through the halls of Congress. She also was asked, "Why do you have a Palestinian flag outside your office if you don't condone what Hamas terrorists have done to Israel?"
Newsweek reached out to Tlaib via email for comment.
While many Democrats have been clear about where they stood on remarks from Tlaib, one of her colleagues had a more sympathetic response.
"She's Palestinian, that doesn't mean she's a terrorist. It doesn't mean she condones this," Representative Steny Hoyer said about Tlaib while speaking to reporters on Capitol Hill. "I fly a Danish flag at my house."
He went on: "I disagree with some of her comments. She lamented the death on both sides, and I think she condemned…terrorist activity."
Like Tlaib, Representatives Cori Bush and Ilhan Omar are members of the so-called progressive group called the Squad, and all three Democrats have called for an end to U.S. aid to Israel—a position that also drew criticism. Meanwhile, Democratic Senator Ed Markey was booed at a solidarity rally for Israel when he called for a "de-escalation of violence."
The comments from Tlaib, Bush and Omar have drawn condemnation from the White House as well as Democratic colleagues who say there is only one right side to the issue.
"We believe they are wrong, we believe they are repugnant, and we believe they are disgraceful," White House press secretary Karine Jean-Pierre told reporters on Tuesday. "There are not two sides here."
Democratic Representatives Steve Cohen, Ritchie Torres and Josh Gottheimer also spoke out about the three progressives' remarks. Cohen told Axios he was "pained to read those comments" and said it was "unfortunate" that his colleagues chose to make those remarks at a time when it was more appropriate to "reflect on the horrific, animalistic butchery of Hamas."
Gottheimer said in a statement, "Two of my colleagues called for America to end assistance to Israel, despite the countless images of Israeli children, women, men, and elderly, including Americans, murdered by radical Iranian-backed Hamas terrorists. It sickens me that while Israelis clean the blood of their family members shot in their homes, they believe Congress should strip U.S. funding to our democratic ally and allow innocent civilians to suffer."
Other members of the Squad, such as Representatives Alexandria Ocasio-Cortez and Ayanna Pressley, have been more cautious in their statements and have yet to offer opinions on their Democratic colleagues.
Ocasio-Cortez condemned the Hamas attacks in her initial statement, but she also cautioned people about being hateful toward Palestinians while expressing their support for Israel.
On Tuesday, she responded to a video of pro-Israel supporters calling for a Palestinian genocide, writing on X (formerly Twitter), "Here's what we're not going to do: We will not allow bigotry to destroy our community and city in this devastating moment. Islamophobia, antisemitism and victim blaming cannot be tolerated. We can + will reject it all. Not hard. We must focus on the lives currently at stake."
In response to Tlaib's statement on Israel, human rights activist Hussam Ayloush wrote on X, "I wish half our elected officials had a fraction of @RepRashida's compassion, principles, courage, and honesty."