Chip Roy, a Republican U.S. Representative from Texas, has lashed out at Mexico's president for allegedly planning to "endorse" Democratic gubernatorial candidate Beto O'Rourke over the state's incumbent GOP Governor Greg Abbott.
Roy claimed during a press conference in Washington, D.C., on Friday that Mexican President Andrés Manuel López Obrador said he would "endorse" O'Rourke because Abbott was working to "secure" the U.S.-Mexico border. The GOP congressman suggested that a military "skirmish" could be in order, alluding to the 1836 Battle of San Jacinto—which was won by Texans at the end of the Texas Revolution, with then-Mexican President Antonio López de Santa Anna being captured soon after.
"To listen to Mexican President Obrador say he's gonna endorse Beto O'Rourke over my governor, Governor Abbott, because he's daring to secure the border, take steps to secure the border," Roy said during the press conference with Republican lawmakers, which was hosted by fellow Texas U.S. Representative Jodey Arrington.
"Let me say something to President Obrador: If you want to come have a skirmish with Texas, you can meet us in San Jacinto, OK?" Roy added. "We're going to secure the border of the United States, and we're going to do it now."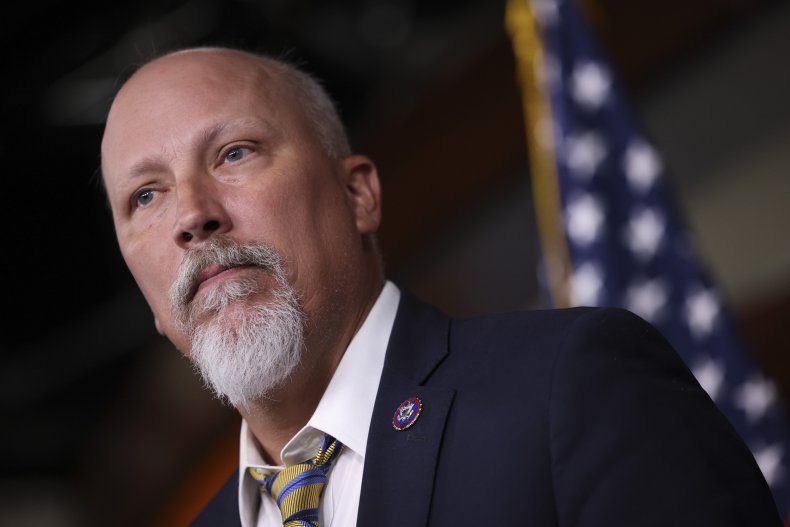 Although López Obrador has not officially endorsed O'Rourke, Roy's claim of an endorsement was likely in reference to comments that the Mexican president gave during a press conference last week, when he suggested that Mexican Americans should not vote for Republicans.
López Obrador called Abbott's border policies "immoral" after the governor said that he had authorized state law enforcement and the Texas National Guard to capture migrants and send them back to the border. The Mexican president urged Mexican Americans to vote against "anti-immigrant" candidates.
"If there's a candidate from a party that mistreats immigrants and Mexicans, we're going to ask our countrymen there that they don't vote for that candidate or party," López Obrador said, according to Reuters.
Abbott campaign spokesman Mark Miner told Border Report that López Obrador's comments amounted to an endorsement of O'Rourke, who he claimed shared support for alleged "open border" policies with the Mexican president.
"It's not surprising that the pro-open border President of Mexico is endorsing Beto O'Rourke, the pro-open border candidate for Texas Governor," Miner said, according to Border Report. "While Beto O'Rourke and President López Obrador don't believe there's a problem at our southern border, deadly fentanyl continues to ravage communities throughout Texas and America."
"Governor Abbott will continue utilizing all available resources to secure our Southern border, including building the wall, deploying the Texas National Guard and DPS Troopers, and delivering illegal immigrants back to the border," he added.
Newsweek reached out to the Embassy of Mexico in Washington, D.C., for comment.
Learn More: latest news on stimulus,u visa latest news,o panneerselvam latest news,g dragon latest news,latest news about stimulus check,j cole latest news,p chidambaram latest news,hepatitis b latest news,sarah g latest news,l&t latest news,p square latest news,