NEWS
Republican Kari Lake Announces Run for Arizona Senate Seat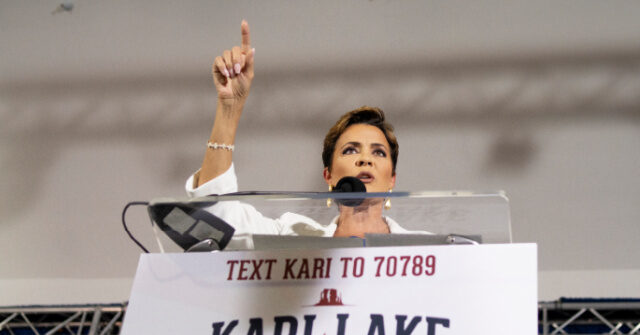 Former gubernatorial candidate Kari Lake announced her bid for the Arizona Senate on Tuesday with the aim of ousting Sen. Kyrsten Sinema (I-AZ).
Lake's announcement to run for Senate comes a week after she filed the paperwork. Her biggest challenger in the Republican primary will likely be Pinal County Sheriff Mark Lamb.
Lake launched her U.S. Senate campaign on Tuesday during a rally in Scottsdale, Arizona.
I want to give you guys a pro tip since I worked three decades in the media. It's always opposite day with the media.

Whatever they say, assume the polar opposite. The people they attack the most, i .e. President Trump, are the people who are fighting for you the most. pic.twitter.com/fBdtatp4N2

— Kari Lake (@KariLake) October 11, 2023
As noted by The Hill, Sinema has not yet revealed any campaign plans in her reelection bid and she will also face a battle with Democrats, who desperately want to steal the seat back from her due to her moderate stances on certain issues.
Rep. Ruben Gallego (D-Ariz.) is running on the Democratic side, while Sinema has stayed mum on any campaign plans. NBC News reported last month that her political team had been sharing a prospectus aimed at showing what her pathway to reelection would look like among Democrats, Republicans and independents.

Should Sinema run again, it would set up a high-stakes three-way race for a seat that both Republicans and Democrats see as key to determining the partisan balance of the Senate next cycle.

Polling from Noble Predictive Insights, which looked at a three-way race between Gallego, Sinema and Lake, and separate polling from Emerson College Polling, which looked at a three-way race between Gallego, Sinema and Lamb, suggested Gallego would place first in both matchups. However, 15 percent of respondents in both polls said they were undecided.
Kari Lake lost her bid for Arizona governor during the 2022 midterms.
Paul Roland Bois joined Breitbart News in 2021. He also directed the award-winning feature film, EXEMPLUM, which can be viewed for FREE on YouTube or Tubi. A high-quality, ad-free stream can also be purchased on Google Play or Vimeo on Demand. Follow him on Twitter @prolandfilms or Instagram @prolandfilms.