A labor union representing 1.3 million essential food and retail workers has called on stores to maintain mask mandates amid the COVID-19 pandemic despite the Centers for Disease Control and Prevention (CDC) lifting the mandate for the vaccinated.
The United Food and Commercial Workers (UFCW) on Wednesday urged stores to keep the mandates in place, arguing that it was "virtually impossible" to distinguish which maskless customers had been vaccinated and therefore following CDC guidelines. Kroger, the largest grocery store chain in the U.S., announced that masks would no longer be needed for fully vaccinated people in any of its stores beginning on Thursday.
While call for the mask mandates to continue, UFCW said that there had been a "nearly 35 percent increase in grocery worker deaths" amid the pandemic since March 1. It also reported an almost 30 percent increase in workers being infected or exposed to COVID-19 due to outbreaks at grocery stores.
"America's grocery workers are still facing daily COVID risks on the frontlines so that all our families can put food on the table as the pandemic continues," UFCW President Marc Perrone said in a statement. "These essential frontline workers have been forced to play mask police throughout the pandemic with many shoppers not following COVID safety standards. Now, they are being asked to be the vaccination police."
"As the union for essential food and retail workers on the frontlines across the country, UFCW is strongly urging retailers not to add to the confusion and to assure customers that the vast majority of people in their stores will still be masked," he continued. "Keeping retail mask rules in place for most people will help us protect each other and our families."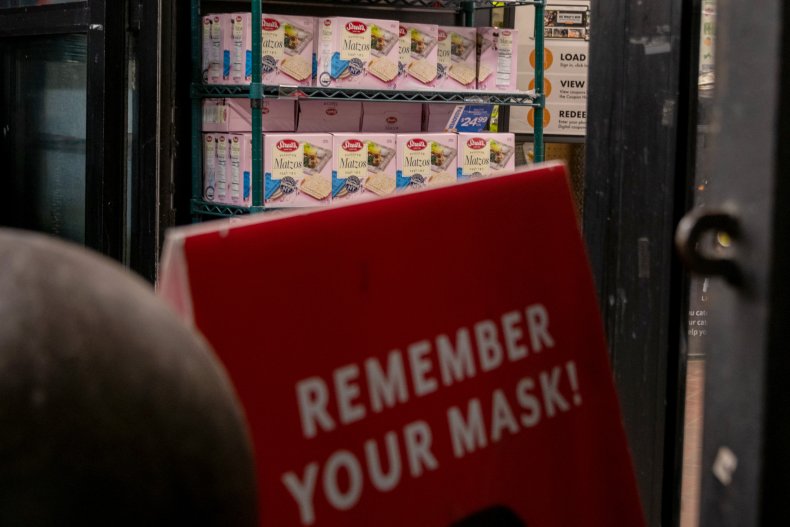 Perrone went on to say that it was "virtually impossible to tell who is and is not vaccinated," adding that workers "knew that unmasked shoppers were ignoring COVID safety measures and likely unvaccinated" and kept their distance when possible before the latest CDC guidance.
He urged the Department of Labor and the Occupational Safety and Health Administration (OSHA) to issue updated and "clear-cut COVID workplace safety rules that are easy for businesses to follow to keep workers and shoppers safe."
Last week, the CDC dropped the mask mandate for fully vaccinated individuals, while keeping it in place for those who are not vaccinated. Some have criticized the guidance, arguing that the using "the honor system" is fatally flawed. However, many states adopted the new guidance and a number of large retail chains quickly moved to drop the mandates.
Several major chains in addition to Kroger have eliminated the mandate, although most advise that those who have not received the vaccine should continue to wear masks. Walmart dropped the mandate one day after the CDC guidance changed, while other chains including Aldi, Meijer, Trader Joe's and Costco also no longer require masks for the vaccinated.
Newsweek reached out to OSHA for comment.
Learn More: latest news on stimulus,u visa latest news,o panneerselvam latest news,g dragon latest news,latest news about stimulus check,j cole latest news,p chidambaram latest news,hepatitis b latest news,sarah g latest news,l&t latest news,p square latest news,