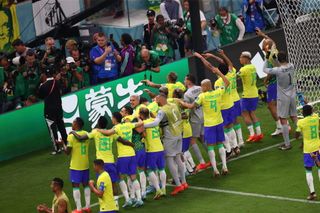 (Image credit: Getty Images)

Day five of World Cup 2022 started slowly but ended with a flourish, thanks in part to Portugal, Ghana and Brazil putting on a show in the latter two games of the day. 
Switzerland and Cameroon played out a tightly contested game separated by just a solitary goal, with Breel Embolo's celebration one unseen before at a World Cup. 
Meanwhile Uruguay and South Korea ended with in a goalless stalemate. 
The tournament provided more action once Portugal and Ghana took to the pitch, though, with Ronaldo breaking yet another record with his penalty goal. However, everyone was anticipating Brazil getting their campaign underway, and, after a nervy first 45 minutes, Richarlison provided the Samba magic worthy of winning any game.
Off the field the political minefield continues, with multiple nations and people refusing to follow Germany's lead in protest against FIFA.
With that being said, here's a look at the main talking points from day five of action at the Qatar World Cup 2022. 
Games are either thrilling or dull – there's no in between
One thing that is becoming apparent at World Cup 2022 is that games are either full of exciting action with plenty of goals, or they're drab affairs with two sides struggling to create any clear chances in the game.
The day's first game, between Switzerland and Cameroon, had some energy but lacked real quality – aside from the goal scored by Breel Embolo at the beginning of the second half. Afterwards, Uruguay and South Korea played out an incredibly dull fixture. 
Uruguay had just one shot on target, while South Korea couldn't manage any. 
Sides like Switzerland, Cameroon, Uruguay and South Korea need to take inspiration from Ghana and Portugal. Sure, the first half was a damp squib, but both sides came out after half-time eager to attack and provide some entertainment for the fans. 
Granted, Serbia played defensively against Brazil in the knowledge that a result would set them up perfectly for their remaining two group games, but there was still a complete lack of desire to find a winner. 
It does make sense that teams are desperate not to lose their opening game of the tournament, but there has already been four goalless draws at this World Cup already – in 2018, there was just one. 
Teams just need to take the handbrake off and attack – hopefully, with the opening games out of the way, that will be more likely to happen. Nations will need results if they are to progress to the knockout stages, which could leave them more exposed at the back as they go in search of a goal. 
Cristiano Ronaldo isn't finished just yet
Cristiano Ronaldo has had a tumultuous few weeks. 
First, he criticised Manchester United, his teammates and everyone in between during an explosive interview with Piers Morgan, before having his contract terminated by the club on Tuesday. Consequently, he became a free agent for the World Cup, with plenty of question marks over his performances at 37-years-old.
However, he duly answered those critics by becoming the first men's player ever to score at five World Cups with his penalty strike against Ghana. OK, it was a penalty, but he still managed to win the spot kick and looked sharp throughout the game, despite missing a few chances. 
He is now targeting Eusebio's record of nine goals for Portugal at the tournament – Ronaldo is currently on eight goals at World Cups for his nation. Although, Eusebio managed those nine goals in one single edition, in 1966, so he has some living up to do to compete with the Portuguese great. 
Brazil are rightly favourites
Brazil and Serbia were the final two teams to get their 2022 World Cup campaigns underway, and the first half showed it. Both sides looked a little bit nervy to begin with, especially Brazil who couldn't seem to get their usual rhythm flowing.
However, a poacher's finish by Richarlison, followed by a sublime goal of the tournament contender by the Tottenham forward, set Brazil on their way to a convincing 2-0 victory over Serbia in their opening match. In attack in the second half, Brazil played with flair and verve that looks extremely difficult to match, while the defence looked unfazed with the rare attacks Dusan Tadic and Aleksandar Mitrovic were able to muster. 
Proving why why they are the favourites to go and win their sixth World Cup, and first in 20 years, attackers such as Gabriel Jesus, Rodrygo and Antony all managed to come off the bench, too. Indeed, their strength in depth is unmatched across all of the other squads, and could prove crucial in the latter stages Brazil inevitably look destined to reach.
Others reluctant to follow Germany protest
Germany received plenty of praise on Wednesday as their players protested before the game against Japan.
Ahead of the match, all 11 players in their starting line-up covered their mouths in the official photograph, a signal that they would not be silenced by FIFA following pressure from the organisation to stop teams from wearing the OneLove armband.
Captains of seven nations had been set to wear the armband, which stands for tolerance, diversity and LGBTQ+ rights, until a last-minte U-turn ahead of the opening matches.
But Germany's gesture was also criticised after the match as Hansi Flick's side fell to a surprise 2-1 defeat to Japan and now, other nations seem reluctant to protest.
Belgian forward Eden Hazard told RMC Sport: "They would've done better if they didn't do it and tried to win. "We are here to play football – I am not here to send a political message. People are better placed for that. We want to be focused on football."
And speaking to the media on Thursday, Netherlands coach Louis van Gaal echoed those thoughts, stressing that he wanted to avoid a possible distraction for his players.
"I don't want to run that risk – we're here to be a world champion," he said. "We put a full stop behind all the political issues [last] Thursday when we invited the migrants and we have this purpose. We are not going to have that tarnished by the actions of FIFA or whichever other organisation."
England manager Gareth Southgate also hinted that it was time to concentrate on what is happening on the pitch. "At this moment in time, for the players and myself especially, we've got to be focused on the games," he said.
It remains to be seen how his players and other nations will react, but Qatar and FIFA will no doubt be pleased that the teams are now choosing to focus on the football.
Not celebrating a World Cup goal is now a thing
We have seen it regularly in club football over the years: players not celebrating against their former clubs. Love it or hate it, the gesture is a fairly common one these days. But we had never seen such a thing at a World Cup.
That changed on Thursday when Switzerland's Breel Embolo broke the deadlock early in the second half of his side's Group G encounter with Cameroon and held his hands up in a gesture of apology.
Embolo was born in Cameroon and lived in the capital Younde until he was five or six years old. After his parents divorced, he then moved to France and later Switzerland with his mother.
He received Swiss citizenship in 2014 and started his football career with FC Basel, making his international debut the following year.
Embolo has previously scored against Portugal, England and Spain, but this goal was special as it came at a World Cup and against the nation of his birth. It also turned out to be the winner.
"Since the draw, it is like the 10,000th time I get this question [about facing Cameroon]," he told SNTV ahead of the game. "This is the reason I laugh a little bit. But it's very special, it's my home country, my mom and my dad coming from there, all my family, most of them, so it's a special game for me and my family."
And after the match, he wrote on Instagram: "It's the Lord who goes before you. "Special day."
It must have been very special indeed and despite defeat, his gesture of respect was surely appreciated by the people of Cameroon.
Thank you for reading 5 articles this month* Join now for unlimited access
Enjoy your first month for just £1 / $1 / €1
*Read 5 free articles per month without a subscription
Join now for unlimited access
Try first month for just £1 / $1 / €1
Learn More: sports clips near me,isportsman,sports card shops near me,sportsrecruits,sports management,sports cuts,sports research,sports business journal,sports tape,sports radio 610,sports research collagen peptides,sports physical therapy,sports in spanish,sports zone,sports emporium,sports ltd,sports jobs near me,sports wallpapers,sports journalism,sports headbands,isportsman eglin,sports den,sports video group,sports doctor near me,m sports package,sports village,sports kilt,sports kids,sports x radio,a sportsman's sketches,sports 56,sports 790,sports 1 marketing,sports 610,x sports radio,sports yard signs,sports 2000,sports 11,sports vet,sports zone topeka,sports zone aurora