NEWS
Seahawks mailbag: Should Seattle be worried about Jaxon Smith-Njigba? What will secondary look like now?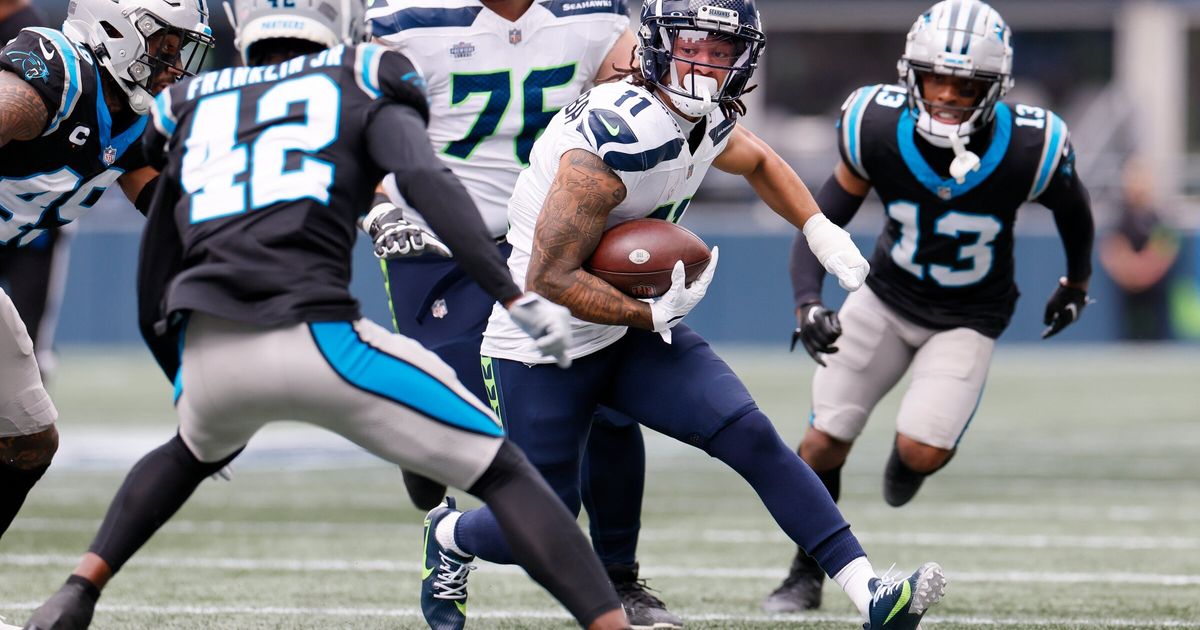 Simply put, it's time for another Seahawks mailbag, with questions about how the secondary may evolve now that Jamal Adams is back, Dre'Mont Jones' contribution and Jaxon Smith-Njigba.
Let's get to it (with questions lightly edited for clarity and grammar):  
@206_cuts asked: Who do you think will get the most snaps at nickel cornerback once (Devon Witherspoon) and Riq (Woolen) are both available outside? There seems to be plenty of options especially with (Julian) Love available once Adams is back at strong safety.
That will be interesting to see as there will indeed be additional options there once Adams returns. For this week, with Adams expected back against the Giants, I would expect that Coby Bryant — if he is healthy — would return to that spot. That's how they opened against the Lions — with Witherspoon and Woolen on the outside and Bryant playing nickel — before Woolen was injured and Tre Brown took over at RCB. Bryant missed the Carolina game with a toe injury — with Artie Burns playing the nickel — while Brown left in the second quarter with a concussion.
But Woolen is expected back, so for Monday night against the Giants I think it would again be Witherspoon/Woolen on the outside and Bryant — if healthy — at nickel. If not, I'd expect Burns to get the start again.
Love does have some extensive nickel experience — 154 snaps last year with the Giants, according to Pro Football Focus — so he could contend for that spot once they feel comfortable with Adams playing a full game. And maybe that happens by the game after the bye week, when Seattle plays at Cincinnati on Oct. 15. More likely, that remains a few weeks away and for now Love remains as the full-time strong safety.
But that leads us to another question about safety usage …
@TodaySeahawks asked: Do you expect Julian Love's role to change when Jamal Adams gets back, perhaps to a role he's most utilized for like he was in New York?
As I wrote above, I think Adams is going to be eased into things, and it may be a few weeks before he — and the team — are comfortable with him playing a full game. That's a tricky injury to come back from, and he hasn't played football since Sept. 12, 2022. What the team really wants is to have him full speed for the stretch run of the season and the playoffs. Granted, you've got to get there first. But I think this is still a long-haul thing.
That said. I don't think the team wants Adams to be a part-time player all season — certainly not with paying him $11 million this year and an average of $17.5 over the four years of his current deal when factoring in all bonuses and also having restructured his contract in a way that makes it even more likely he remains with the team next year. 
So, what then happens to Love? He could factor into the nickel conversation for sure. But maybe they also then just have him fill the third safety role. Seattle has increasingly used a dime defense the past two seasons, and especially in the packages when they'd have Adams used closer to the line, they could still use Love as one of the deep safeties.
But, the discussion of how to use the safeties does call to mind how much Seattle is paying them.
The Seahawks are paying their safeties a combined $28.1 million this season, most in the NFL — and mostly due to the hefty contracts of Adams and Quandre Diggs.
That balloons to a really hefty $57.2 million in 2024, by far the most committed at the moment — Arizona is next at just over $32 million, due in large part to Budda Baker's contract. That includes cap hits of $28.9 million for Diggs and now $26.9 million for Adams after the team restructured his deal. However, neither has any guaranteed salary, which does give the team some flexibility in moving on or redoing contracts. With those cap hits, something is going to have to happen.
And the point there in regard to Love is that his signing to a two-year deal didn't appear to be solely about what role he could have in 2023 but what his presence on the roster could mean for 2024 and what decisions Seattle will have to make after this season.
@Ole_Overholser asked: How much credit does Dre'Mont Jones deserve for the improved run defense? I hope it's more than I realize.
I'll use this to note there were a few questions about Jones, with fans understandably interested in what Seattle is getting out of a player signed to a three-year deal worth up to just over $51 million. Jones did not play well Week One. He had a sack and three pressures overall in Week Two against Detroit, and he had another three hurries against Carolina before being held to 32 snaps when he suffered a hip injury. He got a decent grade (66.9) against the run against the Lions, then played only six run defense snaps against the Panthers.
So, there's not a ton to go on yet. Certainly, Seattle signed Jones for maximum impact, and it's fair to say that hasn't happened yet. But it also feels too early to declare anything the other way. That said, the hope will also be the hip injury isn't serious. 
@KratzeLuigi asked: Worried about JSN (Jaxon Smith-Njigba) involvement/production?
As the highest-drafted receiver of the Pete Carroll era, hopes are obviously high for Smith-Njigba, and certainly that there will be more than one catch for 10 yards, his output against Carolina. I wouldn't read too much into his snap count — a season-low 33 and 44% — DK Metcalf and Tyler Lockett also had season-low snap counts as the Seahawks went with a lot of two-tight end sets and a run-heavy scheme in the second half.
But if you want to be concerned, there is this assessment this week from PFF noting that "six of his nine catches so far have come behind the line of scrimmage. Smith-Njigba is struggling to separate downfield and doesn't yet have a good rapport with quarterback Geno Smith."
Here are a couple counterpoints — Smith-Njigba barely played last season at Ohio State, limited to three games due to a hamstring injury; at 21, he is the youngest player on the roster; he obviously missed some time late in camp and then was limited for some more of it after suffering a fracture in his wrist and having surgery; and it can sometimes take receivers some time to find their way. Smith-Njigba has nine receptions for 57 yards on 14 targets.
In his rookie season, Tyler Lockett had six catches for 51 yards in his first three games and 12 for 138 in his first six being used in a pretty similar way as Smith-Njigba, playing at the time with two veteran receivers in Doug Baldwin and Jermaine Kearse as well as tight end Jimmy Graham. Smith-Njigba is basically the one new face in what is a pretty veteran WR corps with Lockett, DK Metcalf and three returning tight ends.