It looked liked business as usual at Via's Ottawa station on Tuesday as travellers got on trains to Toronto after three days of disruptions.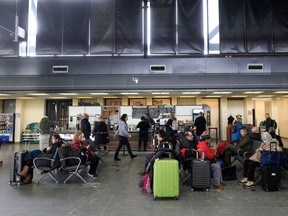 It looked mostly like business as usual at Ottawa's Tremblay Road Via Rail station on Tuesday morning as travellers queued up to board Toronto-bound trains after three days of major service disruptions.
Some anxiety and frustration lingered like a holiday hangover among those affected by trip cancellations, alongside relief and gratitude to be on the move on the other side of last weekend's storm.
Ottawa Citizen Headline News
Sign up to receive daily headline news from Ottawa Citizen, a division of Postmedia Network Inc.
By clicking on the sign up button you consent to receive the above newsletter from Postmedia Network Inc. You may unsubscribe any time by clicking on the unsubscribe link at the bottom of our emails or any newsletter. Postmedia Network Inc. | 365 Bloor Street East, Toronto, Ontario, M4W 3L4 | 416-383-2300
After a CN train derailed on Dec. 24, Via cancelled all trains between Ottawa and Toronto, as well as those on its Toronto-Montreal route, on Dec. 25 and 26.
It's been a rough holiday for Via Rail, to say nothing of what some of its passengers have experienced. Those aboard a Toronto-bound train, which was stopped on the tracks west of Cobourg Friday night by damage from a falling tree, went through a highly publicized travel nightmare that involved spending the night stranded on the train in far-from-ideal conditions, with reports of no access to food, little water and putrid bathrooms.
Via cancelled a number of its trains Saturday, citing "extreme weather conditions and resulting consequences," and then all of them on Sunday and Monday between Ottawa and Toronto, as well as those on its Toronto-Montreal route, after a CN train derailed.
On Tuesday, Lillie May, 20, was heading from Ottawa to Toronto, then on to Stratford to visit her partner, a day later than she'd intended.
She learned at 7 p.m. on Christmas Day that her train the following morning was cancelled and said the last-minute change of plans was stressful. She wished Via had provided more time with its cancellation announcement.
May is supposed to get a refund but said she quickly booked a new train for Tuesday in the interim, seeing that there were just a few seats left, and also changed her return date, spending $280 more out-of-pocket.
Other travellers reported that making contact with Via did allow them to rebook at no cost, among them, Ottawa retirees Terry and Ilonca O'Donnell, also heading to Toronto on Tuesday.
With their original train departure booked and then cancelled for Boxing Day, and abandoned plans to visit family in the Kingston area, the O'Donnells said Via gave them new Ottawa-Toronto return tickets for the same rate as they had paid for their cancelled Kingston-Toronto round trip.
"It was great," said Terry. He also praised the Crown corporation's decision to combine various trains Tuesday along the Montreal-Toronto corridor, cutting down the number of staggered departures. It left him feeling that if something were to go wrong, it would at least simplify the response.
"Gives me peace of mind," he said.
Joseph Aranas, 31, was also able to get rebooked at no additional cost — otherwise, it would have been double the price, he noted — when he called Via directly following the cancellation of his Christmas Day train.
A newly arrived international student from the Philippines, studying IT at St. Lawrence College's Cornwall campus, Aranas spent two unplanned days in an Ottawa hotel in the interim. While it was a bit frustrating, he said, he used the time to check out sights including Parliament Hill for the first time.
In line to board his train to Toronto, Anthony Derrell, 70, said he was feeling a bit more relaxed than he had been previously. He travelled from Pembroke to Ottawa Monday — he found out halfway that his train had been cancelled — then drove back, just to return again on Tuesday.
To Derrell, the length of the Via service shutdown is unacceptable.
"Why does it take three days to get a car off the rail?" he questioned. "I'm not an engineer, I don't understand, but that to me is not rocket science."
Contacted Tuesday, Via's media relations team referred the question about why it took so long to clear the tracks to CN, "as the infrastructure is owned by CN and the derailment involved a CN train."
All Ottawa-Toronto and Montreal-Toronto trains would run according to their regular schedule starting Wednesday, Via tweeted Tuesday afternoon, warning that "due to continued congestion on these routes, some delays are to be expected en route."
Learn More: healthy food near me,health care privacy part 2,health store near me,health triangle,health plan of san joaquin,health o meter scale,health hut,health partners plans,heath zenith,health related fitness,health o meter,health unlimited,health food near me,health gear inversion table,health warrior,no healthy upstream,health journeys,health right 360,healthx,health union,health unit coordinator salary,health gauge des moines,health village imaging,health gorilla,health zone,health nut cafe,health 3.0,how much health does the ender dragon have,health kick,health verity,health velocity capital,health quarters,how much health does the wither have,health 101,c health lebanon va,e health messaging,m health maple grove,healthxl,health 5e,i health inc