NEWS
South Florida artist inspires community and serves his country as first rapper in US Army Field Band – WSVN 7News | Miami News, Weather, Sports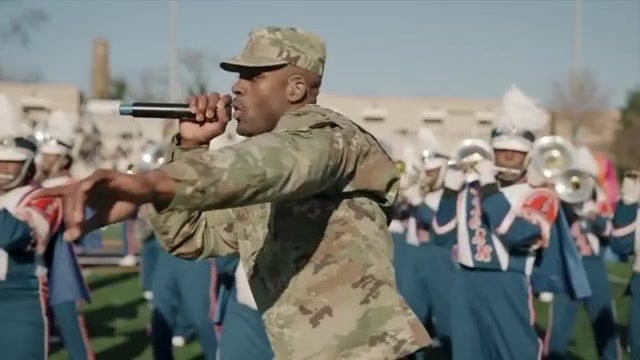 (WSVN) – He chased his dream and became a full-time rap artist, but where he's doing it is making history. 7's Karen Hensel has today's 7 Spotlight.
They are soldiers clad in camouflage, serving their country with discipline, determination, and … rap?
Kervens Jackson, Piper High School band director: "A rapper in the Army? Is that real?"
It is now. Meet Staff Sgt. Lamar Riddick, an artist who rhymed his way into the ranks of the Army and hails from South Florida.
Lamar Riddick, U.S. Army Field Band rapper: "It's so amazing to do this full time and to serve the country."
Since 1946, the Army Field Band has allowed soldiers to serve their country through song.
Now, for the first time ever, they're bringing hip-hop to the center stage.
Lamar Riddick: "It didn't dawn on us until, I think, after we got the job that we were the first in military history."
Riddick was a Christian rapper before joining the Army.
Lamar Riddick: "I'm definitely a believer. At the end of the day, my goal is to revive the culture and encourage people to be all they can be."
He saw an opportunity to do that on a bigger scale, in the U.S. Army, auditioning for the field band in 2021.
He has performed on national TV and worldwide.
Lamar Riddick: "I think the world heard us when we went over there. The impact of bringing rap music in a place that hasn't had rap music in that particular event, around all NATO alliances, that still feels like a fairy tale."
Now a staff sergeant, Lamar Riddick got his start and made his mark at Piper High School in Sunrise. This is where his musical talents took off.
Kervens Jackson: "He's right here."
And his picture still hangs in the band room where he first met school band director Kervens Jackson.
Kervens Jackson: "I was really in shock because someone just – when you meet someone, you don't just kind of give them a hug, but he just gave me a hug, and from there, I knew he was someone that's very special. I think that's one thing about him, his determination to be great in everything that he does."
Lamar played the Scarecrow in his school performance of "The Wiz."
His former choir director, Traci Fuller, still works as his vocal coach.
Traci Fuller: "When I speak with him, and when we talk about some of the things he's working on now, he has that spirit of excellence in everything that he does."
Lamar says Jackson and Fuller were more than just his teachers.
Lamar Riddick: "Because I was living in a kind of a split household, you know, back and forth between my mom and dad, sometimes during the school days, they were really like my school parents."
Now, Lamar is impacting lives here in South Florida. His name is used as inspiration for students at Piper High.
Kervens Jackson: "If you're in my class, you know about Lamar Riddick. I share this with the students to show them that they can strive to do excellence in every level in their lives."
Because it was that kind of determination that landed Lamar literally center stage.
Karen Hensel, 7News.
If you know of a person, place or group that you think we should highlight, email us at 7spotlight@wsvn.com.
Copyright 2023 Sunbeam Television Corp. All rights reserved. This material may not be published, broadcast, rewritten or redistributed.