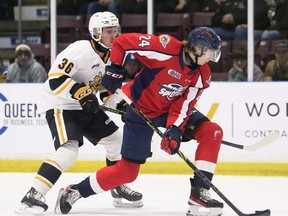 The Sarnia Sting had a shiny new piece on offence for Friday's match with the Windsor Spitfires.
Anaheim Ducks prospect Sasha Pastujov made his debut with the Sting and was named the game's first start after scoring a goal and adding an assist in Sarnia's 3-2 win over the Spitfires before 3,168 at Progressive Auto Sales Arena.
Windsor Star Headline News
Sign up to receive daily headline news from the Windsor Star, a division of Postmedia Network Inc.
By clicking on the sign up button you consent to receive the above newsletter from Postmedia Network Inc. You may unsubscribe any time by clicking on the unsubscribe link at the bottom of our emails. Postmedia Network Inc. | 365 Bloor Street East, Toronto, Ontario, M4W 3L4 | 416-383-2300
Sarnia dealt former first-round pick Max Nemestnikov and four OHL Draft picks, which included a second, third and two fifth-round picks, to Guelph this week for the 19-year-old forward, who had 11 goals and 19 points in 14 games with the Storm this season.
"Some teams wait until Jan. 10 (the OHL trade deadline) and others do it at different times of the season or in the summer," said Spitfires' general manager Bill Bowler, who was in Sarnia for the game and to scout a tournament.
The Western Conference still looks like a wide-open race, but the Pastujov deal was one of four trades made by conference rivals this week as the conference race continues to tighten.
Flint, which many thought might contend for the conference title, sent defenceman and former second-round pick James Petrovski to Owen Sound on Friday for a trio of draft picks including a second round, third round and fifth round.
It was the club's second deal of the week after sending captain and former 50-goal scorer Brennan Othamann, who was a first-round pick by the New York Rangers, to Peterborough for defenceman Artem Guryev, a second-round pick and a pair of third-round picks.
Guelph's deal looks to be directed for future success along with the Saginaw Spirt, who sent captain Josh Bloom, defenceman Brayden Hislop and a sixth-round pick to North Bay for 17-year-old Nic Sima and Cam Gauvreau along with a pair of second-round picks and a trio of third-round picks.
"I'm not surprised by the moves because everyone has their own team to worry about,"said Bowler, whose team has lost four of its last seven games. "Obviously, we're aware of what's going on in the league, but just because a team makes a transaction doesn't mean everyone does it or that one team wins."
At this point, Bowler doesn't feel any pressure to get into an arms race and force a move to try to counter deals made by conference rivals.
"We'll try to control and worry about our team," Bowler said. "You can only control what you can control and we'll address what needs we need here."
Bowler said the club has already made moves to bolster the lineup by grabbing forward Colton Smith and young goalie Joey Costanzo before the season while adding 19-year-old winger Thomas Johnston in a deal with Ottawa last month.
In all likelihood, Bowler will make a move or two at some point down the road, but at this point he's maintaining the same calm demeanour he's had since assuming the role of general manager in July of 2019.
"We've been fortunate that we haven't had to make a knee-jerk reaction," Bowler said. "A suspension or injury might force you to make a decision before you want to, but we look at the teams we've played and we like our team.
"Could some things have gone differently? Yeah, but we're not making transactions just because other teams do. There's no benefit to our club doing that."
However, Friday's loss by Windsor allowed the Sting to close to within two points of the Spitfires with the top four teams in the West Division separated by four points.
Sarnia's Porter Martone had the lone goal of the opening period and Pastujov pushed the lead to 2-0 just 38 seconds into the second period.
Ethan Miedema got Windsor back to within a goal after two periods with a power-play goal, but Cooper Way scored to give Sarnia its second two-goal lead of the game less than five minutes into the third period.
Alex Christopoulos jumped on a loose puck to get Windsor back to within a goal with over 11 minutes left in regulation, but the Spitfires could not produce the equalizer.
Windsor will remain on the road with a Sunday match in Kitchener against the Rangers. Game time is 6 p.m.
jpparker@postmedia.com
twitter.com/winstarparker
Game Summary
Friday Result
Sting 3 Spitfires 2
Windsor 0 1 1 – 2
Sarnia 1 1 1 – 3
First period: 1. Sarnia, Martone 1 (Way) 4:54. Penalties: Miedema W (high sticking), Mast S (holding) 16:33. 
Second period: 2. Sarnia, Pastujov 12 (Sikic, Limpar-Lantz) :38, 3. Windsor, Miedema 5 (Christopoulos, Peer) 11:23 (pp). Penalties: Ride W (hooking) 3:52, Wainwright S (hooking) 9:59, Wainwright S (tripping) 18:19.
Third period: 4. Sarnia, Way 2 (Martone, Pastujov) 4:48, 5. Windsor, Christopoulos 13 (Miedema) 8:37. Penalties: Renwick W (holding) 9:19, De Angelis W (roughing) 19:48. 
Game stats – SOG – Windsor 6 13 4 – 23 Sarnia 14 5 7 – 26 Goal (shots-saves) – Windsor: Costanzo (L,4-1-0-0) (26-23). Sarnia: Gaudreau (W,8-6-1-0) (23-21). Power play (goals-chances) – Windsor 1-2. Sarnia 0-3. Referees: Joe Monette (25) and Mac Nichol (33). Linesmen: Kyle Flood (66) and Brad Horan (75). Att.: 3,168 at Progressive Auto Sales Arena.
Check out our sports section for the latest news and analysis. Care for a wager? Head to our sports betting section for news and odds.
Learn More: latest news on stimulus,u visa latest news,o panneerselvam latest news,g dragon latest news,latest news about stimulus check,j cole latest news,p chidambaram latest news,hepatitis b latest news,sarah g latest news,l&t latest news,p square latest news,