The wife of Golden State Warriors star Stephen Curry is just as talented as him. From setting foot into various businesses to being the backbone of the family, Ayesha Curry is doing it all. It is not easy not to manage everything at once. However, the multi-talented 34-year-old has done an excellent job so far, even with a miserable disorder she developed during her early life. All things considered, life must be very tiring for Ayesha Curry, especially with this disorder. 
However, she has a solution for that as well. Ayesha revealed in a recent interview, how she gets rid of the problem, and the process involved. Well, you might get tired just reading this outlandish process!
Ayesha Curry reveals how she bests her disorder
ADVERTISEMENT
Article continues below this ad
The 34-year-old is a mother of three, Riley, Ryan, and Cannon. Apart from being a caring mother, Ayesha is into several other entrepreneurial activities. One is her famous food chain in San Francisco. The 'International Smoke' is a successful business venture that Ayesha continues to run.
In addition, she is also a cookbook author. From sharing her recipes through books to serving lip-smacking dishes, Ayesha has shown her passion for food. Even with his hectic life, the young mother has managed to find a solution for her disorder.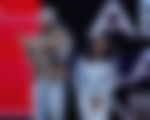 Ayesha Curry revealed she has insomnia. This is a famous disorder that is known for making one's life a living hell. Maybe not, for Ayesha. Looks like finding a solution comes easy for the Curry family. The 34-year-old revealed a detailed process of what she does in order to get some sleep. 
A report revealed she first dives into a pool of icy water and then immediately goes to a sauna. This might sound odd, but Ayesha shared how exactly it helps her body. She repeats the above process back and forth until her nervous system cools down. Ayesha revealed the icy pool, "Is freaking cold, but it works." 
Ayesha Curry and Stephen Curry are in this together
ADVERTISEMENT
Article continues below this ad
No wonder where the 4-time champion gets the energy to run around all 40 minutes on the court. For every athlete, warming down is an important process. However, 2-time MVP Steph Curry has company for that as well. 
The report also revealed both Ayesha and her husband "recover from workouts together" and that "they have a rhythm that works for them." These are just couple goals. 
ADVERTISEMENT
Article continues below this ad
Watch this story: "Ruthless Michael Jordan destroys Grizzlies star in resurfaced video"
Looking at all these efforts, nothing seems difficult for the Curry family! What are your thoughts on this? Share them with us in the comments below!
Learn More: sports clips near me,isportsman,sports card shops near me,sportsrecruits,sports management,sports cuts,sports research,sports business journal,sports tape,sports radio 610,sports research collagen peptides,sports physical therapy,sports in spanish,sports zone,sports emporium,sports ltd,sports jobs near me,sports wallpapers,sports journalism,sports headbands,isportsman eglin,sports den,sports video group,sports doctor near me,m sports package,sports village,sports kilt,sports kids,sports x radio,a sportsman's sketches,sports 56,sports 790,sports 1 marketing,sports 610,x sports radio,sports yard signs,sports 2000,sports 11,sports vet,sports zone topeka,sports zone aurora