NEWS
Taylor Swift's invisible merchandise: The era of surprise song collectibles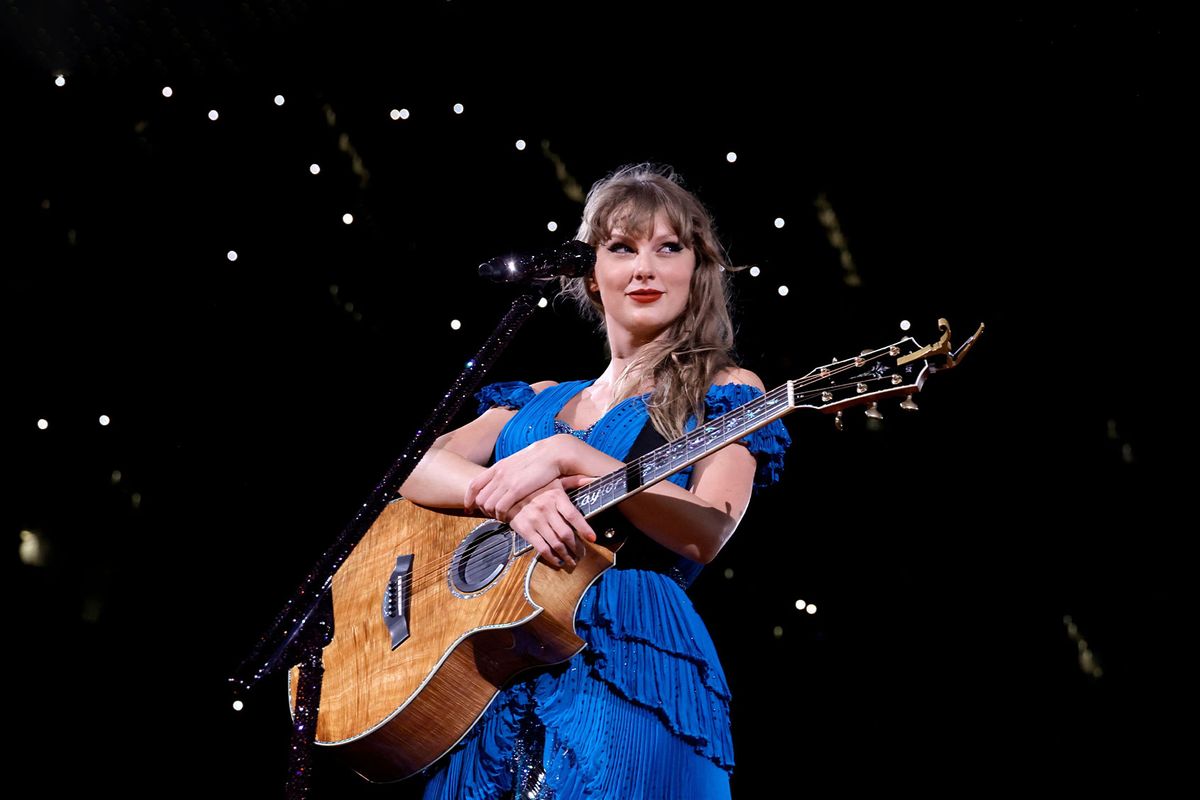 "This one's from '1989,'" Taylor Swift said to some 70,000 fans on the second night of her Eras Tour stop in Nashville. She was strumming her guitar and in the middle of a sportive preamble to the first surprise song of the show. "It's got kind of one of those choruses where you say the same thing over and over and over again." The crowd's screams drowned out everything after the first "over." The secret was up. The surprise song had been unveiled. The stadium was ready to sing "Out of the Woods" and to bask in the glory of their loot.
The songs must be different at every show unless she messes one up or they're from her latest album, "Midnights."
In an era of Eras literature, which has ascended to its own genre of pop culture commentary, it can be a little too easy to hitch a ride on the bandwagon of awe and adulation — to uncritically aggrandize a billion-dollar enterprise. I'll try to be a tad more circumspect in my deliberation of an Eras phenomenon that remains curiously under-analyzed despite having sparked a refreshing new frontier in the world of stadium tours: Swift's surprise songs couplet. (The preponderance of existing literature on the subject seems to consist of long song lists, in addition to one insipid Forbes exposition that rather misses the point.)
Before the 10th and final act of every show, Swift performs an acoustic set of two hitherto unannounced songs. She plays one on the guitar and one on the piano, usually by herself, and the rules are as follows: The songs must be different at every show unless she messes one up or they're from her latest album, "Midnights," because, as she said in Tampa, "'Midnights' is, like, the most accurate picture of my life to date." 
As the most exciting part of her concert, they have become a phenomenon within a phenomenon. Preluded by winking, clue-laden speeches, the songs' unveilings elicit in both live and virtual audiences the sort of manic rush akin to that aroused by the unwrapping of Pokémon cards in the 2000s and baseball cards in the decades prior. (If you can't relate to either, then try to conjure some simulacrum of the sensation you had at age seven when you tore open a McDonald's Happy Meal in search of the surprise toy buried beneath french fries.) In this case, of course, the effusive, suspense-struck collectors aren't bro-ey or geeky gamers but teenage girls, young women and not insubstantial numbers of gay men. (The smattering of forbearing boyfriends, husbands and fathers steered into the stadiums by girlfriends, wives and daughters, tend to survey the spectacle with a sort of dizzy bemusement.)
Swift, with her career-long penchant for surprising her fans, has played versions of this game before. During her Speak Now tour, she performed surprise cover songs. During her Red, 1989, and Reputation world tours, she played one surprise song per show; she'd also duet with celebrity guests. But the Eras World Tour has heralded paradigm shifts in Swift's music and mythology. Though she's occasionally brought out musical collaborators such as Phoebe Bridgers, Haim, Jack Antonoff and Aaron Dessner, the tour features very few surprise guests. The truth is, she doesn't need them anymore. They'd sag the show's electricity. This time around, the surprise songs are the celebrity appearances, and their receptions appear louder and more enthusiastic than those with which past tours' cameos were greeted, even when they were from "A-listers" along the lines of Justin Timberlake and Jennifer Lopez. 
Swift's once awkward, Anne Hathaway-esque persona, which one cultural critic accurately described as "puzzlingly uncool," has been vanquished by the sheer abundance of her first-rate compositions, the catharsis of hearing her songs live, and the nouveau, once-in-a-generation glamour with which she's concurrently flush. The significance of her pandemic-era albums "folklore" and "evermore" cannot be overstated: they've hoisted her from pop country darling to singer-songwriter maestro in the lineage of Stevie Wonder, Paul Simon, and Paul McCartney.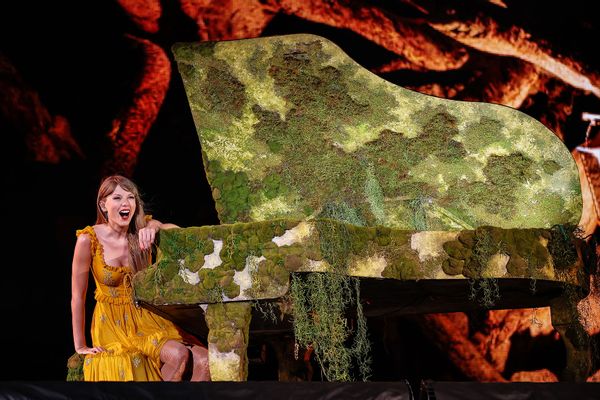 Taylor Swift performs onstage during the "Taylor Swift | The Eras Tour" at Foro Sol on August 24, 2023 in Mexico City, Mexico. (Hector Vivas/TAS23/Getty Images for TAS Rights Management)
Every song in her discographical universe matters, and any surprise song she chooses will invariably educe outpourings of jubilation.
That Swift can distinguish with novelty every concert of an international tour, giving her fans, even ones who've already attended a show, something to await, react to and discourse upon, is something perhaps only she can pull off. Is there another contemporary stadium-touring artist who could generate indiscriminately voracious, 70,000-strong welcomes for two freshly performed songs, whichever ones they happen to be? Beyoncé's Renaissance Tour was attended not only by diehards but also by luminaries, dignitaries and dabblers — all of whom wanted to partake in something historic. Swift's shows, on the other hand, seem to be populated exclusively by her zealously loyal, catalog-fluent, mythology-attuned fanbase. Billy Joel, who is well-versed in the art of grading arena energy, said after one of Swift's Tampa shows: "The only thing I can compare it to is the phenomenon of Beatlemania." Perhaps it's because it is a much more sexless sort of mania that Swift's music and mythology have fostered a safer-seeming space for (a predominantly female) obsession — obsession with her past, her lovers, her friends, her feuds, her fixations and, above all, the peculiarly abyssal and still somehow confectionary quality of her songs. 
A great many reviews of the Eras Tour referred to the show's opening song, "Miss Americana & the Heartbreak Prince," as a "deep cut" or "deeper album track" — highly amusing divulgences of ignorance from our commentariat. For Taylor Swift fans who tenaciously procure those infamously scarce golden tickets to her shows, there are no deep cuts, certainly no throwaway tracks. Every song in her discographical universe matters, and any surprise song she chooses will invariably educe outpourings of jubilation.
When she reaches into her 17-year-long, 250-song catalog, which, whether or not you think it's uncool to aver, will surely anchor the new millennium's Great American Songbook, she rarely fishes out a surprise song at random. Symbols and signifiers are essential to the Swiftian mythos, and the harder her fans scrutinize, the more so-called Easter eggs she seems to leave them. 
Sometimes, the subtext is spelled out. On the first night of the tour, before performing "Mirrorball," which happened to be the first surprise song of the first stadium show she'd played in nearly five years, she said, "It was me writing about how badly I craved the connection that I feel from the care that you have directed my way. […] I was trying to think of sort of an eloquent way to say that I love you, and I need your attention all the time." (The song features her dreamily singing: "I'm still on that trapeze / I'm still trying everything / To keep you looking at me.")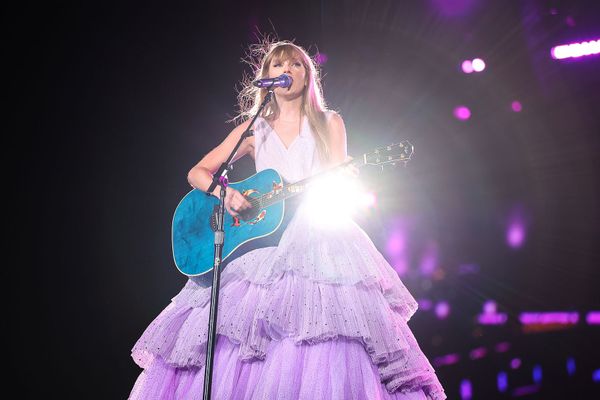 Taylor Swift performs onstage during the "Taylor Swift | The Eras Tour" at Foro Sol on August 24, 2023 in Mexico City, Mexico. (Hector Vivas/TAS23/Getty Images for TAS Rights Management)In Las Vegas, she said, "I aim to please, but I also get ideas from things," before introducing the night's first surprise, "Our Song," by saying it was in honor of a wish her opening act beabadoobee had expressed in an interview: "For beabadoobee's first show, I will play this specific song that she wants to hear. I wrote this for my 9th grade talent show." She followed that with a second surprise song similarly awash in explication: "Lana Del Rey put out a new album today," she said. "I want to do some promo for her and in honor of this brilliant album she just put out, I'm going to play "Snow on the Beach.""
She played "False God" at MetLife ("I'm New York City / I still do it for you, babe") and "Gold Rush" in Philadelphia ("I see me padding 'cross your wooden floors / With my Eagles t-shirt hanging from the door"). On Mother's Day, she performed "The Best Day," a "Fearless"-era paean to her mother. And on April 29, she played "High Infidelity," which features the much-probed lyrics: "Do you really want to know where I was April 29th?" ("Like, I know it's a Saturday, but what's the date?" she asked Atlanta's Mercedes-Benz Stadium before starting the song. She said a bit more after "date" but screaming rendered it inaudible.) 
The acoustic set most strikingly exhibits the shows' ingenious (and quite possibly ingenuous) veneer of intimacy.
Other times, the subtext runs deeper. She saved "Sparks Fly" for the announcement of her "Speak Now (Taylor's Version)" album, just as she saved "New Romantics" for the announcement of "1989 (Taylor's Version)." On Eras' opening night, she performed "Tim McGraw" as the second surprise song, which, as the first single she ever released, felt like a sort of baptism of the tour. It also happened to be the first single (allegedly) stolen from her by Scooter Braun and company. The last surprise song of her last U.S. show happened to be "New Year's Day," which is the last song off her "Reputation" album and thus the last song to have been (allegedly) stolen from her. When the news of her split with Joe Alwyn burst into public frenzy, she played "The Great War" and "You're on Your Own, Kid."
The acoustic set most strikingly exhibits the shows' ingenious (and quite possibly ingenuous) veneer of intimacy. While the stadium's proportions would seem to render any slivers of individuation downright impossible, there are two factors that work in Swift's favor. The first is digital life's reframing of celebrity proximity. Those who submerge themselves in unmediated star-to-fan selfies and videos can bring themselves to suspend the belief of alienation and replace it with impressions of coziness. The second is what music critic Amanda Petrusich identified as Swift's "'you guys' energy." While Swift talks to her fans throughout the show, she does so most chattily, most adorably, during the surprise songs set. And perhaps the most intimate of such moments is when she makes mistakes. 
"I have been rehearsing this for weeks, OK? I have never ever gotten it 100% right," she said before launching into "Right Where You Left Me." When she did indeed bungle the lyrics a few minutes into the song, she burst out laughing and said, "What a fun time to just realize you're stupid." 
Performing "Gorgeous" in Atlanta, she asked the audience to help her remember the order of the lyrics.
"Is it whiskey first or is it sunset?" 
"Whiskey!" the audience roared.
"What a shame," she giggled. "I practiced this all day!" 
In Kansas City, she started "Last Kiss" three times, and the audience, enchanted by her display of verisimilitude, grew louder with each recommencement. It is precisely this propensity to humorously and casually practice a song in front of 80,000 fans that makes Swift's persona so uncanny — and while she jauntily embodies a glossy showgirl for the show's more practiced segments, it is the moments (and sure, maybe they're affectations) of unguarded relatability that her fans prize above the rest.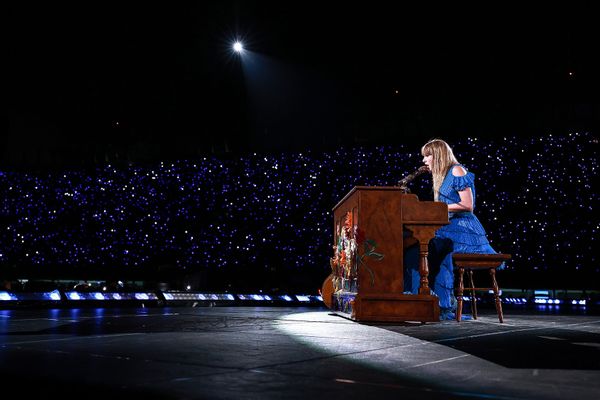 Taylor Swift performs onstage during the "Taylor Swift | The Eras Tour" at Foro Sol on August 24, 2023 in Mexico City, Mexico. (Hector Vivas/TAS23/Getty Images for TAS Rights Management)
The surprise songs' online resonance has been immense. They became a weekly fixture of Twitter's top-trending items — each show would vault the likes of "Today Was a Fairytale" and "Teardrops on My Guitar" above political events like "Trump indictment" and "Mariupol bombing." Concertgoers compared their dyads and competed over which nights got more momentous surprises. They contemplated dream couplets (mine, I've decided, would be "Begin Again" and "Peace") and pored over the meanings of the selections bestowed upon them. The revelations would also unleash torrential displays of theatrical fury on social media by virtual spectators performatively "canceling" Swift or the song or even the city in which the song was performed because they missed the event and thus the magic of firsthand experience. GIFs of Harry Styles smashing James Corden's desk with a hammer were among those most often meme-ified in service of such rancor. 
The magic of the Eras Tour really comes down to this pronounced hunger for firsthand experience. At well over three hours long, the shows harken back to the days when big-budget Hollywood films trusted that audiences could sit still for more than 110 minutes. This pining for phenomenological stimulation seems almost reactionary. "When we're all on our phones, reality is the new entertainment," Kate Lindsay keenly noted on her Substack, "Embedded." 
In his classic 1935 essay, "The Work of Art in the Age of Mechanical Reproduction," Walter Benjamin lamented the shrinkage of original works of art, whose auras depended on their uniqueness. He distinguished the "cult value" of original art from the "exhibition value" of art that had been reproduced. "Even the most perfect reproduction of a work of art," Benjamin wrote, "is lacking in one element: its presence in space and time, its unique existence at the place where it happens to be." 
Now, there's almost no doubt that Benjamin would've been horrified at being brought into a discussion about Taylor Swift, if for no other reason than her exemplification of unprecedented scales of mass artistic reproduction and consumption. (I acknowledge this in an attempt to live up to my earlier promise of circumspection.) This being said, Benjamin was indeed struck by the difference between the stage actor, whose performance was tied to the bewitching power of his physical presence, and the film actor, from whose aura audiences were fundamentally estranged. "We know that the earliest art works originated in the service of a ritual — first the magical, then the religious kind," he wrote. 
---
Want a daily wrap-up of all the news and commentary Salon has to offer? Subscribe to our morning newsletter, Crash Course.
---
In an age of plangent merchandising, mass duplication, and scandalous ticket resale prices wreaked by dubiously legal monopolies and the fecklessness of our regulatory agencies, Swift and her fans have managed to launch a project of highly coveted, literally nonmaterial collectibles. Rather than tradable cards, the objects relished, compared and hoarded are the distinct experiences of listening to songs from a musician's beloved catalog alongside tens of thousands of fellow congregants. And the congregants do so in the service of ritual, of the trance-like magic of being plunged into real-time evocation, nostalgia, and communion. Sound a bit cult-like? Well, behold the "cult value" that Benjamin feted! 
Swift resumes touring in November. With 89 shows across three continents to go, and about 150 possible surprise songs (not counting repeats) left in the bag, the era of Eras collectibles prevails.
Read more
about this topic