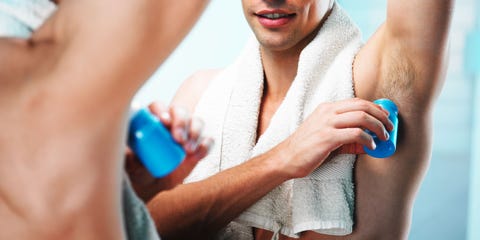 StudioThreeDotsGetty Images
It's highly likely that you rely on a very simple motto when buying deodorant: whatever works.
Seriously, what's the point of deodorant if it doesn't actually work? If it can't keep body odor at bay, it's not only kind of embarrassing (or at least smelly), it's not worth buying. And for a long time, natural deodorants have been notoriously said to be ineffective when it comes to masking odor.
The problem is that regular deodorants often contain chemicals like parabens, which can be harmful for the body's hormone levels. Not only that, but regular deodorants might also use aluminum, which can irritate the skin, or might not be vegan or cruelty-free. That's a lot to consider beyond whether a deodorant simply works.
If you're hoping to go a more natural route but without worrying about odor, these ten deodorants are perfect for you. They range in ingredients and principles, but each is guaranteed to do one thing: work.
Schmidt's Deodorant Here + Now Natural Deodorant by Justin Bieber
Sure, this new scent from Schmidt's smells incredible (a little like patchouli), but the real innovation is the new sensitive skin formula. It has all the good stuff (magnesium, activated charcoal), but is baking soda-free which means it doesn't irritate sensitive pits and it glides on more easily and quickly than previous Schmidt's formulas.
Native Deodorant Eucalyptus & Mint Natural Deodorant
Some natural deodorants ask you to change your routine—they don't apply as easily as the traditional ones you're used to. Native, however, goes on smooth and doesn't need to be warmed up or applied with your fingers. This fresh eucalyptus and mint scent is fresh without smelling fake.
By Humankind Refillable Natural Deodorant
Another refillable deodorant, this one allows you to choose the color of your case and your scent. Plus it actually works; it helps control odor as long as some of our favorite traditional deodorants while helping you feel like you're doing your part for sustainability.
Ursa Major Natural Hoppin' Fresh Natural Deodorant
By this point, Ursa Major's deodorant is a classic and there is a reason for that. It consistently out performs many of the other brands we've tried, both in scent and longevity. If you're just making the switch to naturals, start with this one—it's the most like the traditional deodorants you're used to.
Botanik Fresh Evergreen Natural Deodorant for Men
This vegan and cruelty-free formula is created in small batches right here in the USA. Botanik uses a blend of essential oils to lend its fresh evergreen scent and provide antibacterial properties.
Corpus Natural Deodorant
The packaging and scent of this natural deodorant brand is more like something you'd find in a high-end cologne, ensuring that you won't be embarrassed to leave it out on your bathroom sink. The natural formula leaves out all the things you would expect (sulfate, parabens), but doesn't compromise on efficacy.
Myro Refillable Deodorant for Men
What's the point of going natural if you're still creating waste from packaging you have to throw away? Myro's refillable containers allow you to buy recyclable refills in a variety of scents and the product is still formulated without aluminum, parabens or phthalates like you expect from a natural deodorant.
Helmm Scent 5-Piece Antiperspirant & Deodorant Wardrobe
saksfifthavenue.com
$75.00
Helmm also provides a refillable container in the form of a high-end metal and leather-wrapped pod. A monthly subscription for refills is available, so you never have to worry about going to the store again. The stellar deodorant is formulated with natural ingredients and without talc, sulfates, parabens and the other bad stuff. The brand also offers an antiperspirant, but it uses aluminum so if you want to be completely natural, opt for the deodorant instead.
Malin + Goetz Bergamot Deodorant
Malin + Goetz
amazon.com
$22.00
This deodorant is just as much about what it leaves out (aluminum, baking soda, alcohol, and synthetic fragrances) as what it includes in the formula. The bergamot extract paired with probiotic enzymes block odor and the corn starch helps to absorb moisture, keeping your pits fresh without aluminum.
Bravo Sierra Signature Scent Deodorant
Bravo Sierra's products are field-tested by active-service military before they're released, so if this deodorant is good enough for them, you know it'll be good enough for you. Instead of aluminum, it contains cassava to soak up sweat and the vetiver and cedarwood scent will keep you smelling fresh all day.
Kosas Chemistry AHA Serum Deodorant
Unlike other natural deodorants that can stain your clothes or leave oily residue, this Men's Health Grooming Awards winner is a gel that goes on clear and stays that way. The innovative formula uses a blend of alpha hydroxy acids to neutralize odor through your body's own chemistry. The soothing spa-like scent is fresh but not in your face.
Taos AER Natural Clean Deodorant For Men
The super concentrated gel formula doesn't include water, which means just a little goes a long way. This extra strength version is specifically designed for people who need a little more sweat protection – with a larger dose of plant actives and mineral powders to help soak up sweat and keep you fresh from morning to night.
Bevel Deodorant for Men
This formula doesn't have aluminum, but it does have shea butter and coconut oil to moisturize the skin under your arms in addition to blocking odor. It also goes on clear, which means it won't leave any oil stains on your clothes.
This content is created and maintained by a third party, and imported onto this page to help users provide their email addresses. You may be able to find more information about this and similar content at piano.io
Learn More: healthy food near me,health care privacy part 2,health store near me,health triangle,health plan of san joaquin,health o meter scale,health hut,health partners plans,heath zenith,health related fitness,health o meter,health unlimited,health food near me,health gear inversion table,health warrior,no healthy upstream,health journeys,health right 360,healthx,health union,health unit coordinator salary,health gauge des moines,health village imaging,health gorilla,health zone,health nut cafe,health 3.0,how much health does the ender dragon have,health kick,health verity,health velocity capital,health quarters,how much health does the wither have,health 101,c health lebanon va,e health messaging,m health maple grove,healthxl,health 5e,i health inc