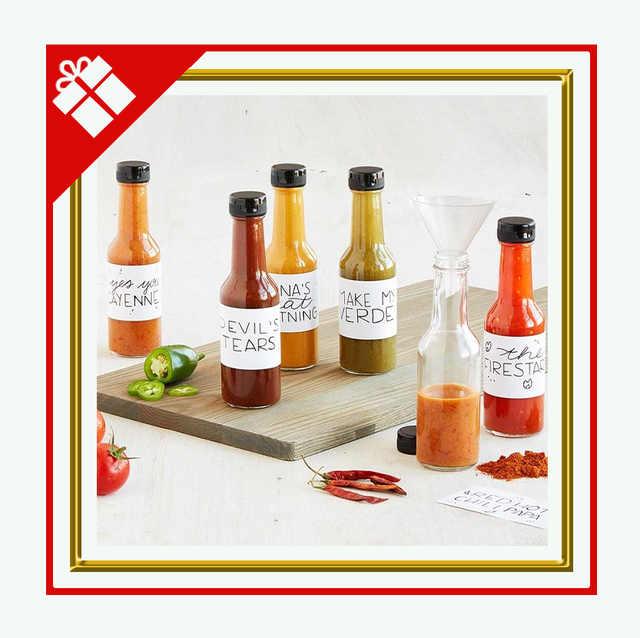 Courtesy of Retailer
THE WORLD of hot sauce ranges far and wide, quite literally, as every region seems to have their own version of the spicy pantry staple. There are flavors that cover sweet and sour, extra garlicky, aromatic and herbal, and that vinegary Louisiana tang to name a few. Whether you go with the classic Frank's classic red hot sauce, a new twist on Sriracha, a hot sauce sampler gift basket, or a Hot Ones' craft favorite, this gift will never disappoint the hot sauce lover in your life.
Those that are really into the hot sauce lifestyle will be overjoyed to receive a new bottle as a gift to add to their memory of tastebuds—and even help them to expand their list of the best hot sauces they've tried. From a mild heat and robust flavor, to a single fiery drip that will make you sweat, hot sauce is one versatile condiment you can put on anything and everything.
But the range of hot sauces available makes it difficult to choose the right one, even when you're buying for yourself. The grocery store is one thing, but shopping on the internet is an entirely new black hole. We scoured the internet and scorched our palette to curate this list of the top-rated hot sauce gift ideas of 2022, including hot sauce gift sets, make-your-own-hot-sauce kits, and even a class for your bud to learn the art of making hot sauce. Ahead, we bring you the 30 best hot sauce gifts, because in what now is an oversaturated hot sauce market, decision fatigue is real. Read ahead for our picks of the best, most creative flavors making this pantry item a gift-worthy hit.
Read more: Best Gifts for Men
Great Gift Under $50
Hot Sauce Variety Pack by Yellowbird
Great Gift Under $25
LÉGAL
Set of Two
Great Stocking Stuffer
FLY BY JING
Triple Threat Trio of Sichuan Sauce
Funny White Elephant Gift
Hot Ones
Truth or Dab The Game
Red Clay
Cold-Pressed Hot Sauce & Spicy Honey
TABASCO
Original Red Miniatures (48 Pack)
Hive Brands
Green Chile Hot Sauce (Mild)
Graza
Extra Virgin Olive Oil
Verve Culture
Tierra Brava Hot Sauce Trio & Servilleta
Ujjo Hot Sauce for Coffee
Heartbeat Hot Sauce Pick 4
Three Mountain Sriracha Yellow Hot Chili Sauce
Man Crates Hot Sauce Making Kit
Uncommon Goods Make Your Own Hot Sauce Kit
Primal Kitchen Buffalo Sauce
Thoughtfully Flavors of the World Hot Sauce Sampler Gift Set
Zab's Hot Sauce (Set of 2)
The Chef And The Dish Hot Sauce Making Class
Thoughtfully Gifts The Good Hurt Fuego
Elijah's Xtreme Regret Hot Sauce: Carolina Reaper and Trinidad Scorpion – The 2 Hottest Peppers in the World for an Extreme Fiery Heat
Hamajang Hawaiian Hot Sauce (Very Hot)
Heatonist Keith's Chicken Sauce 3-pack
Potli Cannabis Infused Sriracha
Gringo Bandito Hot Sauce Classic Variety Pack
Dinosaur Wango Tango Habanero Hot BBQ Sauce
Professor Phardtpounders Colon Cleanser
Hot Ones The Classic Hot Sauce
Vanessa Powell
Vanessa is an established editor, stylist and shopping expert covering all things style, gear and wellness.
Learn More: healthy food near me,health care privacy part 2,health store near me,health triangle,health plan of san joaquin,health o meter scale,health hut,health partners plans,heath zenith,health related fitness,health o meter,health unlimited,health food near me,health gear inversion table,health warrior,no healthy upstream,health journeys,health right 360,healthx,health union,health unit coordinator salary,health gauge des moines,health village imaging,health gorilla,health zone,health nut cafe,health 3.0,how much health does the ender dragon have,health kick,health verity,health velocity capital,health quarters,how much health does the wither have,health 101,c health lebanon va,e health messaging,m health maple grove,healthxl,health 5e,i health inc