NEWS
"The last thing we wanted to do was start a fire!": Peter Facinelli on his wildfire survival film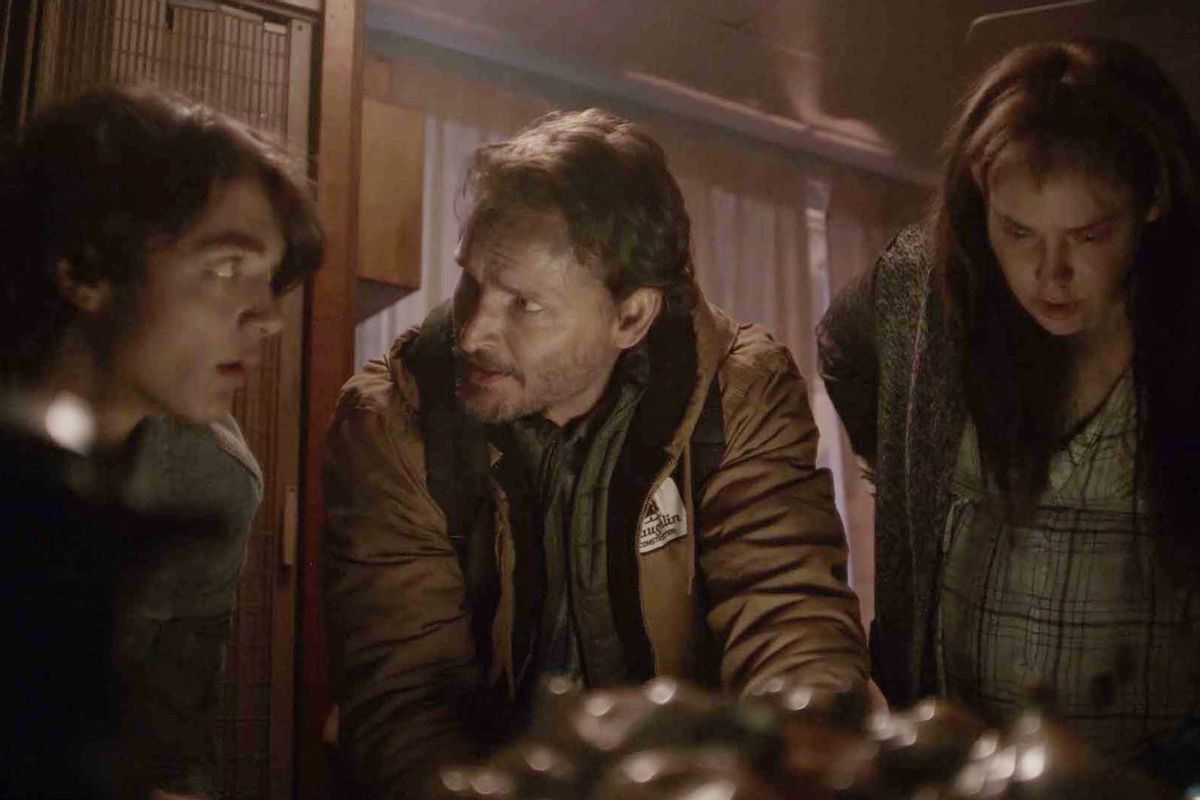 Peter Facinelli may be best known as an actor from his breakout role in "Can't Hardly Wait" or his vampiric patriarch in the "Twilight" franchise, but he has slowly been working behind the camera, writing and directing films like "Loosies" and "The Vanished." His new film "On Fire," co-directed with Nick Lyon, is a dramatic thriller about a family in Northern California who need to escape when wildfires threaten the region and prompt an evacuation. 
The film, inspired by true events, addresses the topical issue of climate change; a title card states that every year, 60,000 wildfires destroy 10 million acres of land in the U.S. alone. The storyline mostly focuses on one family. Dave (Facinelli) picks up his son Clay (Asher Angel) at school just as fires start raging nearby. Returning home to his pregnant wife Sarah (Fiona Dourif) and ailing father George (Lance Henriksen), Dave first tries to fireproof their house, but the wind, heat and dry terrain cause the fires to spread quickly and trap the family. As they try to make their escape, "On Fire" crosscuts this drama with a 911 operator, Kayla (Ashlei Foushee) responding to calls for help from anxious people, including Sarah. 
Facinelli spoke with Salon about directing his film as well as his thoughts on climate change and his career.
Your film opens with news reports of fires and issues relating to climate change. George tells Clay his science teachers are wrong about climate change, which addresses climate change deniers. Can you talk about your research on this topic, firefighting and why it appealed to you to make a thriller about climate change? 
For me, it was more a film about how these fires are prevalent. It is an issue that we need to solve. I have my beliefs about climate change. Some people don't. It's a very divisive subject. But it is less about who is right and who wrong, and more about how do we come together to solve the issues that are there? We wanted to touch upon global warming. We never say how the fires started, but there are subtleties that some people will get. When Dave's father, George, says climate change doesn't exist, Dave's son Clay says it does. But I didn't want to beat viewers over the head. I wanted to layer things and focus on this family trying to survive this evening. The film is not a documentary. It is inspired by multiple fires that have happened. What drew me to the film is that it was something happening now, and it was a throwback to family survival films. At the end of the film, we give hope — what can we do about it? Maybe we can come together to figure out how to prevent wildfires and save the forestry from being damaged? We also celebrate firefighters and 911 operators.
What appealed to you about acting in the film since you also co-directed?
The film tells the story of this family that grows as they go through this harrowing experience. At the beginning of the film, Dave has stress —he has a dad who is sick, he has to pay the bills, he has a new baby on the way, he has a new business that might fail, and his son is going off to college, which he probably can't afford. [Laughs] All of these things feel like: How do I survive this? And then fire threatens his family and all those issues become anthills in comparison to surviving this night.  
There is fire in almost every scene in the film. How did you approach the story visually to convey the danger threatening the characters?
We didn't have any practical fire on set. Because we were in a forest, we weren't allowed to. The last thing we wanted to do was start a fire! Nick Lyon, who co-directed with me, brought his indie filmmaking knowledge. He had a lighting package and smoke, and I hoped it worked! It was almost like green screen acting; we had to pretend the house was on fire and feel the smoke on the back of neck and that the embers are coming. It requires immense imagination since you don't have outside elements. 
Can you talk about collaborating as a co-director?
I came on board as an actor and worked collaboratively with Nick to elevate scenes and create more payoffs in the structure of the film. Nick got COVID, so in the spirit of that collaboration, I took over the reins and then we took that collaborative nature into the editing room. I wanted it to be a fun ride and have people rooting for this family but also feeling they are with us as either a fly on the wall or part of this family.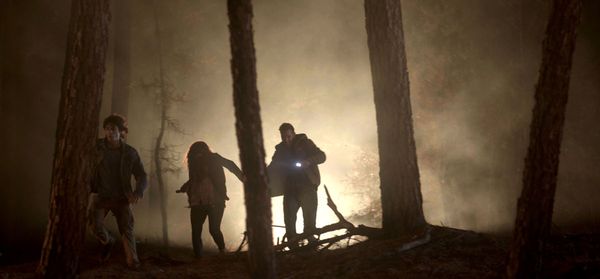 On Fire (Cineverse)
Can you talk about creating the tone of the film which has moments of excitement and inspiration? 
The music plays a key part in this film. It gives you the gears of what you should be feeling. I brought in Sasha Chaban, the composer, and said, let's slow the music down and let it be creepy. Fire is the antagonist of the movie. Let's give it a personality and let it grow. It is a foreign, alien object growing and taking over this family. Using the music as a rhythm movement for the movie was really key and helped instrumentally in the tone of the film.
Are you calm under pressure as Dave is? Are you handy with a chainsaw as Dave is? There is a ruggedness about his character.
I like to consider myself resourceful, which is why I was asked to step in after Nick got sick. I can pick up the symbolic chainsaw, cut down the trees and keep going. I try to step in and help out, even in real life. I try to remain calm. There is stress when you are calm on the outside, and there are breaking points. We show those for each character. 
What about the themes of masculinity and sacrifice? Dave has concerns about providing for and saving his family. Can you talk about these themes? 
That is why he is relatable, rather than in the $50 million version of this film where he is hanging off a building shouting, "I'm going to save my family!" The characters lean on each other. Dave is doing the best he can, but he doesn't have all the answers. Each character has heroic moments. On a humanity level, when devastating things happen to us — earthquakes, fires, floods — we continue on. 
Have you ever been in a fire? What would you pack if you had to leave your home? 
My mom and dad [resisted] evacuating during a hurricane in New York. The [weathercasters] always say it will be severe, and it never really is. They didn't leave, and the house flooded, and we lost stuff and photos, but it could have been worse. When they say evacuate, evacuate! Better to be safe than sorry. In the film Dave says to his son, "Things can be replaced, but people can't." You can leave all your stuff behind but the people in your life are so important. In harrowing experiences, it is interesting and beautiful to celebrate the kindness and compassion of people who come out and support and help others. 
With this film, you are moving more into producing and directing. Can you talk about changing your career up and working more behind the camera? 
I wouldn't say I am moving toward one or the other. I write, I produce, I direct and I act. I'm known more as an actor, because I've spent most of my career as an actor, but I am at a point of wherever I can service the story best. If it is writing something that I am passionate about, I'll do that or directing. I don't need to write, direct, produce and star in everything I do. It is wherever I feel I'm best needed to tell the story. I just consider myself a storyteller. 
---
Want a daily wrap-up of all the news and commentary Salon has to offer? Subscribe to our morning newsletter, Crash Course.
---
Looking back on your career, what observations do you have about the opportunities you've had and the folks you have worked with. You started out playing heartthrob roles and now are taking father figure roles.  What do you still want to do?
That is tough for me. There are people who like action or romance or sci-fi and they have these niches. I've gravitated toward different stuff. I really want to explore different things. As director or writer, that's how I approach it, too. I don't want to make three comedies or four action films in a row. My first film I directed was a romantic comedy. My second was more of a Hitchcock thriller, and this one I co-directed is a survival family film. They are all very different. 
"On Fire" releases in theaters Sept. 29.
SAG-AFTRA has approved an interim agreement for "On Fire" since the film is being released by Cineverse, an independent, non-AMPTP affiliated distributor. Under the terms, members "may work on these productions without being in violation of the strike order," per the guild. The entire team of "On Fire" expresses their gratitude to SAG-AFTRA for allowing the cast to promote "On Fire" during this challenging time for the industry.
Read more
about this topic