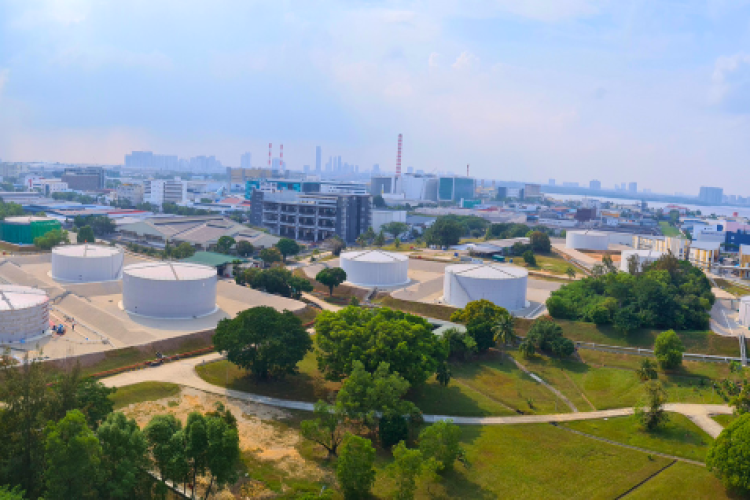 The Senoko oil fuel depot in Singapore is a strategic fuel storage depot supporting the Five Power Defence Arrangements, the 5th and 7th US fleets and the Singapore government.
The UK's Defence Infrastructure Organisation (DIO) is responsible for the management and maintenance of Senoko.
Trant was awarded the £12.3m upgrade contract after an inspection identified several non-conformances in the secondary containment system, resulting in the issuing of an improvement notice.
The project required increasing the secondary containment capacity to achieve at least 110% of the volume of the existing twelve 30-metre-diameter fuel tanks, removing gravity drainage and replacing with a pumped system and providing an impermeable barrier within the bund.
To achieve these goals, the existing drainage routes had to be altered to allow an equal number of bunds to drain to each of the existing tilted plate separators with only one bund being drained through each separator at any one time, and at a predetermined flow rate.
All existing drainage pipes which penetrated through the bund walls had to be sealed and replaced with pressure pipework laid over the bund walls, terminating in an adjacent discharge chamber. This now drains by gravity to the nearby existing storm drainage channel system.
Trant's business development director, Brendan Dowd, said: "This unique project utilised our multi-discipline engineering and project delivery teams. We faced a number of challenges, but perseverance and hard work ensured a successful outcome. We are proud to support the DIO with upgrading and refurbishment of their assets around the world."
Got a story? Email news@theconstructionindex.co.uk
Learn More: business analyst salary, business synonym, business administration jobs, business near me, business hours, business development manager salary, my business course, business in spanish, business headshots, business first, business unit, business brokers near me, dbusiness, 2 business days, is business administration a good major, business horizons, 7 business days, business knowledge, business use case.