The House January 6 committee has released audio recordings of far-right militia members—supporters of ousted President Donald Trump—preparing to attack members of Congress after breaching the Capitol during last year's insurrection.
The panel on Thursday released new recordings of communications between members of the Oath Keepers who used a walkie-talkie app to share information during the riot. In the recording, they can be heard discussing impending physical violence against members of Congress.
The 1 1/2-minute clip posted to Twitter captures conversations between unidentified Oath Keepers after a mob of Trump supporters had overwhelmed police and stormed the Capitol as Congress was certifying the 2020 presidential election, which was handily won by current President Joe Biden.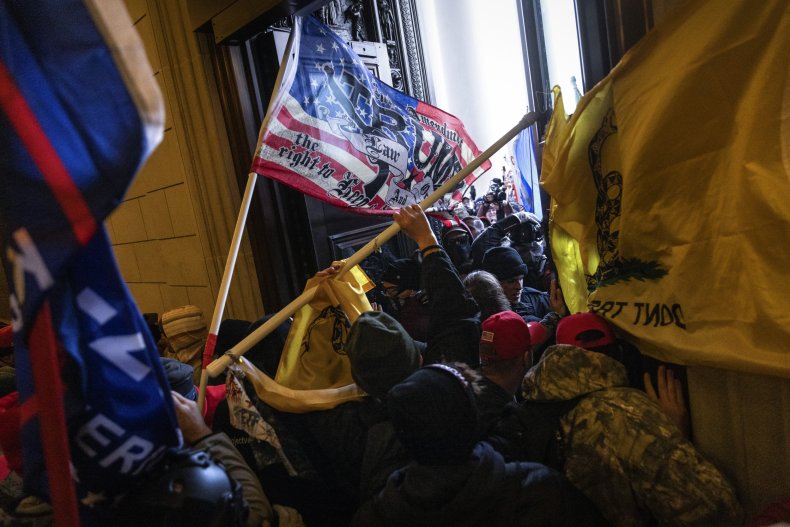 "CNN just said that they evacuated all members of Congress into a safety room," one member of the group said.
"There is no safe place in the United States for any of these [expletives] right now," another responded, adding "Military principle 105: cave means grave."
The newly released clip specifically included Oath Keepers' communications after Trump tweeted at 2: 38 p.m., hours after the breach, to "Please support our Capitol Police and Law Enforcement. They are truly on the side of our Country. Stay peaceful!"
One Oath Keeper in the transmission told the group about Trump's tweet.
"That's saying a lot by what he didn't say. He didn't say not to do anything to the congressmen," an Oath Keeper responded, breaking out into a chuckle.
Another added that Trump didn't ask the crowd the stand down.
An Oath Keeper then chimed in with shouting and other raucous noise in the background to say, "We are in the main dome right now. We are rocking it and throwing grenades and frickin' shooting people with paintballs. But we're in here."
That was met with encouragement from another member: "Do your st. This is what we fg lived up for. Everything we fg trained for."
Since beginning its investigation last year, the House January 6 committee has in recent months turned its attention to how the White House responded to the insurrection as it unfolded, and possible links between Trump's inner circle and the rioters, including the Oath Keepers. The committee has extended its work after it said it had uncovered new evidence.
The Department of Justice has continued to prosecute members of the mob, including Oath Keepers leader Stewart Rhodes, who faces seditious conspiracy charges.
Rhodes, along with nine other group members, pleaded not guilty and a federal judge has ordered him to remain jailed until his trial.
Newsweek has reached out to Rhodes' attorney Edward Tarpley for comment.
Learn More: latest news on stimulus,u visa latest news,o panneerselvam latest news,g dragon latest news,latest news about stimulus check,j cole latest news,p chidambaram latest news,hepatitis b latest news,sarah g latest news,l&t latest news,p square latest news,