NEWS
U.N. Security Council Approves Kenya-Led Intervention Force for Haiti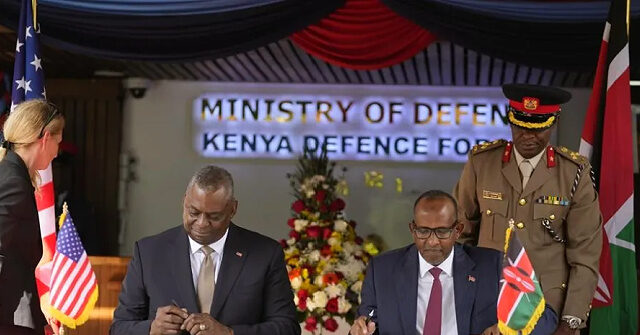 The U.N. Security Council voted on Monday to authorize a multinational military intervention against the gang lords of Haiti, led by Kenya, which volunteered to take point in July.
The resolution, drafted by the United States and Ecuador at the request of Haiti's government, passed with 13 votes in favor, zero against, and two unsurprising abstentions: Russia and China.
"Russia and China's abstentions suggested that neither country endorsed the resolution but they were not going to block it. Diplomats said that negotiations had been tense with the two countries for several weeks, with the text being rewritten multiple times, but that, ultimately, a consensus was reached," the New York Times (NYT) reported on Monday.
Monday's vote was the first time the Security Council has authorized multinational intervention in a conflict since 2007 when it approved the African Union's intervention in Somalia to fight Islamist terrorist gangs. The Kenyan government said it would not lead the Haitian intervention unless it received similar authorization.
Haiti dissolved into gang warfare and anarchy after the assassination of President Jovenel Moise in July 2021. The remnants of the Haitian government are run by Acting Prime Minister Ariel Henry, who has yet to stand for an election. The last elected officials in Haiti resigned in January 2023.
Many Haitians view Henry as an illegitimate chief executive and are likely to regard the U.N. intervention force as little more than an effort to prop him up, which is one of the reasons no other regional or global power was eager to lead the multinational operation.
The U.N. described how serious the situation has become, presenting Monday's Security Council vote as an urgently necessary step toward restoring order:
There have been more than 3,000 homicides reported this year, and over 1,500 instances of kidnapping for ransom.

Around 200,000 have been forced to flee their homes while sexual violence and abuse against women and girls at the hands of armed gangs ticks up. Tens of thousands of children are unable to go to school.
"The deployment of this mission will help to support Haiti's critical near term needs and to foster the security conditions necessary for the country to advance long term stability," said former U.S. ambassador Jeffrey DeLaurentis.
"With this action, the Security Council has ignited a beacon of hope for the beleaguered people of Haiti," said Kenyan representative Martin Kimani.
Haiti's grateful Foreign Minister Jean Victor Geneus hailed the vote as a "historic" expression of "solidarity with a population in distress."
"Socioeconomic development must be taken into account to take care of extreme poverty," Geneus added, although the Security Council resolution did not cover economic assistance.
Russian U.N. Ambassador Vasily A. Nebenzya yawned that his country had no objections "in principle" to helping Haiti, but he felt the resolution passed by the Security Council was "rushed" and "shortsighted."
The U.N. said its Multinational Security Support (MSS) mission will "help secure critical infrastructure and transit hubs such as the airport, ports, schools, hospitals and key intersections."
The peacekeepers will also allegedly ensure Haitians can safely access humanitarian aid. A major problem over the past two years has been gangs interfering with aid shipments, fuel supplies, and food deliveries.
The U.N. Security Council called on all participants in the MSS to "ensure the highest standards of transparency, conduct and discipline for their personnel, and called for an oversight mechanism to prevent human rights violations or abuses, including sexual exploitation."
Unfortunately, U.N. missions do not have exemplary records when it comes to high standards of conduct, discipline, human rights abuses, sexual exploitation, or oversight for that matter. Haitians, in particular, have bad memories of undisciplined U.N. forces unleashing a deadly cholera outbreak during the 2010 intervention.
Human rights activists have already raised concerns about Kenya leading the intervention because Kenyan police have been accused of significant abuses, and Kenya has little experience with peacekeeping missions.
Monday's vote did not set a date for the MSS to begin, or specify how large it would be. Kenya's original offer was to send a thousand police officers. None of the other potential participants has proposed a force size yet.