Sustained success enjoyed by Zach Collaros and the Winnipeg Blue Bombers is a cruel knife-twist for fans of the Saskatchewan Roughriders.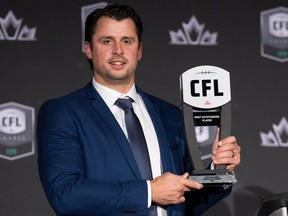 Welcome to Saskatchewan, where a marquee quarterback is tougher to find than that noted delicacy, lettuce.
Regina Leader Post Headline News
Sign up to receive daily headline news from Regina Leader-Post, a division of Postmedia Network Inc.
By clicking on the sign up button you consent to receive the above newsletter from Postmedia Network Inc. You may unsubscribe any time by clicking on the unsubscribe link at the bottom of our emails. Postmedia Network Inc. | 365 Bloor Street East, Toronto, Ontario, M4W 3L4 | 416-383-2300
Collaros enters Sunday's Regina-based CFL championship clash with the Toronto Argonauts as the league's reigning most outstanding player, having just received that award for the second season in succession.
Roughriders fans do not have to be reminded — but I will courteously remind them, anyway — that Collaros, who wore green and white in 2018 and 2019, is the one who got away.
If not for a cruel quirk of fate, what might have been?
Rewind to June 13, 2019, when the Roughriders opened their regular-season slate in Hamilton against the Tiger-Cats.
(Reprise: What might have been?)
When Collaros suffered another concussion, in Hamilton, Cody Fajardo took over behind centre for Saskatchewan and become a virtual overnight sensation.
Just like that, Collaros was perceived as a spare part. He received a torrent of friendly advice from observers, such as this one, who thoughtfully suggested that he should retire from football in order to preserve his health.
By the end of July 2019, Collaros had been dealt to the Argonauts for a fourth-round selection in the 2020 CFL draft — a pick that turned out to be a gem of a receiver, Kian Schaffer-Baker.
Collaros never accepted a snap for Toronto before being dealt to Winnipeg on Oct. 9, 2019.
Since then, Winnipeg has won 41 of 48 regular-season and playoff games.
The Roughriders have suffered an equal number of losses — seven — over their past seven games. Talk of a dynasty is premature.
After a 6-12 season, the Roughriders are as much of a non-factor as a team can be during Grey Cup week.
The biggest question in town pertains to the Green and White's quarterbacking situation … or lack thereof.
Fajardo was blamed and banished to the bench late in the 2022 regular season, even though the Roughriders' offen-sieve line was the primary problem.
He is the best quarterbacking option for 2023, but that ship has sailed — and sunk — after the Roughriders' brass went out of their way to embarrass him, making a nightmarish season even worse.
So, while questions continue to swirl about who might eventually enjoy the great honour of becoming the Roughriders' next quarterback/scapegoat, a signal-caller who was once discarded by Saskatchewan is at the top of his game on behalf of a powerhouse.
Second-guessing need not apply here. Nobody seemed to mind when Collaros was shuffled off to Toronto in the midst of Fajardo-mania.
That said, Roughriders fans — who have endured myriad forms of misfortune while ardently supporting their team — have every reason to slap their foreheads, which are adding wrinkles as this is written, and perhaps utter an expletive.
It is of absolutely no solace whatsoever to point out that luminaries such as Ron Lancaster, Joey Walters, Dave Ridgway, Roger Goree, Ed Buchanan, Milson Jones, Robert Mimbs, Loucheiz Purifoy, Kevin Glenn and Brett Lauther landed in Saskatchewan after being cast aside by rival CFL teams for nominal or non-existent compensation.
Nor is there any reassurance to be derived from the fact that Roughriders returner Mario Alford, who on Thursday was recognized as the CFL's top special-teams player, was obtained from the Montreal Alouettes on July 3 for the low, low price of a sixth-round draft choice.
Not long after Alford was called to the podium, Collaros was summoned and presented with the league's most prestigious individual prize.
For Roughriders fans, it was a rude reminder of a hit that, 3 1/2 years after contact was initiated by Lawrence, still reverberates in the heartland of Canadian professional football.
The sports world is ever-changing, as are the times. Supplement your steady diet of sports coverage by subscribing to the Regina Leader-Post's 306 Sports Fix newsletter. Each week, sports editor Rob Vanstone will provide additional commentary on the Roughriders, Pats and other teams/sports of interest, along with a peek behind the curtain. Click here to subscribe.
Learn More: latest news on stimulus,u visa latest news,o panneerselvam latest news,g dragon latest news,latest news about stimulus check,j cole latest news,p chidambaram latest news,hepatitis b latest news,sarah g latest news,l&t latest news,p square latest news,