Former President Donald Trump received a warm reception at a South Carolina restaurant following the launch of his 2024 campaign in the state, as seen in a viral video shared by his staff.
Trump and other members of his team visited a Zesto's in the state's capital city of Columbia on Saturday, meeting with supporters as well as picking up food. In a video originally shared to social media by Margo Martin, a member of Trump's communications team, the former president meets with an employee of the burger chain who appears emotional and says a prayer for him.
In her tweet sharing the video, Martin said that the clip showed "the real [Donald Trump] the media won't show you."
The 15-second clip was widely viewed on Twitter, garnering 1.9 million views as of Sunday morning. It was also shared further by the likes of Ron Filipkowski, a former federal prosecutor and current media analyst known for his consistent criticism of Trump, who took a dimmer view of the clip than Martin, jokingly tweeting, "Praise the Lord for Donald Trump and fast food!"
Replies to Filipkowski's tweet were similarly withering, with some reiterating past skepticism of Trump's claims of being a Christian and others bringing up his many accusations of marital indiscretions and sexual misconduct.
Trump, so far, is the only major declared candidate for the 2024 presidential race, seeking reelection to the White House following his loss to Joe Biden in 2020. The former president announced his bid last November, shortly after the Republican Party suffered a historically disappointing performance in the midterm elections, losing a Senate seat and winning the House by only a razor-thin margin.
Those results were widely blamed on Trump's negative influence, with the former president's endorsements for various extremist and unqualified candidates seemingly driving away moderate Republicans and independent voters.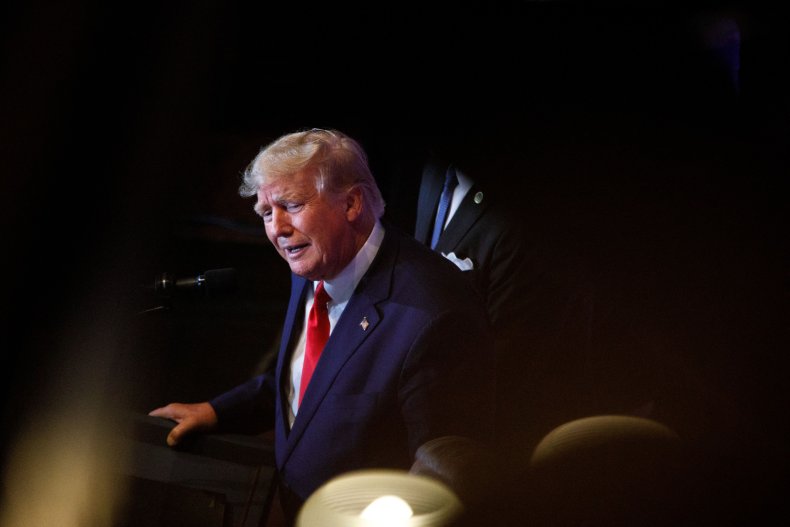 Despite calls for him to step back from a prominent role in the GOP, Trump forged ahead with his reelection bid, allegedly out of hope that a campaign would keep certain federal indictments at bay. With the cloud of the midterms hanging over him, Trump's campaign announcement was criticized by many as low-energy and uninspiring.
While no other Republicans have yet declared for 2024, many view Florida Governor Ron DeSantis as Trump's primary adversary for the GOP nomination. Florida Republicans posted strong results in the midterms, and DeSantis has made consistent plays for the national spotlight with his various culture-war-inspired policies.
Meanwhile, polls have so far been varied, with some showing Trump maintaining a strong hold over the GOP and others showing his support being siphoned by the likes of DeSantis.
Newsweek reached out to Trump's team for further comment.
Learn More: latest news on stimulus,u visa latest news,o panneerselvam latest news,g dragon latest news,latest news about stimulus check,j cole latest news,p chidambaram latest news,hepatitis b latest news,sarah g latest news,l&t latest news,p square latest news,